The Augusta University Research Institute recognized seven faculty members with AURI awards in 2020. Due to safety considerations, an awards ceremony was not held. Read more about this year's winners, chosen for their work to enhance the mission of excellence at Augusta University in research, teaching and service.
Lifetime Achievement Award
Drs. David Munn and Sylvia Smith were recognized with the Lifetime Achievement Award for their significant contributions to research at Augusta University.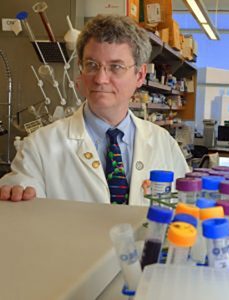 Munn, a 1984 alumnus of the Medical College of Georgia and member of the Georgia Cancer Center leadership team, has been a pioneer in developing novel immunotherapy strategies for treating cancer. He has published more than 125 manuscripts in high-impact journals and has received more than $11 million in grants to fund his research over the past 14 years.
For him, the greatest accomplishment in his career began when he first joined the faculty, carrying cancer treatments for children from the discovery phase through clinical trials and on to actually treating patients with them.
Munn said the Department of Pediatrics has been immensely supportive of his career, beginning with allowing him to set up a tumor program in immunology when he first came to AU. He feels honored to be recognized with this award.
"It felt like the closing of a circle because this is where I started my training long ago, and for them to be kind enough to give the recognition — that was both an honor and enjoyable because of my close and longstanding connection to the institution," he said.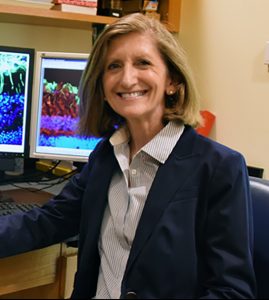 Smith joined the faculty of MCG in 1992 and has since earned national and international recognition for her work in retinal degeneration. She has mentored more than 50 graduate and medical students and has published her research in 182 peer-reviewed journals. According to one of her nominators, Dr. Vinata Lokeshwar, chair of the Department of Biochemistry and Molecular Biology, Smith's work has elevated Augusta University to one of the top eye research institutes in the country.
Smith said she feels "humbled and honored" to be recognized with the Lifetime Achievement Award.
"I think it's a reflection of the work of so many people with whom I've collaborated," she said.
Two projects were the most rewarding through her career. One is an investigation into retinal neuroprotective properties that her lab has been working on for 23 years. The other was receiving the NEI Center Core Grant for Vision Research (P30).
"I felt like that was just such a synergistic effort of so many people to contribute their knowledge and the resources so we could compete for that. And we were very fortunate. This was our first application for submission of the grant in September 2019, and it was funded in September 2020," she said.
Emerging Scientist
Dr. Kenneth Sang-Ho Kwon, assistant professor of Cellular Biology and Anatomy and Dr. Kumar Vaibhav, assistant professor in the Department of Neurosurgery, were each recognized with the Emerging Scientist Award. This award is given to new full-time faculty members who have been at Augusta University for less than five years and are ranked no higher than associate professor.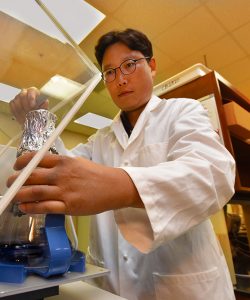 Kwon credits his team of for his success in exosome biology.
"This is an achievement not just for me but my team and my lab members," he said. "We are all glad to get this award."
After joining Augusta University, his team published nine papers in renowned journals such as Journal of Biological Chemistry and Scientific Reports, the latter of which he was appointed to the editorial board. He was awarded the Carl Gottschalk Career Development Award from the American Society of Nephrology, and was awarded two highly competitive research grants from the National Institutes of Health within his first two years.
However, teaching is one of his biggest passions.
"I love teaching," he said. "Working with students is really fun and exciting, and you never know what's going to happen."
Vaibhav recently received a promotion to tenure-track assistant professor in the Department of Neurosurgery after serving as a non-tenure track assistant research scientist for four years. In addition to teaching, he trains graduate and medical students and published his research in 41 peer-reviewed publications.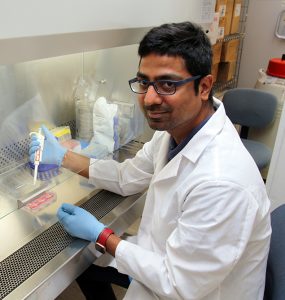 In November, he was awarded a $1.8 million grant to fund his research into the cannabinoid CBD's effect on inflammation in the brain following a traumatic brain injury.
Vaibhav said he feels honored to be recognized with AURI's Emerging Scientist Award. He said recognition is meaningful to young faculty like himself and encourages them to work hard not only to build solid careers for themselves, but also to build a strong research portfolio for the entire institute.
"It's very nice to have a university like this where people encourage you for better research outcomes and they recognize your contribution," he said.
Distinguished Scientist
Drs. Yuquing Huo and Nahid Mivechi received the Distinguished Researcher Award. This award recognizes faculty members who have made significant contributions to research in disease prevention, detection or therapy.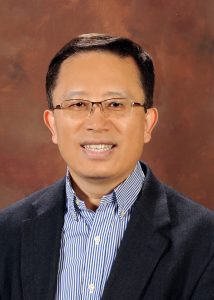 Huo came to Augusta University in 2012 as a professor in the Vascular Biology Center and director of the Vascular Inflammation Program. Since then, he has published 50 manuscripts — about 40% as first or senior author, bringing his total to 94. The majority of these are high-impact journals such as Circulation Research, Circulation, Immunity and Science.
His research includes arterial disease such as atherosclerosis, heart attack and stroke, and vision disease. Many patients who have suffered from diabetes for decades develop vasculature problems within the retina, which causes problems with their vision.
Huo credits his team in the lab and their dedication with his success.
"They really work very, very hard, normally 24/7," he said. "Other people will criticize, 'You cannot work 24/7.' But research work really needs that kind of effort."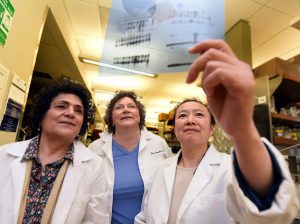 Mivechi's lab studies the role of heat shock proteins in Alzheimer's disease and other neurodegenerative diseases, and she is a world authority on the role of proteins in liver cancer. For the past 14 years, she has served as the director of the Radiobiology Program and regularly reviews 19 journals. She has published her research in more than 100 publications and given more than 130 poster and oral presentations.
She is also committed to teaching, mentoring 25 graduate students and postdoctorate fellows.
Mivechi said she is pleased to be recognized with this award.
"I appreciate that very much," she said.
Research, Scholarship & Creative Activity
Dr. Mary-Kate Lizotte was awarded the Research, Scholarship & Creative Activity Award in recognition of a career that demonstrates excellence in research and creative activity in arts and humanities.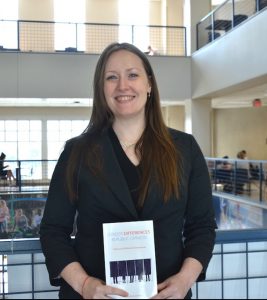 Lizotte has published 15 peer-reviewed works, the latest of which, a book entitled Gender Differences in Public Opinion, was selected for the summer reading series for Gender and Political Psychology Network. She has presented her works more than 30 times. Her scholarship on this important area of diversity has earned her a national reputation as a top scholar.
For her, the most important project has been the recent publication of Gender Differences in Public Opinion. It was the culmination of an interest in gender differences and public opinion that she's had since graduate school, and she is one of the first political scientists to publish a book on the topic. Another highlight was co-authoring some pieces with Richard Eichenberg, associate professor of political science at Tufts University, as his work inspired her dissertation.
Lizotte said it means a lot to her to be recognized for her work.
"To be recognized for my research at the university level is really, really amazing," she said. "I know that there's a lot of people doing exceptional research on both campuses, and to have the university recognize me is really amazing, because I know that there's a lot of other wonderful, groundbreaking research being done."