During the annual
Values Week
from Nov. 8-14, Augusta University celebrates its six core values: collegiality, compassion, excellence, inclusivity, integrity and leadership.
Rupali Suhag, a student in the College of Nursing's 16-month Master of Science in Nursing with a concentration in Clinical Nurse Leader (MSN-CNL) program, has been a leader on campus for 20 years.  
Suhag's journey to a career in nursing was nontraditional. She moved to the United States from India in 2003 after originally pursuing a career in textile engineering. She was (and remains) a skilled textile designer, having earned a master's degree in the field from I.C. College of Home Science in northern India. However, after two years in that career, she wanted something new. 
After arriving in the U.S., she began her journey at Augusta University, working as a research associate for 11 years prior to starting the MSN-CNL program. She started in the Transgenic Mouse and Embryonic Stem Cell Core Lab, then later worked in the Human Cord Blood Stem Cell Lab. She also worked in neurobiology, ophthalmology and periodontics research. 
But in January 2006, her daughter was born with atopic dermatitis, also known as eczema.  
"The doctors were amazed. They hadn't seen such a small baby — a 1-month-old baby — with eczema everywhere on the body. Things were not good at that time, and I always wondered, 'Why my child?'" Suhag said.  
"But the care, the compassion that we received from the nurses and physicians here was phenomenal. The more I interacted with the nurses regarding my daughter's condition, I got more comfortable." 
Her daughter is now 15 and has outgrown her eczema completely, but Suhag said she'll never forget the compassion and guidance she received from the nurses who supported her in the first few months of her daughter's life. Years later, their leadership and kindness inspired her to also become a servant leader in the local health care community. 
As a mother of three, Suhag admits she doesn't have much time for campus organizations. But as a veteran of the university, she knows what it takes to be a leader, and it's not about status. To Suhag, leadership is more about professionalism and passion than title or rank.  
"Leadership is reflected in your courage, your transparency and your vision. It's not about just being a manager or having some type of authority. It's reflected in your courage to be something and do something," she said. 
She looks up to several leaders in the College of Nursing who have supported her along the way: Dr. Elena Prendergast, her advisor and the program director of MSN-CNL program; Dr. Desiree Bertrand, assistant professor; and Brenda Dunn, her current preceptor.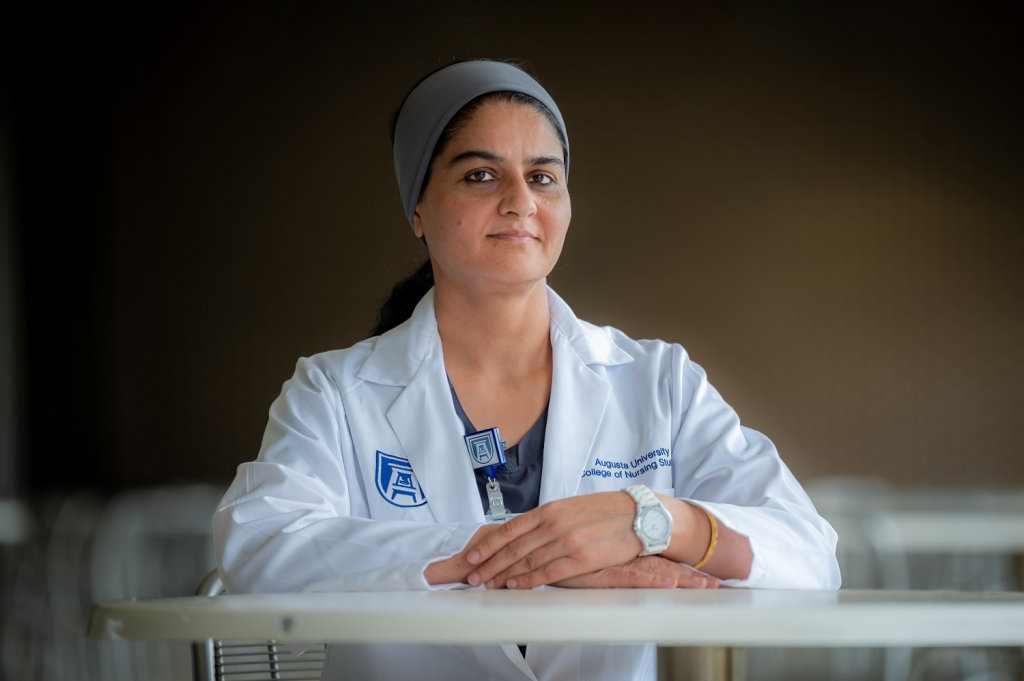 This is Suhag's last semester in the program, and per program guidelines, she has to complete 400 hours of clinical rotation to graduate. She's currently on rotation in the 3 North (neurology) unit at Augusta University Health, and they have already offered her a job. 
Suhag also received offers from 5 North (oncology) and 5 South BMT (bone marrow transplant), but chose neurology because, thanks to her rotation, she's already familiar with the unit, her patients and her colleagues. And as a former neurobiology researcher, she's fascinated by the human brain and the conditions that can damage it. 
"At 3 North, the patients are either with neurological injuries, including stroke, trauma, tumors or spinal cord injury patients. They can also have altered mental status. We see seizure patients and patients who've experienced myocardial infarction or any kind of cerebral hemorrhage," she said. 
Regardless of where she serves over the course of her nursing career, her passion for this community — a community that took her in after moving across the world all those years ago — remains a driving force in her life. 
"I've been living here for the last 20 years, and I need to do something for my community to help out the people in need. Anything I can do to make a little change in the community, to make my patients happy at the end of the shift — that makes my day fulfilling."