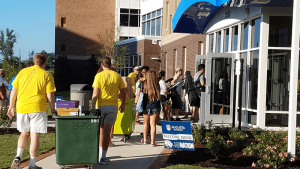 As the first undergraduate class to live in Oak Hall moved in on Saturday, Aug. 13, students and their parents were met by a colorful army of volunteers that included everyone from the provost to the Augusta University cheerleaders to countless yellow-shirted staff and faculty from all areas of the institution. These smiling helpers unloaded cars and then rolled carts full of belongings down the sidewalk, through the building and up the elevator before helping students unload the contents of the carts into their new rooms.
It was an impressive display of organization and execution that appeared to go a long way toward making the incoming students and their families feel more at ease with the new chapter that was unfolding around them.
Also helping tame the butterflies was the fact that welcome signs hung in the hallways and the individual suite doors were decorated in special, unifying themes.
"We were tasked with making door decorations," said third floor Resident Assistant Reanah Gibson, standing outside a door decorated with acorns, a theme belonging to the fourth floor. "As far as the acorns go, they wanted to go with the idea that the freshmen of Oak Hall, who are just starting out, are acorns. And since we change the decorations every semester, they're going to turn them into trees in the spring to show the growth."
So how did a fourth floor acorn end up on the third floor? Easy: while the themes are intended to increase floor unity, there's also the unity of the building to consider. Therefore, an example of each floor's theme is shared among the other floors. So the third floor has the fourth floor's acorns, the fourth floor has the third floor's chocolate bars and so on down the line.
As far as the move-in process was concerned, Gibson, a junior from Stone Mountain, Georgia, was pleasantly surprised by its smoothness.
"This is way more fun than I thought it would be," she said. "They described it as being a lot of work – and it is – but I'm enjoying it immensely."