A new era at Augusta University began with a police escort as the first group of undergraduates to move into Jaguar Park pulled to the curb on Spellman Street and began the efficient and highly coordinated unloading process.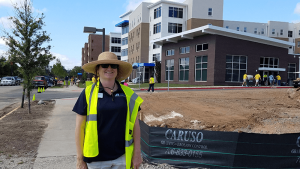 The process was supervised by Heather Schneller, director of Housing and Residence Life, who wore the trademark move-in hat she brought to Augusta from her previous schools.
Arriving in 30 minute increments, the incoming students quickly unloaded their belongings into rolling bins, went through the check in process and were then reunited with their belongings at their rooms thanks to a dedicated team of yellow-shirted volunteers.
"It's really exciting to see it all come together," said Dr. Gretchen Caughman, vice president of academic affairs and provost, who personally welcomed the first flight of new students and their families by holding open the door. "When you think back to what this area was like not that long ago…"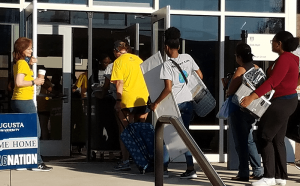 It was certainly hard to imagine Move-In Day during the groundbreaking ceremony, which was held in May 2015 in the parking lot of Residence V – the space razed to make room for Oak Hall and Elm Hall, the two buildings making up Jaguar Park.
Augusta University was one of nine institutions in the University System of Georgia that benefited from a $527 million public-private partnership that will ultimately bring more than 3,500 new beds of on-campus housing to the state during the next half century.
Since the announcement, several new changes were made at the university to support the housing, from an update to the Wellness Center to upgraded dining facilities to a more robust student life program to a new transportation system designed to bring the 400 or so undergraduates living on the Health Sciences Campus to their classes on the Summerville Campus.
For Jordan Holt, room decorating was temporarily postponed by a visit from President Brooks Keel, who along with his wife, Dr. Tammie Schalue, knocked on doors to personally welcome several students and their families to the university.
After the visit, Holt, who came from Ellijay, Georgia, with her pet fish, Shark Bait, explained her reasons for choosing Augusta University.
"I feel like it's a really good place to get into medical school," she said. "It's a very good opportunity to move through to that."
Seth Pettis, who came from Monticello, Georgia, with the goal of becoming an anesthesiologist, agreed.
"It's better to come to a college that already has the medical college so that you're being trained to go into it," he said.
His mom, nurse Patty Cole, was an active participant in his decision making.
"He and I had a lot of conversations about it, and it was mainly the fact that if he wants to go into medicine, why would he go anywhere else?" she said. "It's one of the best medical schools, so why not just start here?"
Seth won't be the only member of the family attending Augusta University. Cole said her daughter, currently a high school senior, is planning to enroll next fall.
Pettis, who is part of the new Living-Learning Community, was anxious to start learning more about the campus as well as Augusta.
"I like the small town feel in something that's actually a big town," he said. "I have friends that go other places, and it's nothing like this environment."
As for the move-in process, Cole said she couldn't have been happier.
"Our appointment was for 9 a.m.," she said. "It's 9:24 and he's already got his stuff all moved in."