Augusta University announced today $1 million in federal funding secured by U.S. Rep. Buddy Carter to help support the recently established Medical College of Georgia Center for Telehealth.
The funding will support Augusta University's mission to improve health care access and outcomes for all Georgians, particularly those in rural and underserved areas of the state. The center will also train future physicians and prepare them to provide telehealth-related patient care.
Augusta University President Brooks A. Keel, PhD, thanked Carter for his support and discussed the significance of the initiative during an event May 2 on AU's Health Sciences Campus.
"All of us here at Augusta University and the Medical College of Georgia want to express our sincere gratitude for U.S. Rep. Buddy Carter's unwavering support in securing the necessary funding for this initiative as we work together to improve the health of the entire state," Keel said. "The MCG Center for Telehealth will offer comprehensive connectivity dedicated to providing health care services to all patients, regardless of their location in the state. Among many other benefits, this project will keep rural patients closer to home, where their families can support them, while also creating a strong network of support for rural hospitals."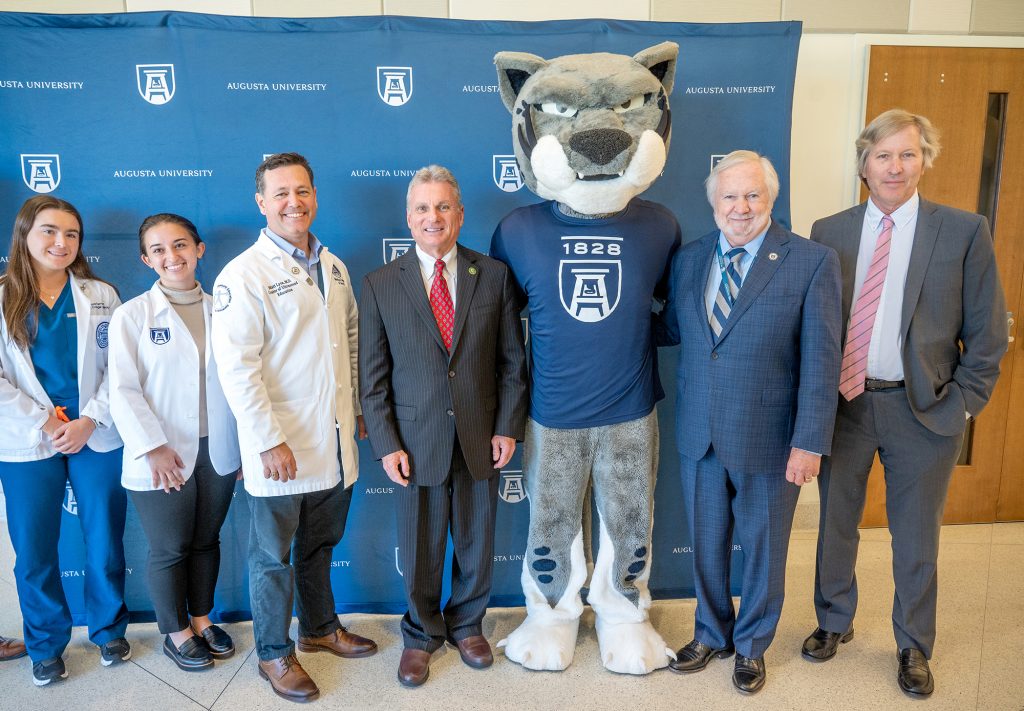 The MCG Center for Telehealth aims to reduce health care disparities, strengthen rural care partners and support rural patients by building relationships statewide through digital inclusion and a trained telehealth network.
"The Medical College of Georgia has shown great commitment to the continued advancement of telehealth in our communities," said Carter. "I am both excited and optimistic to see what kind of revolutionary work comes as a product of this great program and how telehealth continues to advance and improve the lives of both patient and provider."
The Medical College of Georgia has focused on telehealth for many years, so this expansion is a natural progression of that foundation, said David Hess, MD, dean of the Medical College of Georgia, which educates students throughout its statewide regional campus system in Augusta, Albany, Rome, Dalton, Savannah and Brunswick.
"The Medical College of Georgia has made telehealth a priority for more than 20 years, and the new Center for Telehealth will serve as the next step in the future of student education," said Hess. "We are all thankful for Dr. Matt Lyon and his entire team's tremendous efforts in creating and growing this program over the years here at MCG. Their work has resulted in a high-quality, easily disseminated, experiential-based learning curricula for our students that will be adaptable to ever-changing technological innovation."
Keel pointed out that while connectivity is not a significant barrier to telemedicine in rural Georgia, the lack of education and training on how to effectively use telemedicine remains a challenge.
"As the only public academic medical center in Georgia and a statewide medical school, this initiative helps us further our mission to serve the entire state's health care needs," said Keel. "Telemedicine is a powerful tool to address disparities in health care by enabling clinicians and specialists to reach underserved populations. We are proud of this next phase of our mission, and we expect this expansion of the MCG Center for Telehealth to have a significant impact to improve health care outcomes throughout the state for many years to come."­