Update: Brittany Crafton's conjoined twins were delivered Monday, Nov. 9, at Georgia Regents Medical Center. They are being cared for at the Children's Hospital of Georgia. 
AUGUSTA, Ga.-  Brittany Crafton was excited the moment her doctor told her she was pregnant. However, a sonogram during her second checkup revealed both good and not-so-good news – she was expecting twins, but they were joined at the chest.
"I knew something had to be different when the ultrasound took longer than expected. The news of them being conjoined was truly surreal," said Crafton, 26, of Augusta.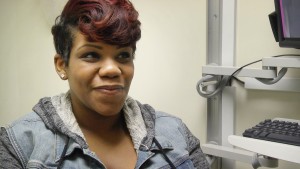 Crafton is scheduled to deliver twin boys by C-section on Nov. 9 at Georgia Regents Medical Center.  Dr. Paul Browne, section chief of Maternal-Fetal Medicine at Georgia Regents University and Health System, says the boys, whom Crafton has already named Chandler and Chance, share a heart and liver, but their prognosis for survival is good.
"We have tools that help us predict children's chances of survival, but most of that depends upon the heart," Browne said. "What makes this case special, is that the heart the twins share is quite normal and has been functioning very well for them. So, we believe it will continue to function well after the delivery."
As of now, the babies only suffer from birth defects common to conjoined twins, including clubfoot, and one of the twins has a dislocated hip. However, the boys will still undergo a battery of tests immediately following the delivery to check for other medical conditions.
Conjoined twins are rare, occurring only about one time in every 60,000 births, according to the Children's Hospital of Philadelphia. This is the first set of conjoined twins delivered at GRHealth.
Although Crafton has not experienced any medical complications during her pregnancy, she says this experience has been a life class and that her faith in God has sustained her through it all.
"I know God's got me, and He'll continue to be with me even after the twins are born," Crafton said.
"This experience has helped me to look at 'different' people differently, and I have gained a real compassion for what they go through."
Crafton, a hairstylist, has not decided if or when to separate the twins. For now, she and her family are trying to figure out how they will finance the expensive post-delivery care the twins will require, including medical and rehabilitation costs, as well as the purchase of specialized cribs, car seats and clothing.
To that end, a GoFundMe site has been established to assist Crafton and her sons. To learn more or contribute, visit 2 Smiles, 1 Heart on GoFundMe.

Media Inquiries:
Danielle Harris
Senior Media Relations Coordinator
706-721-7511 Office
706-564-9282 Mobile
deharris1@gru.edu