Augusta University women's golf coach Caroline Haase-Hegg saw her squad grow up a lot during the Southland Conference Championship en route to the program's first-ever appearance in the NCAA Championships.
They trailed Houston Christian by nine shots after the first round but rebounded on Day 2 to only trail Incarnate Word by five entering the final round. The Jaguars prevailed by one to qualify for the NCAA Regionals in Athens, Georgia.
"I felt that after we made it through the conference championship, there probably wasn't much that was going to stop us if we played the way that I knew we were capable of playing," said Haase-Hegg, who will return her entire team next season. "We had a clean slate, and with a young team, the ability to go out and play with nothing to lose is the key. We did that at regionals and the way the team played, especially freshman Mirabel Ting kind of carrying us through, was exceptional.
"It was really fun, and I think it gave this young group a sense of belonging in the realm of top division one golf teams."
After a slow start in the fall, the Jaguars' five top 10 finishes including four times in the top three. They finished second at the Ford Invitational, the Valspar Augusta Invitational — their home event — and the Florida State Matchup, while finishing third in the Chattanooga Classic.
Senior Napabhach Boon-In averaged 75 over her 30 rounds this season and finished sixth in the Southland Conference Championships. Sophomore Kennedy Carroll finished in the top 15 four times and in the top 10 three times. She shot 68 in Chattanooga to tie for sixth. Freshman Daniela Burgos finished 11th twice and tied for third in the Jags' home event.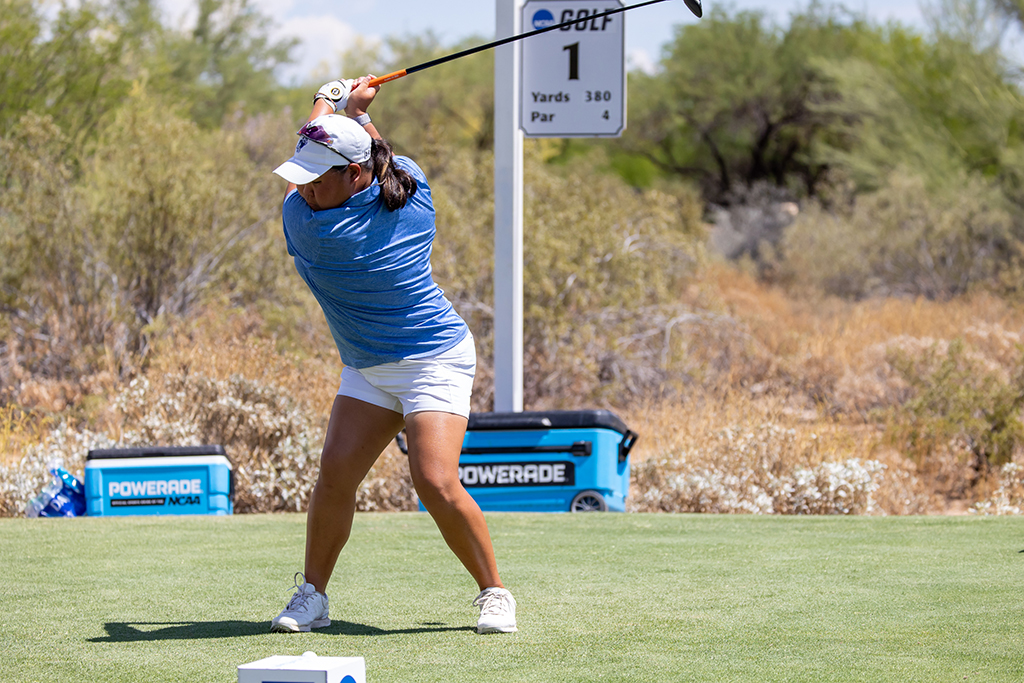 Ting, who joined the team midway through the season, won the individual title at the Moon Golf Invitational. In six tournaments, she had a scoring average of 71.56 and finished in the top-15 in all of her events, including five top 10s and three top five finishes.
At the end of the season, Ting was named a second-team All-American by the Women's Golf Coaches Association (WGCA), was selected for the prestigious Arnold Palmer Cup, was one of five golfers named to the Division I WGCA Freshman of the Year watch list and received the 2023 WGCA Division I Kim Moore Spirit Award.
Named in honor of Kim Moore, who played golf for the University of Indianapolis (1999-2003), the award honors a student-athlete or coach who serves as a role model for their team and exemplifies a great spirit toward the game of golf, a positive attitude on and off the course, and mental toughness in facing challenges.
Moore was an inspiration to all as she persevered through many physical challenges while playing collegiate golf. Her positive outlook and dedication toward the game was only outdone by her sense of humor and passion for the game, according to the award committee.
Ting's status in the fall was unknown after her father passed away just before an event in October. Haase-Hegg and the team rallied around her but the weight of uncertainty loomed over all of them.
"For her to be able to go out in February and win her first college event in such fashion really makes a statement that she's here now in the college golf landscape and that Augusta is not a pushover," said Haase-Hegg, who was also named to the WGCA's watch list for the Division I Jackie Steinmann WGCA National Coach of the Year. "This was good for all of us because the rest of the team, other than freshman Vicki Zheng, really didn't play well. We struggled in Mirabel's first tournament, but the next event, everyone started to step up. All of a sudden, the entire team started to play better and build momentum and compete at a high level. I think that sort of attitude and winning is contagious."
Zheng was another midseason addition that helped the squad grow and compete. She had a scoring average of 75.11 but her pair of 72s in the Florida State Matchup helped the team secure their high finish. She finished a season-best seventh in that event.
"She works very hard and she grinds on what she needs to do and doesn't concern herself with a whole lot of other things. In a way, I think adding that piece to an already solidified group showed the other girls that she wants to compete and wants to prove herself," Haase-Hegg said. "She kind of put everybody a little bit on edge because they knew she wanted their spots. I've loved having Vicki on the team and I'm really proud of her."
After qualifying for the NCAA Regionals in Athens, Georgia, the Jaguars finished fifth to advance to the NCAA Championships in Arizona. The experience the team had is something Haase-Hegg expects to carry over to the next season.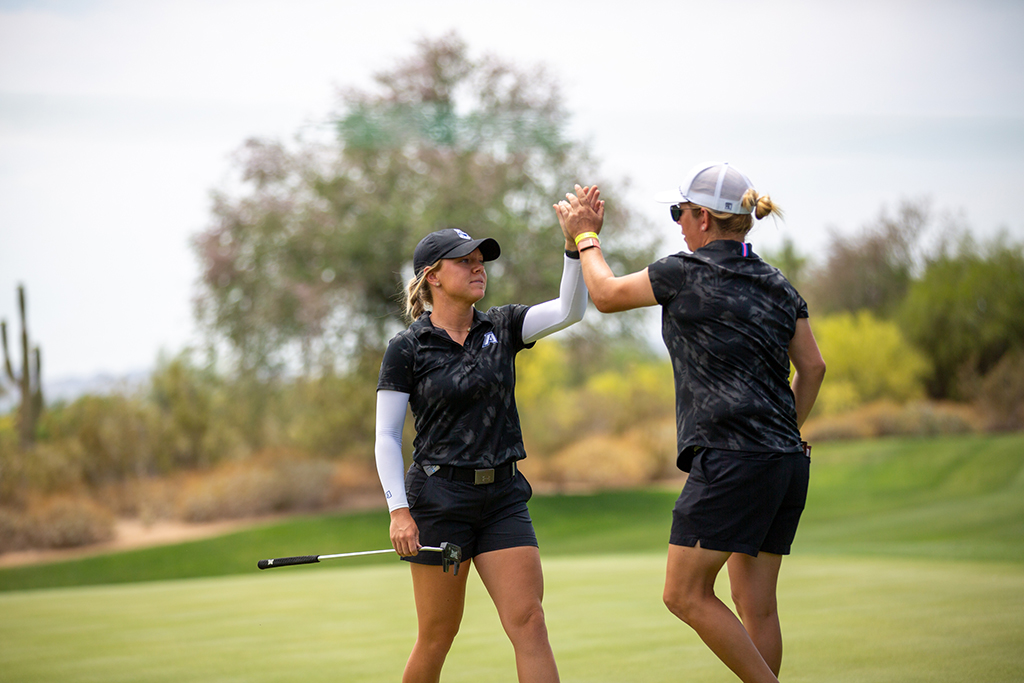 "I think this group is going to come in a lot more seasoned and a lot more comfortable in their skin as college golfers," she said. "My mission as the coach is just going to be to continue to build the culture and continue to stress accountability and create some discomfort. If we're comfortable, we're not getting better. We need to continue to grow and develop. The best thing that could have happened to this young team was to make the national championships because they saw what it is, they saw what that looks like and they felt that pressure. The fact that they stepped up and embraced that moment tells me they're ready to continue developing.
"And when we add in, I think a couple more really strong pieces, who are going to help our team grow and develop like I think the future looks good."
Those additions include Emma Charles, who signed a national letter of intent to play for the Jaguars as a graduate student next fall after previously played at Anderson University. Also joining the team next year will be incoming freshmen Keira Gonzalez and Zoe Pinillos.
The support the women received during the season and in their lead-up to the regionals and championships was appreciated.
"From the text messages to the party at Bodega Ultima before we left for Arizona, the community just came out in droves to support our women's golf program, and I tell our team all the time how lucky we are to have this Augusta community behind us, because this is not the norm," Haase-Hegg said. "All the Birdie Club support we have received and the great leadership we have in that, starting with Emmett Turner, that keeps us running. I'm overwhelmed with gratitude for our community, from Athletics Director Ryan Erlacher and the entire university staff and in everything that's been done for our program this year."