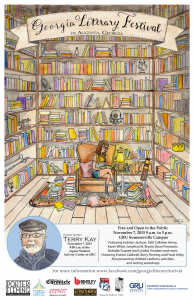 As the Georgia Center for the Book gears up for its 14th semiannual festival, there's never been a better time to be a bibliophile in Augusta!
Traditionally, the Georgia Literary Festival has moved throughout Georgia, stopping in historic cities like Rome, Statesboro and Macon, among others. This year, however, the Georgia Literary Festival will be taking place somewhere a little closer to home: the Summerville Campus.
Beginning with a ticketed author reception on Nov. 6, a host of Georgia authors, novelists and writers will flock to ground where Ray Bradbury once stood to tell their stories, make new friends and generally do what storytellers do best – share their experiences.
Local authors Frank Yerby and Berry Fleming will be honored alongside "Tobacco Road" author Erskine Caldwell for their contributions to Georgia – and national – literature.
Yerby's recognition is an especially important event in Augusta history. The first African-American to sell a million copies of a novel ("The Foxes of Harrow," which was later adapted for screen and nominated for an Oscar in 1947), Yerby transcended racial barriers and diversified national literature to a degree that had previously never been seen.
Anna Harris, an assistant professor in the GRU Department of English and Foreign Languages, has worked alongside the GLF's Augusta steering committee to bring the festival to Augusta since 2014. After an unfortunate funding hang-up in 2014 left the festival's future uncertain, she said she and her colleagues have worked tirelessly to make this year's festival better than ever.
"I think GRU's sponsorship of the festival sends a message to the university and Greater Augusta communities that we're committed to the arts as much as we are to medicine," said Harris. "It's a terrific opportunity for patrons to engage with writers of local, regional and national recognition."
More importantly, though, GRU's hosting of the festival might hold an even greater statewide significance for Augusta.
"There has been talk about the Georgia Literary Festival looking for a permanent home," said Harris. "If all goes well in November, it's quite possible that Augusta will become a host city for the festival every other year."
Harris said GRU's Pamplin College has been an instrumental supporter of Augusta's hosting of the GLF. Without the aid of Dr. Charles "Skip" Clark, dean of Pamplin College, she said, the festival might never have made it to the Summerville Campus at all.
Another vocal supporter of the GLF is local author Karin Gillespie (featured here). Gillespie, also an assistant professor in the Department of English and Foreign Languages, serves as the Augusta committee's "author contact extraordinaire," working with other Georgia authors to create the best festival possible. In addition, she has also helped the committee win several funding gifts, including a grant from the Porter Fleming Foundation.
For more information about the 2015 Georgia Literary Festival, contact the Georgia Center for the Book at 404-370-3070 or Anna Harris at aharri31@gru.edu.
To receive updates about the festival or inquire about vendor and sponsorship opportunities, please visit the Georgia Literary Festival's Facebook page or send email inquiries to Aspasia Luster at lustera@arcpls.org.