For most people, writing poetry — at least good poetry — is far from easy.­­
So imagine accepting a challenge to write 30 poems in 30 days.
During the entire month of February, Anna Harris-Parker, an assistant professor of English at the Katherine Reese Pamplin College of Arts, Humanities, and Social Sciences, has volunteered to write one poem each day through a fundraiser called the 30/30 Project for Tupelo Press, an award-winning, nonprofit literary press.
The 30/30 Project is often referred to as a "poetry marathon," for writers, she said.
"I'll admit, it's pretty challenging," Harris-Parker said. "The first day, I was really excited about getting started. I was up at 5 a.m. in my office and, within 90 minutes, I had a poem that I felt pretty good about. There have been a lot of days like that, but there have also been days where I don't have a clue what I'm going to write about."
On those days that the ideas aren't flowing freely, Harris-Parker will surf the internet for ideas and inspiration or turn for support to a private Facebook group of poets that Tupelo created for the writers involved in the fundraiser.
"It just feels so nice to do something that is good for me as a daily writing practice but also that is doing a lot of good for an organization that I care about," Harris-Parker said.
"Tupelo Press is an independent, nonprofit publisher that I have followed and known about for years. Some of the first books that I really loved by contemporary poets were published by Tupelo. So I thought this was a really creative fundraiser."
After applying to participate in the 30/30 Project earlier this year and submitting a short writing sample, Harris-Parker was thrilled that Tupelo Press quickly chose her as one of the nine poets featured in February.
"I have been so busy with other responsibilities that I was a little frustrated with my own writing discipline, or lack thereof," said Harris-Parker, laughing. "So I thought that if someone else is holding me accountable and there is money involved, then I might be more motivated to write."
At first, Harris-Parker admitted that she was a little panicked about committing to raising at least $400 in pledges for Tupelo Press, but she has already far surpassed her goal.
"When I initially said I would raise at least $400 for Tupelo, I thought the goal of $100 every week was reasonable," she said. "But within just a few days, I think by Feb. 2, I had already hit my goal, which was really awesome, and it has just kind of grown from there. I've been really just overwhelmed and incredibly grateful for family and friends who have jumped in to support me and who have donated money."
As an Augusta native, Harris-Parker has also used a few local references in the poems she has written for the 30/30 project this month.
For example, in her Feb. 12 poem, she wrote about the closing of Crosby's Women Apparel, the longtime retail store on Broad Street.
"That day, I was struggling to come up with an idea for a poem and there is an exercise you can do that is called newspaper blackout," Harris-Parker said, explaining that poets will take newspapers and black out certain sections of an article and write the remaining words as a poem. "For that poem, I took an old copy from campus and brought it home and blacked out an opinion piece and that was my poem."
Along with raising money for the nonprofit publisher, Harris-Parker also decided the writing challenge would give her the opportunity to promote her new chapbook, called Dress, which is scheduled to be released in May by a Charlotte-based publishing company called Main Street Rag.
"Chapbooks are really popular for poets because they are shorter-length manuscripts typically around 30 or 40 pages," Harris-Parker explained. "The title, Dress, and the three sections of the book come from something my grandmother used to say, which is to always buy what she called a 'CCC dress.' That's a dress you can wear it to the church, the cemetery and a cocktail party. So, church, cemetery and cocktail are the three sections of the book."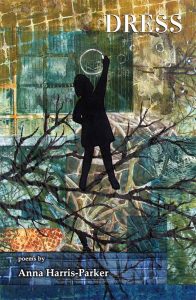 The poems in the church section of the book deal with ritual and tradition, the cemetery section has poems relating to types of losses and the cocktail section is "a catch-all for all things awkward," Harris-Parker said, laughing.
"I'm excited because I've been working on those poems a long time and almost a year ago is when I received the news from Main Street Rag that they wanted to publish it," she said. "It is supposed to finally be out in May, but people can pre-order it now from Main Street Rag's website."
Dress is the first book for Harris-Parker, but her poems have appeared in several other national journals such as Cellpoems, Mikrokosmos, Slant and West Texas Literary Review. She also advises the Sand Hills Literary Magazine and directs Writers Weekend on the Summerville Campus.
To follow Harris-Parker's poetry each day this month, visit Tupelo Press. In addition, Harris-Parker and her colleague, English Assistant Professor Jim Minick, will be reading their work at the Morris Museum of Art at Lunch series on Friday, Feb. 22 at noon. Reservations can be made through Feb. 20 by calling 706-724-7501.
Seeing a Bird's Song

By Anna Harris-Parker

after a photograph by Mikhail Kalinin

Perched on the limb of a wind-lashed tree,

the Eurasian Blue Tit puffs his tune.

Tee, tee, tee drifts through the air—lazy

S of breath. He is hungry and cold—

his forest frozen, stripped of spiders,

caterpillars.     Young still—judging by

his breast's soft yellow—he calls his flock

of family: tee, tee, tee. He will

not flee to a neighboring city

as his elders did a century

ago, opening foil seals on glass

milk bottles with their black beaks, nesting

in letterboxes or fashioning

a street lamp shelter. Instead, he waits

in the woods for someone to venture

toward his frame, cupping an offering

of trail mix—a small thank you for this

snapshot seen and shared around the world.
Read more poems at The 30/30 project.