For Augusta University seniors and basketball players Tyvez Monroe, Deane Williams and Aaron Byrd the game was one for the record books.
It was the ninth Peach Belt Conference event of the season, and the Jags were hosting the Young Harris Mountain Lions. "They were talking trash — in our gym," remembered Byrd. "That got us even more locked into the game."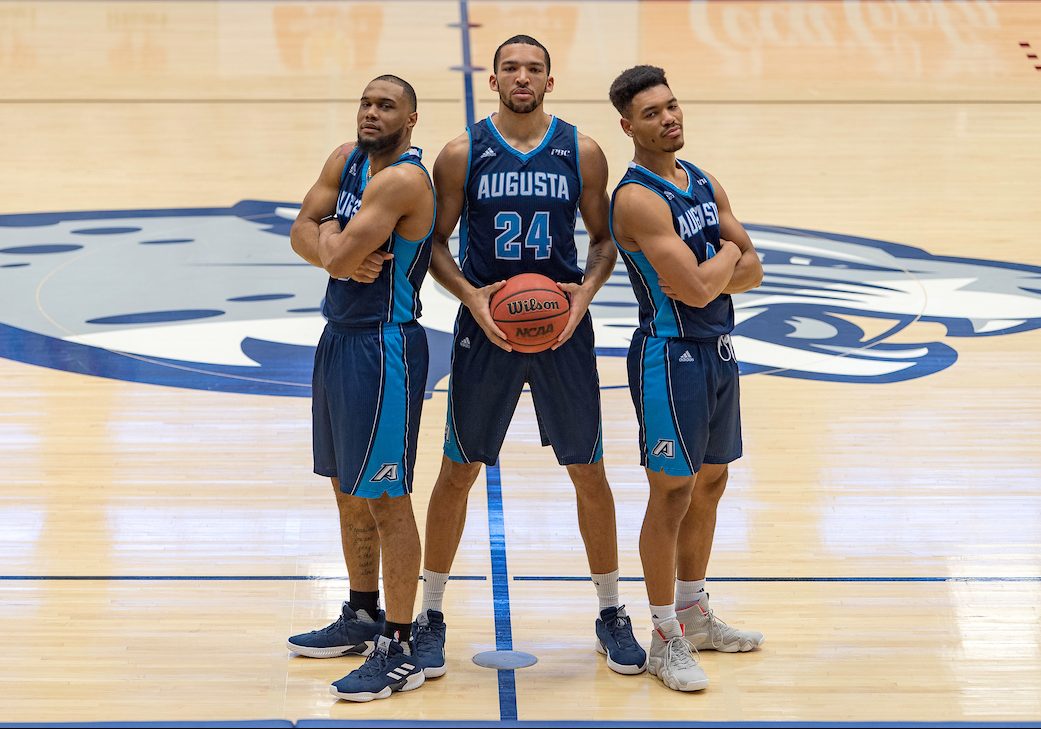 The entire team, led by the three seniors, was on fire. By the second half, they were unstoppable. In just the first few minutes, Monroe alone scored 12 points back to back. Later, another teammate passed to Monroe, who whipped the ball to Williams, who then tore off down the court to make his shot. Finally, with eight seconds left, Byrd himself scored the last three-pointer of the game.
But it was freshman Alex Johnson who sunk his free throw to push AU over the mark to best the Peach Belt Conference record of 128 points scored in a single game — and beat AU's own single-game record of 124. The game closed at 134-93. "For me," said Williams, "the best part was seeing every member of the team score and being able to contribute to such a historic moment."
"We've been making history all year," added Monroe, who also scored his own career-high during that game with 32 points — after becoming the 30th Jaguar to reach 1,000 points a few games earlier. (Williams would become the 31st a game or two later.)
When you've lived and sweated and grown together over four years on a Division II team that's come within a hair of winning a conference championship, earned a regional championship, and beat a Division I team for the first time in AU history, there's a certain camaraderie that's just natural. That camaraderie has also helped set the tone for what could be one of AU's best years in basketball.
"These guys, they all came from different paths," said AU men's basketball coach Dip Metress. "But they've all played a lot in their career and they've all played an integral part on the team. They're our elder statesmen, and they've all evolved into leadership roles."
"From day one, me and Tyvez and Deane — there was an atmosphere we wanted to set, and the team bought it as well. They listened to us, and that's taken us to a far better place," said Byrd.
Aaron Byrd: A Natural Leader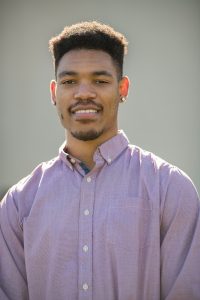 When you grow up in Washington, D.C., and Bethesda, Maryland, basketball is everything. For Byrd, it was what all of his friends were working toward: to play collegiate basketball and, along the way, earn a full ride to school.
He's lived basketball year-round too since he was 9 years old, wanting that dream. But Byrd loved it too: "Just going to the gym by yourself, shooting and dribbling. It was an atmosphere of peace."
AU's Metress was making his rounds looking for new recruits when he happened to see Byrd play. He offered an invite, and Byrd liked what he saw in Augusta: a slower pace than D.C., a welcoming atmosphere. Despite fielding some interest from Dartmouth College, Byrd felt comfortable saying yes right away: "It just felt right."
At AU, he took on a leadership role early. After all, he's been called a natural leader from the time he was a child — he was always one who listened to his parents and other elders and took responsibility. But Byrd admitted, "Sometimes I find it hard to see myself as a leader. I'm very hard on myself."
Being in the atmosphere at AU helped with that. He was a steadying influence on the team, always ready to listen and share advice. He worked hard to make sure the team actually worked together as a team. And friends like Monroe — quick at making decisions and confident against any opponent — built his own confidence, which wavered at times — on the court and off. "It's still a struggle," he admitted. "But I've gotten better at making decisions. It's small things, but going from A to B can be a huge step. Those small things can change who you are."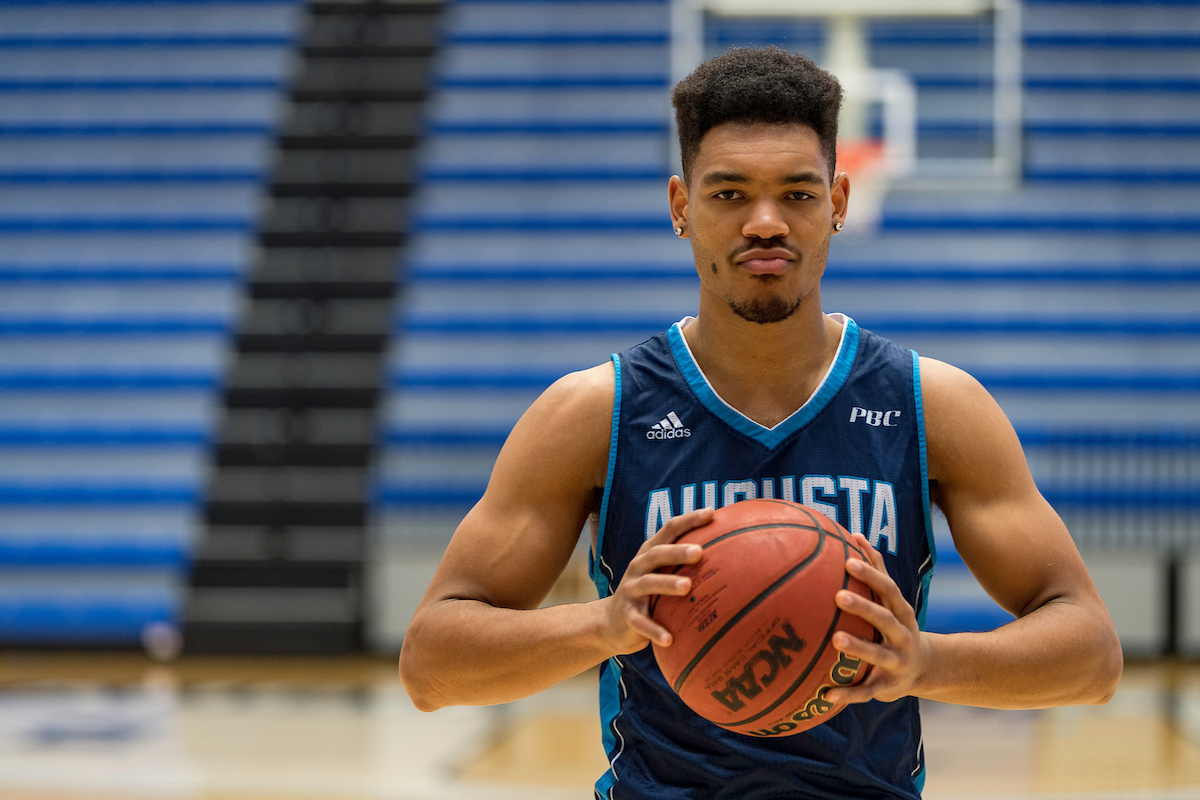 But it's this introspection that makes Byrd the leader that he is. "I don't tell anybody else to do something unless I'm willing to do it myself."
After AU, there are so many choices available. Byrd is thinking about pursuing his masters, including his interest in ancient Hebrew, but law school's on the table too. Wherever he goes, he'll always remember the lessons — and friends — he's made in Augusta: "Just being here has improved me as a basketball player and as an individual … and the best memories have been getting to know my teammates and my coaches."
Deane Williams: Pure Talent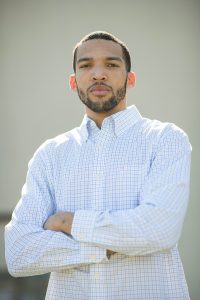 At 6 feet, 8 inches, Deane Williams is hard to miss. When he literally grew too tall and strong for soccer at age 13 — "I was constantly getting fouled" — he turned to basketball.
Turns out it runs in his genes: His father played basketball as a young man, while his mother played net ball, a form of the game without a backboard and no dribbling, both during their time in the British Air Force.
Growing up in Bristol, England, basketball was perhaps a more unusual sport to play, but Williams took it seriously. "I was able to be myself, and use what I had [my height] to my advantage, rather than hide and hold it back [like in soccer]," he said.
When it came time for recruiting, Metress was initially looking at another player on Williams' team, but his coach put Williams forward too. That sparked a flurry of emails and calls back and forth over the Atlantic until Williams flew over for a visit. Like Byrd, he liked the family environment of the school and as a massive golf fan, it was a thrill to be in the same city that hosts the annual Masters Tournament.
He admits that as a freshman, he was a "shy guy." "But through playing basketball I was able to connect with people, especially people I wouldn't see on a regular basis … I've grown a lot as an outgoing person."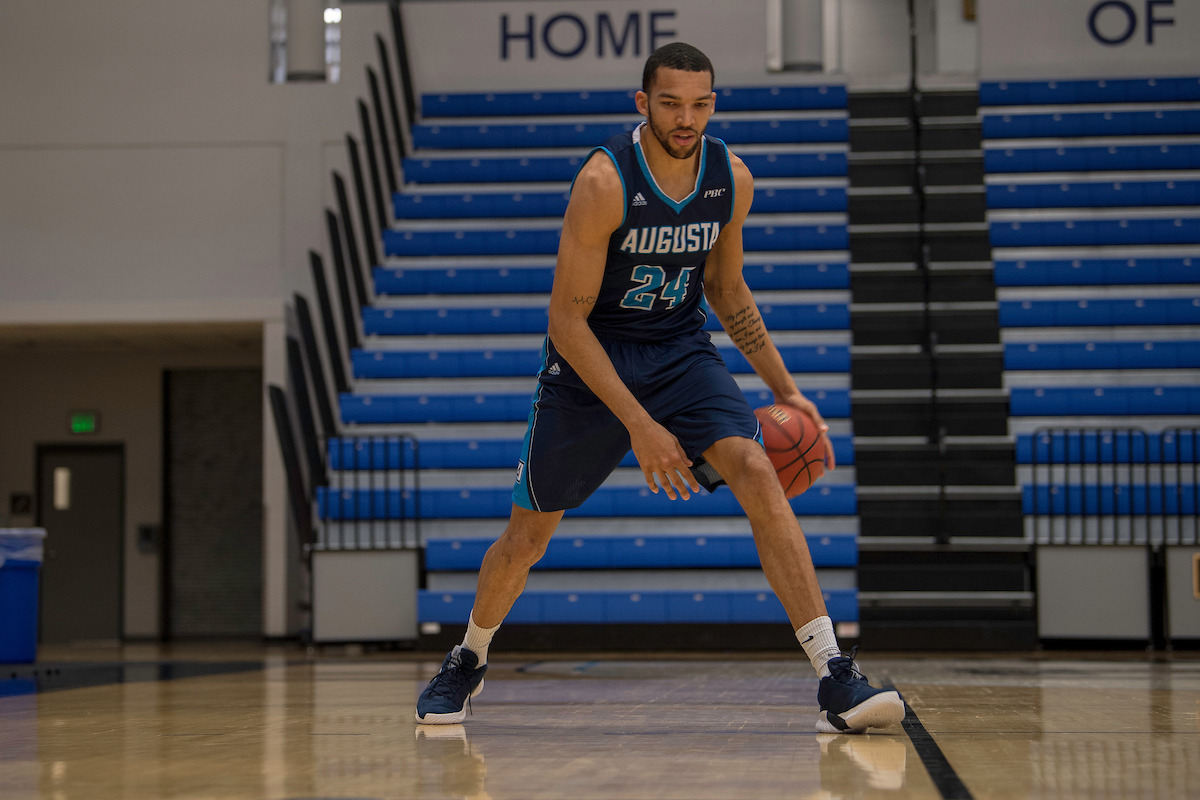 He's also grown as a player. In England, play tends to be more team-focused, but Metress helped channel Williams' raw talent as a more individual player — "more unpredictable," which is useful on the court.
And he wasn't just pushing him to do better on the court. "If I got behind in class or got a bad grade, he was like, 'Look, you need to stop wasting this opportunity. Not a lot of people get a scholarship to play sports in America.'"
After graduation, the integrated studies major plans to return to Europe and play professional basketball. But Augusta will always be with him: "Someone like Dip — he realizes people's potential and helps bring it out of them. He never lets anyone be less than what they are."
Tyvez Monroe: Stronger Than Ever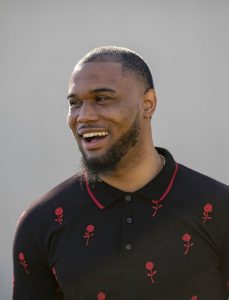 Every morning, Tyvez Monroe wakes up, gets dressed out and leaves this University Village apartment to head next door to Christenberry Fieldhouse to get in a few shots before practice. He's shooting again after practice, then working out, pretty much every day of the week.
He guesses that he spends about 30 hours a week on basketball alone, then the rest of his time on completing his communications major and sleeping. "But it's worth it," he said. "I love basketball, I love staying in shape, and I'm going to school free."
Monroe grew up Alexandria, Virginia, and had often competed against Byrd growing up. Metress saw Monroe on one of those recruiting trips and offered him a scholarship on the spot. "I was like, 'I don't know who this dude is, but he must see something in me I don't see yet,'" Monroe remembered.
When he visited, he found he liked one big thing: the food. "I really liked the food — all the restaurants in Augusta," he said with a grin. But he also liked how friendly everyone was on campus, the warm weather and how close the gym was to the campus apartments.
But being independent for the first time had its bumps. "It's college," he said. "That's a good word for it."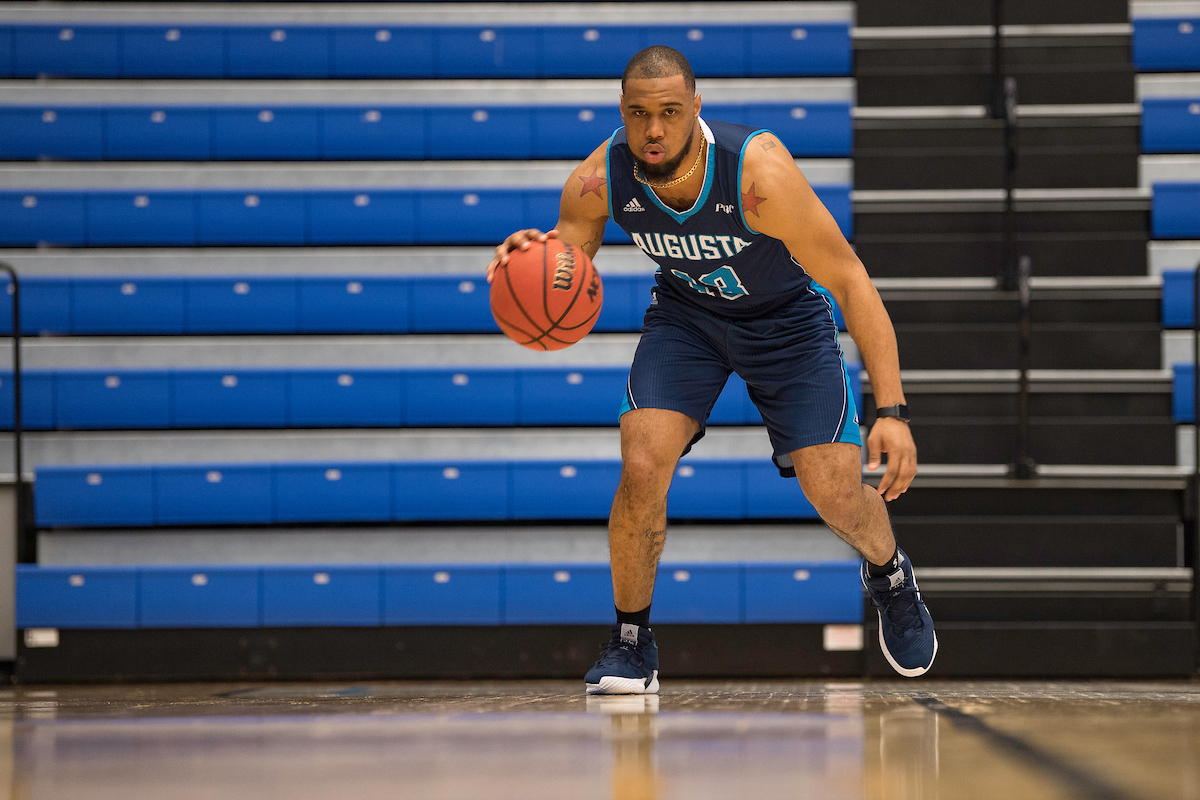 Freshman year, Monroe admits he spent too much time having fun — and didn't like being the freshman after leading his high school team. "I learned the hard way," he said. "I almost failed. It took me realizing it was nothing to play with and that I could lose my scholarship like that. That got me back on track."
Basketball did too. Metress coached Monroe both on the court and off. It helped him mature, said Monroe. In many ways, as a senior, he's very different from that "in your face" freshman. Today, his focus is on working hard and leading by example.
Like Williams, Monroe hopes to play professional basketball overseas or work in communications. His experience here has helped prepare him, no matter what career he chooses. "I've learned a lot at Augusta University," he said. "Wherever I go now, I'm going to take that with me."
Watch them play: 2019 Homecoming
The Augusta University men's and women's basketball teams host the 2019 Homecoming games in Christenberry Fieldhouse on Saturday, Feb. 23. The 2019 Homecoming coronation ceremony and crowing of the Augusta University King and Queen will take place during the men's halftime on the Christenberry Fieldhouse gym floor. See the full schedule of homecoming events.