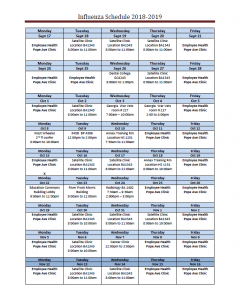 This flu season, Augusta University is taking part in the Alana Yaksich National College and University Flu Vaccination Challenge sponsored by Alana's Foundation.
This national challenge is a way to encourage students, faculty, staff, alumni and fans to get vaccinated while competing with other colleges and universities. Students can get flu shots on campus at the Student Health Clinic in Pavillion II at 1465 Laney Walker Boulevard (706-721-3448). Flu shots are also available at pharmacies and other locations around town.
The competition is simple: Students will be asked to self-report their vaccination status via an online collection tool created by Alana's Foundation.
All faculty, staff, alumni and friends are also encouraged to self-report their vaccination status to help Augusta University win the competition.
For those who don't like needles, the nasal spray flu vaccine is another recommended option by the Centers for Disease Control and Prevention for the 2018-2019 flu season.
Colleges and universities are particularly good breeding grounds for illness because of the close proximity of people on campus. Students living in the dorms, commingling in classrooms and riding shuttles around campus, as well as those who are around patients, could have an increased risk of getting the flu.
The survey for your self-report will ask for school name, month of vaccination, place where you got your flu vaccine, age and affiliation with your institution (student, alumni, faculty, staff or fan).
The institution with the greatest number of surveys completed will be presented with the Alana Yaksich Memorial traveling trophy, which they will keep until the next season's winners are announced.
Spread the word, get vaccinated and help Augusta University win this competition!