Flu season is here, overlapping the COVID-19 pandemic that continues to spike across the state and the nation.
Augusta University Health officials warn this combination of highly contagious respiratory illnesses could result in an unprecedented health crisis, but they hope to lessen the impact by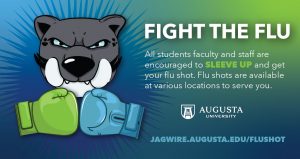 encouraging the community to get their annual flu shots.
"If everyone got the flu shot and continued those efforts to slow the spread of COVID-19, like social distancing and wearing a face mask, this could lessen the impact of the flu season," said Dr. Robert Dollinger, director of Student Health Services at Augusta University. "We have to remember how we're all in this together and, during this pandemic, getting vaccinated is the test way to prevent the flu and to protect yourself and others."
Frances Toole, director of Employee Health and Wellness at Augusta University, shared similar sentiments.
"As we continue to battle the coronavirus, this flu has the potential of being one of our most challenging seasons and the best strategy we all can take is to be ready," said Toole. "I encourage all of us to take preventive measures to stay healthy and getting the flu shot is one of the best ways to do that."
To better protect our patients, students, families, and staff from influenza, annual flu shots are mandatory for AU Health employees and for university faculty, staff, vendors and volunteers who perform work inside the medical center and all health clinics.
On Monday, Oct. 12, the university will host a Parking Lot Palooza for students and AU Health employees to receive their flu shots. AU Health employees can get their vaccine from 6-9 a.m. and 2-4 p.m. in parking lot 55, and flu shots will be available for students from 8:30 a.m. to 2 p.m. in the connect space outside of Oak Hall.
October is the best time to receive a flu shot but certainly should be received before the end of the year. The deadline to get your flu shot is 5 p.m. on Dec. 1, and be sure to bring your completed Influenza Vaccination Screening and Immunization form as well as your badge when you go to get your vaccine. Download employee and student vaccination forms.
AU Health employees unable to attend this event should monitor the health system's Facebook page for information regarding pop-up clinics to be held in various locations in the Augusta University Medical Center. They can also contact their unit department leader to schedule a flu shot with a clinical ladder nurse. Students can receive free flu vaccines at the Student Health Clinic without an appointment during normal business hours; check the Student Health Services website for more information:  www.augusta.edu/shs. Student Health is also hosting several outreach vaccine clinics for allied health science students, housing and student athletes.
Additionally, the university has partnered with CVS/Caremark to host a series of convenient flu shot clinics for faculty, staff, and students with health insurance on the Health Sciences and Summerville campuses beginning Oct. 16. Schedule an appointment and  view a complete schedule appointment dates.
As another effort to get campus-wide participation in this year's flu campaign, Augusta University has teamed up with Alana's Foundation and joined the 2020-21 Alana Yaksich National College and University Flu Vaccine Challenge with over 30 other universities from across the country. The goal of this annual challenge is to increase flu vaccination rates on college campuses.
Students and staff who receive flu shots at any location are encouraged to join the Alana Yaksich National Challenge by completing the brief flu shot survey.
The competition runs through Dec. 8, and the three institutions with the most surveys submitted in their size category will win the Alana Yaksich Memorial Trophy.
Flu and flu-like illness include fever of 100 degrees or higher or any of the following:
Cough and/or sore throat
Runny or stuffy nose
Headache and/or body aches
Chills
Fatigue
Nausea, vomiting, and/or diarrhea (most common in children)
As a reminder, Augusta University Health's Work Restriction Policy requires employees and students to stay home if they are sick until they are free of fever for at least 24 hours without the help of fever-reducing medication. Below are more precautions to help curb the spread of the flu virus on campus and in the community:
Practice appropriate hand hygiene: wash with soap and water or use alcohol-based hand sanitizer.
Cover your nose and mouth with a tissue or your elbow when sneezing or coughing.
Avoid touching your face, particularly mucous membranes like the nose, mouth, and eyes.
Contact your care provider by phone for possible antivirals if very young, over the age of 65, or have chronic medical conditions.
Sick household members should stay away from common areas of the home.
Designate a clean and sick bathroom, if you have more than one available.
Clean the sick room and sick bathroom daily with disinfectant.
Clean linens, eating utensils and dishes quickly after use by an ill housemate.
In addition, it is recommended that you wear a surgical mask during and up to five days after caring for someone with flu or flu-like illness.
For more information on flu shot opportunities, call Employee Health and Wellness at 706-721-3418 or contact Student Health Services at 706-721-3448. For weekly updates on the influenza virus, visit the Centers for Disease Control and Prevention's flu page and learn the difference between COVID-19 and flu symptoms.
Read more about why the flu vaccine is important for all ages in our Children's Hospital of Georgia blog.