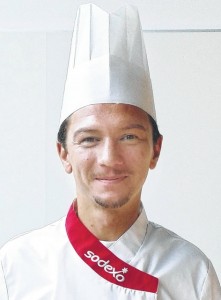 In celebration of international diversity at Georgia Regents University, Terrace Café (located on the second floor of Georgia Regents Medical Center) will host Chef Lukas Jenista on Thursday, Oct. 15.
Jenista comes to GRU as part of Sodexo's Global Chef program, a month-long international chef residency that provides an opportunity for Sodexo's top chefs worldwide to travel to different countries and share authentic international cuisine with customers, staff and the local Sodexo dining teams.
Jenista, an executive chef with Sodexo since 2013, is a master of Czech cuisine.
In addition to his duties as executive chef, Jenista also specializes in menu creation and high-profile catering and will be serving unique menu items on Thursday as part of his visit.
But what is Czech food?
Modern Czech cuisine consists primarily of beef and pork dishes.
Dumplings, or "knedliky" in the native Czech, are served as a traditional side to most Czech dishes, usually served alongside thick, flavorful soups and a wide variety of sauces. Dishes also tend to plate with a wide-variety of starches, including puffed rice and all varieties of potatoes.
Although not finalized, Terrace Café's menu under Chef Jenista's direction will be sure to please adventurous and picky eaters alike.