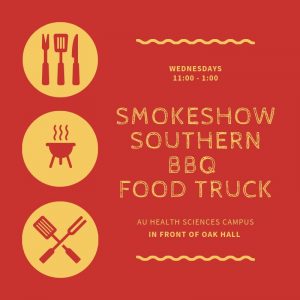 SmokeShow Southern Style BBQ food truck is returning to the Augusta University Health Sciences Campus to offer additional dining options.
The food truck will be available from 11 a.m.-1 p.m. Wednesdays beginning June 12.
"We have been trying to get a food truck to visit campus for some time," said Karl Munschy, assistant chief auxiliary officer in the Division of Auxiliary Services. "SmokeShow helped us out when the McDonald's was temporarily closed in the Children's Hospital of Georgia, and folks really liked them."
With the Atrium Cafe closed temporarily for renovations, Smokeshow is a welcome addition to Commons Café in the J. Harold Harrison, M.D. Education Commons, the Jag Stop and Terrace Dining at AU Medical Center.
When the Atrium Cafe reopens for the fall semester, students will have more choices for breakfast and lunch, including an expanded salad bar.
For more information about dining, or other services, contact the Division of Auxiliary Services or call 706-729-2179.