When Ashley Fryer, a first-grade teacher from Blue Ridge Elementary School in Evans, heard her name announced as Columbia County Teacher of the Year last week, she was truly humbled and overwhelmed with emotions.
"Teaching is my passion and working with children is a joy I hold very dear to my heart," Fryer said. "Being Columbia County's Teacher of the Year is a responsibility I will not take lightly. I hope that I am able to shine light on all the good that is our students and faculty."
Ever since Fryer was a small child, she dreamed of becoming a teacher. Even as young as 3 years old, Fryer said her mother would watch as she lined up all of her stuffed animals and pretended to be their teacher and read to them.
"My favorite part about teaching is the relationships I create with both my students and their families. Hands down," she said, smiling. "Making a difference and letting these kids have one additional person in their life that loves and cares for them is an honor."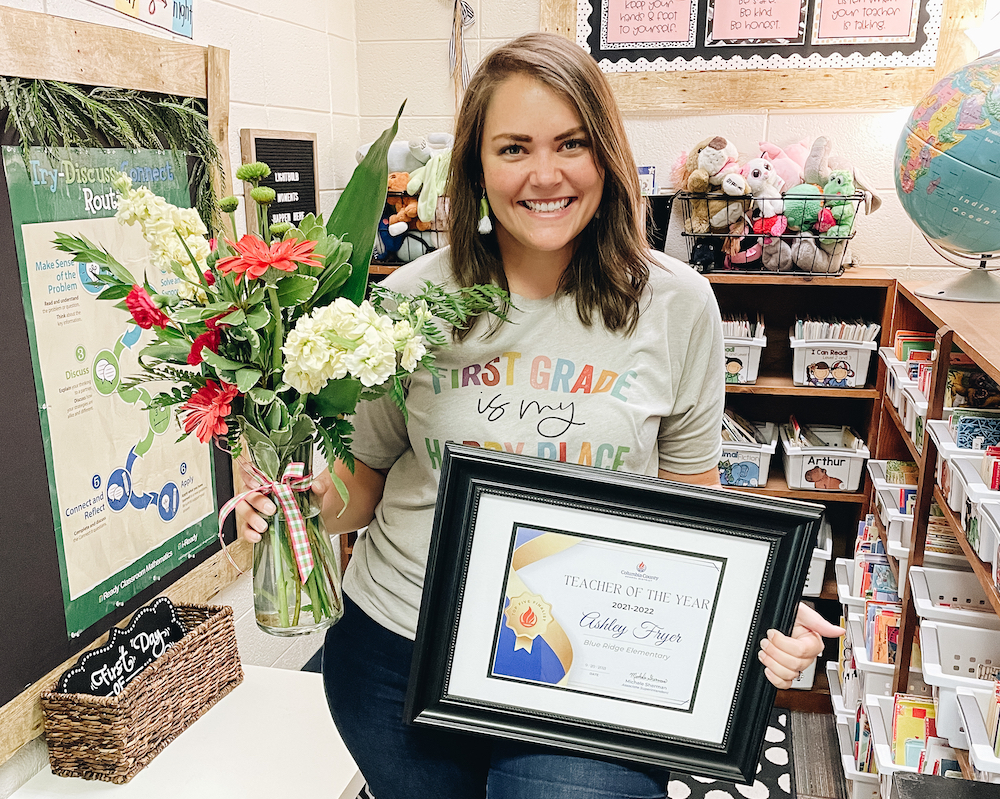 Fryer, who graduated with her bachelor's degree from the College of Education at Augusta University in 2013, also received her master's degree and gifted endorsement from AU in 2015.
"I will graduate next spring in 2022 with my specialist degree. I'm excited to be a triple Jag," she said, adding that she feels like Augusta University thoroughly prepared her for life in the classroom. "AU did a great job providing me with the experiences and strategies to use when becoming a teacher. I love that they allow some courses, prior to even beginning the teaching program, to let you 'get a feel' for teaching."
"I think that is so important because sometimes you have a much different perception than reality," she added. "All of the hands-on experiences that AU offers their student teachers is critical and necessary. I had a wonderful experience at AU."
A path to success
Not only did Fryer receive her degrees from Augusta University, but four out of the five finalists for Columbia County Teacher of Year also hold degrees from AU.
The same was true with the candidates for Richmond County Teacher of the Year. Four out of the five finalists hold degrees from Augusta University and the winner, Vicki Knox, received her specialist in education at then-Augusta State University.
Knox, who is an Early Intervention Program (EIP) math teacher at Deer Chase Elementary School, is a veteran teacher with more than 20 years of experience. Over the years, she has taught all over the world, including international teaching experiences with the Department of Defense Schools in Kanagawa, Japan and Cambridgeshire, England.
"My teaching career has brought me so much joy and I am very proud of my achievements and the successes of my students," Knox told the Richmond County School Board earlier this month. "The magnitude of this position is super stardom, because you are standing in front of a group of kids and you are guiding them, not only academically, but you're showing them how to maneuver their way in the world."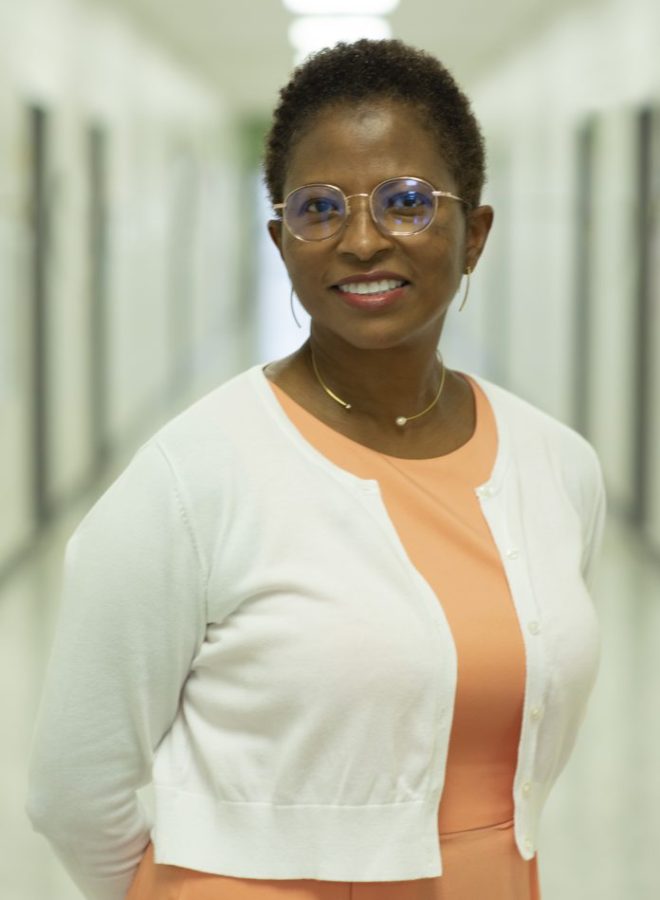 Her advice to current students considering a career in education is to make certain that "you are really coming in with the right intention to grow and to help children discover," because teachers help students learn who they are as human beings, she said.
"In this school and in this class, you're learning academics, but you're also building habits," Knox said, looking around her classroom. "You are discovering yourself and you are discovering things within you that you didn't even know you had. And it is a joy to kind of help bring those out."
"You're learning how to problem solve, you're learning how to discuss and listen and have conversations with other people, perhaps you agree or not agree, but you're learning how to come to those resolutions," she added. "So that is my approach to teaching: To teach to your head, to your heart and to your soul."
But the success of Augusta University's College of Education alumni didn't stop with Columbia and Richmond counties. Augusta University alumna Jami Walden, who is a first-grade teacher at Waynesboro Primary School and a 15-year veteran teacher in the classroom, was named Burke County Teacher of the Year.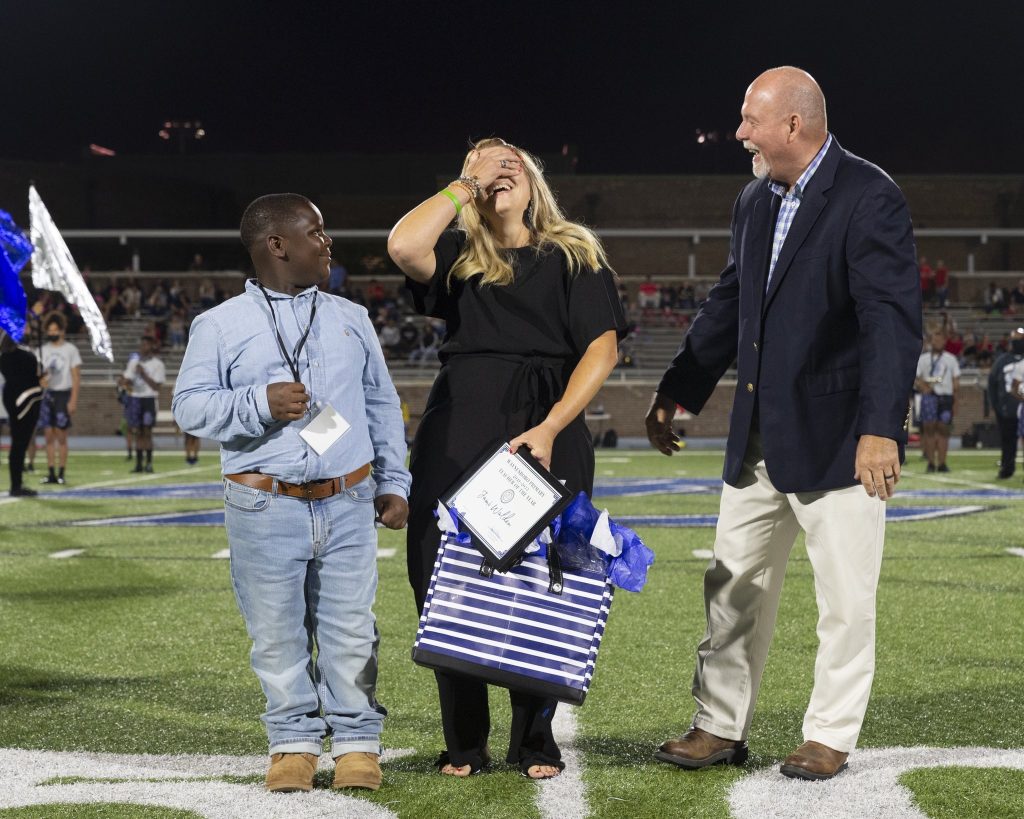 Walden is also a "triple Jag" after receiving her bachelor's degree in elementary education, and both her master's and specialist degrees in curriculum and instruction at Augusta University.
"I take my job as teacher to heart and all the little ones that I get the opportunity to teach become my children, too," Walden stated on her school's website. "I thank God for the mission field I've been given as a teacher."
All three of the winners from the local counties will go on to represent their districts in the statewide Teacher of the Year competition.
Preparing teachers for the classroom
Dr. Judi Wilson, dean of the College of Education at Augusta University, said she could not be prouder of all of the finalists and winners of the local Teacher of the Year awards.
"The College of Education was thrilled to learn that four of the five finalists for both Columbia County Teacher of the Year and Richmond County Teacher of the Year were alums," Wilson said.
"Here, in the College of Education, we work extremely hard to prepare our students for the classroom. Our students get more field experiences than some programs around the state and certainly many programs around the nation. I think that makes a tremendous difference."
Just last year, the College of Education at Augusta University earned an exemplary score of a Level 4 rating, the highest score available, on the 2020 Teacher Preparation Program Effectiveness Measures published by the Georgia Professional Standards Commission.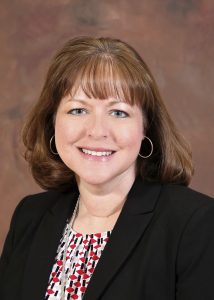 The Teacher Preparation Program Effectiveness Measure is Georgia's system for assessing how well programs throughout Georgia are preparing teachers for the classroom. The College of Education also received a flawless accreditation review and a perfect site visitor report from the Georgia Professional Standards Commission earlier this year.
In addition, the College of Education has worked tremendously hard to develop close partnerships with the surrounding local school systems in order to constantly improve its program, Wilson said.
"Our partner schools are amazing and they provide incredible support," she said. "I don't know of another university in the state that has stronger partnerships than we do."
Wilson said it is gratifying to see former and current students from the College of Education excel in their fields.
"I had the privilege of supervising Mrs. Fryer's student teaching years ago and can attest to the fact that she is a natural teacher," Wilson said, referring to the Columbia County Teacher of the Year. "She cares deeply for her students, engages them well and she exhibits all of our institutional values every day in her classroom."
A passion for education
Jennifer Barefoot, the media specialist for Grovetown Middle School and one of the finalists for Columbia County Teacher of the Year, holds her bachelor's and master's degrees from then-Augusta State University.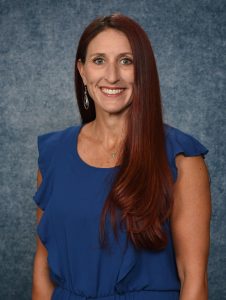 Barefoot said she would highly recommend Augusta University to anyone looking to go into teaching or wanting to continue pursuing their education while working as a full-time teacher.
"The biggest impact ASU had on my preparation for the classroom was through my master's degree. The process of earning my master's brought everything together cohesively," Barefoot said.
"I already had a classroom of my own when I began my master's and the course requirements allowed me to create content that I was able to implement in my classroom. I was also able to evaluate my teaching style and learn how to make adjustments to better meet the needs of my students."
Marie Blindauer, a STEM (science, technology, engineering and math) teacher at Baker Place Elementary who was also one of the finalists for Columbia County Teacher of the Year, said her experiences at Augusta University helped form her love for teaching.
"While I believe education is a calling to serve others and communities selflessly and therefore many lessons are learned through life experiences, Augusta University helped prepare me to step into this field with confidence," Blindauer said. "I earned my bachelor's, master's and specialist degrees from this institution and felt that my courses and required coursework were meaningful and valuable to my development as an educator.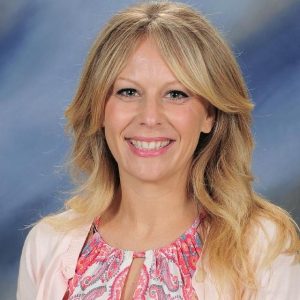 "Not only did my experiences at AU help me feel connected to my community and allow me to foster relationships that would later benefit me as an educator, but the professors at AU instilled in me a passion for the field of education and a love for learning."
In fact, Blindauer vividly remembers one class she took at then-Augusta State University that was taught by Dr. Gordon Eisenman.
"There are definitely a few professors that profoundly influenced me. For example, Dr. Eisenman taught a course about addressing classroom behaviors and individual student needs," she said. "We participated in simulation activities that required us to create the most disruptive class scenarios we could imagine for our fellow peers. The 'teacher' had to figure out a way to defuse the situation and get the class back on track."
"I remember paper balls, mock fights and just about every other hysterical combination we could envision," she added, laughing. "The lessons and memories have proven to be quite valuable over the years."