Senior track and field runner Priscilla Ajala originally chose Augusta University for its medical program and the resources the university could offer her for a career in medicine.
Competing in track and field at the college level wasn't on her radar at first.
At the last minute, Ajala, who is originally from Loganville, Georgia, decided to see if it there was an opportunity to continue running. She reached out to former head coach Adam Ward to learn whether it would be possible to walk on to the team.
Four years later, she will be graduating with a degree in chemistry with a concentration in biochemistry and a minor in psychology from Augusta University's College of Science and Mathematics. She will also depart as the 2023 Peach Belt Conference Women's Track Athlete of the Year, having set program records in the 100- and 200-meter dashes en route to winning three league titles in those same events.
She said the past four years have been an adventure, especially considering the stresses and self-doubt that sometimes come with studying a STEM field with aspirations of going into medicine, much less adding in the fact that she wasn't originally coming to Augusta University to compete in track and field.
"It's just a lot more work being in a STEM program and at the same time being a student-athlete because you have a lot of commitments that you have to deal with," Ajala said. "And being a pre-med student, in general, is a lot of work in and of itself without extracurricular things that you have to do, such as volunteering and shadowing. It took a lot of trial and error and a lot of support from the people around me, including my coaches and definitely my family and my friends that I've met here.
"There are times when you do break down and feel like you can't make it and it's just too much. I've felt that way a couple times, but having people to continue to lift you up and make you feel like you're more than capable of doing this, then it's really worth it at the end of the day."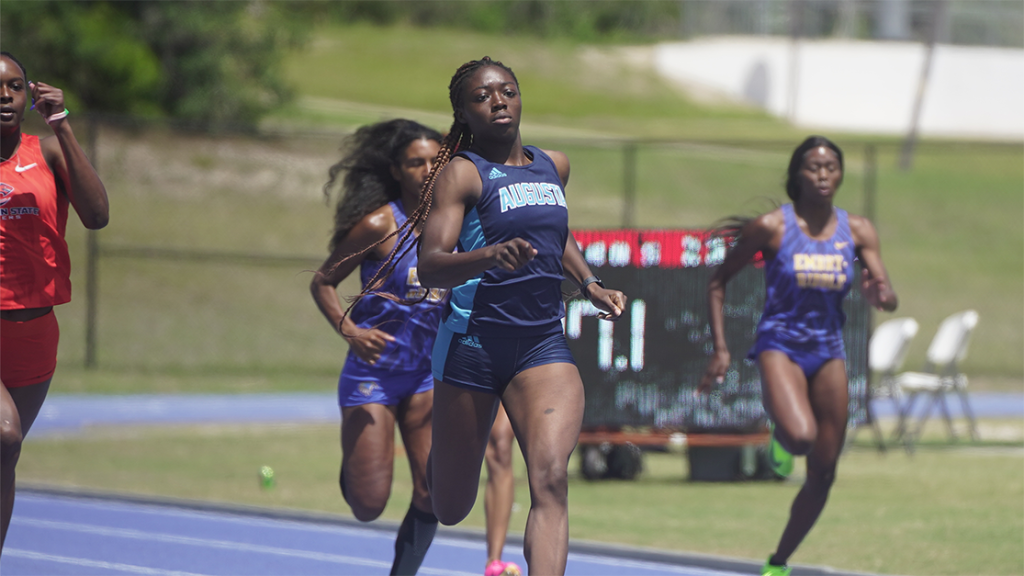 Ajala credits some of her closest friends with helping her daily in her journey at AU, including Zyare Orr, Leah Godfrey-Smith, Lekha Matthew, Imo Sunday, Terrell Stokes and Parmalie Andris.
During her time at AU, Ajala immersed herself in the college experience, including participating in the African Student Association and the Chemistry Club, becoming co-president of the Minority Association of Pre-Health Students and a member of the dance team, taking part in the Honors Program and doing undergraduate work with Eric Belin de Chantemele, PhD, who is now helping her with her honors thesis.
She understands why some people say to just focus on one thing, to which she has a simple response.
"The sky's the limit when it comes to your ambitions and when it comes to what you want to do for your life. It's how much you're willing to sacrifice and how much you're willing to put into it," she said. "It has not been an easy four years for me, but having people around you that see your potential, having people around that see how hard you work and how much you put into everything, it really builds a person up and makes them be able to feel like they can really do anything at the end of the day."
Ajala is currently awaiting word on graduate school as she continues her journey in becoming a pediatric surgeon.
"You can do anything that you put your mind to, God is my witness. He's brought me through so much throughout all these years. I never thought I could make it to this point, honestly, but I got here under my own wings, with my strength and God's strength and with the help of many people. It really takes a village."