Growing up in the small town of Buford, Georgia, Brianna McMullen always dreamed of going to college, but she wasn't sure it was possible.
No one in her family had ever gone to college. She wasn't even sure where to begin. But she knew, somehow, she had to get there.
"In high school, I was involved in musical theater, and I had a passion for singing and dancing, but I remember we had a health care pathway at my school," McMullen said. "I was taking a class my sophomore year that was basically a nursing class and then an anatomy/physiology class."
McMullen was immediately drawn to studying anatomy and the internal structures of the body, so she began researching what careers were involved in that field.
"I began thinking, 'Maybe I could get into radiology.' That's where my interest started to bloom," McMullen said. "But I remember I was really naive because I'm a first-generation college student. I was thinking, 'OK, the only way I'm going to be able to work with the skeleton would be a radiologist, so I have to be a doctor.' So, that's what I was saying all of sophomore year, right through when I graduated high school, 'I want to be a radiologist. I want to be a radiologist.'"
But, at the time, there was a bigger question facing McMullen: How was she going to get there?
"My family, we weren't very fortunate financially, so I really didn't think college was going to be possible," McMullen said. "Even though I had the aspiration of wanting to be a doctor, I didn't know how I was going to get there. And I remember my senior year in high school, one of my counselors was talking to me, and she said, 'It's very possible. You can get a Pell Grant and other federal financial aid is available.'"
Suddenly, a door opened for McMullen.
"I remember thinking, 'Wow. I can do something with my life,'" she said. "But it was already my senior year and everything was super last-minute. I had a pretty good GPA, so I decided, 'I guess I'll just apply and see what happens.'"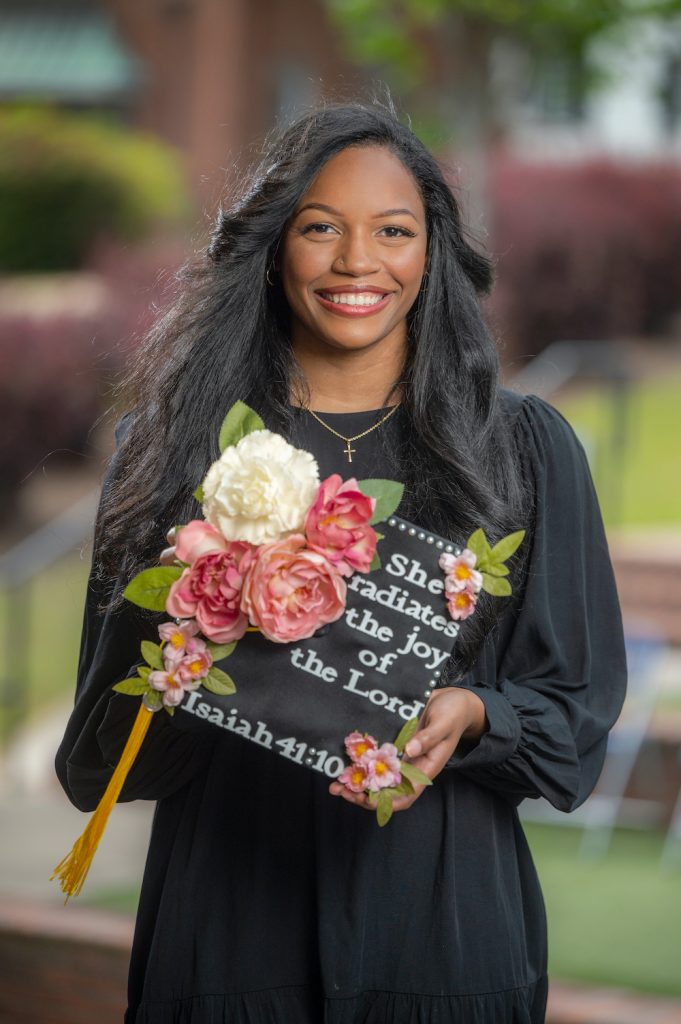 McMullen applied to Augusta University because of its pathway to the Medical College of Georgia.
"Augusta was my only bet," McMullen said, smiling. "I remember thinking, 'If I don't get into this college, then I guess I'm not going to school.' But thankfully, I got accepted, and I was able to start my collegiate career here."
Even though McMullen also qualified for Georgia's HOPE Scholarship, going away to school was an expensive cost for her family.
"My mom and stepdad worked super hard to pay for my education up until the first semester of sophomore year," she said. "I remember we had to ask other family members to help pay for the first semester of freshman year, which was such a blessing. The whole family was new to this college thing, but they were committed to putting both me and my twin sister through school."
Originally, McMullen was a cell and molecular biology major with a focus on pre-med at Augusta University because she still thought she wanted to be a radiologist.
However, during her sophomore year in college, McMullen realized becoming a doctor wasn't what she actually wanted in life.
"Again, being a first-generation college student, I wasn't aware of what kind of career options were out there. I thought the only way of getting into health care was being a doctor," McMullen said. "But my sophomore year, I decided to delve into some more options because I was taking biology and chemistry, which were all great, and I really enjoyed those classes, but it just wasn't fulfilling me."
Since she already had a number of science credits at Augusta University, she began exploring her options and was quickly drawn to nuclear medicine technology offered by the College of Allied Health Sciences at Augusta University.
"Nuclear medicine immediately piqued my interest because of the imaging aspect of it," McMullen said. "I was like, 'This actually aligns a lot with what I have always wanted to do.' But it also deals directly with patient care. You are directly involved with patients from the time they enter the hospital until the time they leave. That in-depth patient care was very important to me."
McMullen applied and was accepted to the nuclear medicine technology program in the College of Allied Health Sciences at Augusta University.
"When I got into the program, it was just such a huge deal for me," McMullen said, adding that her mother is a stay-at-home mom and her stepfather is a truck driver who transports hazardous materials across the country. "My mom and dad, they have always worked so hard. So, for me to get a degree from Allied Health Sciences, in a program that is rigorous and challenging to get into, means the world to me and my entire family."
As McMullen prepares to walk across the stage and accept her diploma from Augusta University in front of her parents and twin sister, she can't help but get emotional about her journey in life and the impact this degree will have on her future.
"It's just such a big deal," McMullen said with tears streaming down her face. "I've had visions of what it is going to be like when I receive that diploma in my hand. This is what I worked for. This is what I prayed for. And it's in my hands now."
On the top of her graduation cap is the Bible verse Isaiah 41:10, with the words, "She radiates the joy of the Lord."
"Verse 10 says, 'Fear not, for I am with you. Be not dismayed for I am your God. I will strengthen you. Yes, I will help you. I uphold you with my righteous right hand,'" McMullen said. "This scripture echoes the last four years of my life. Nothing but gratitude and joy fills my heart. God has truly transformed my life and made me the woman I am today. College wasn't in the books for me four years ago. I didn't think it was possible. But God made it possible."
After graduation, McMullen will begin her career as a nuclear medicine technologist at Piedmont Athens Regional Medical Center in Athens, Georgia.
To say she earned this degree is an understatement, McMullen said.
"I had to work so hard to do well in school, so getting that diploma is going to represent everything that I went through and everything that I've been waiting for, which is to get out in the world and do what I love most: serve people," she said. "That is truly my passion. Augusta University has really given me the opportunity to find what I was always dreaming of and what I always wanted."