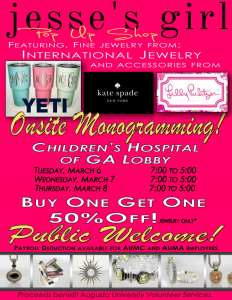 Volunteer Services and Engagement is hosting its Spring Fashion Pop-Up Sale in the lobby of the Children's Hospital of Georgia.
The event features your favorite brands in fashion jewelry, gifts and home accessories from your favorite designer brands, with proceeds to benefit Augusta University and AU Health Volunteer Programs. There will also be onsite monogramming.
Please share this information with your teams and plan to visit us for this exciting sale. Payroll deduction will be available for AUMC and AUMA employees.
This sale is open to the public, so please help us spread the word with your departments and your friends. Your support of our valued volunteers and volunteer programs is greatly appreciated.
Children's Hospital of Georgia Lobby Sale hours:
Tuesday, Mar. 6: 7:00 a.m. – 5:00 p.m.
Wednesday, Mar. 7: 7:00 a.m. – 5:00 p.m.
Thursday, Mar. 8: 7:00 a.m. – 5:00 p.m.