The office of Volunteer Services and Community Engagement is pleased to announce this year's recipients of the 2020 Spirit of Service Scholarships.
The VolunTeen Spirit of Service Scholarship was awarded to Makayla Kirkpatrick and the VolunJag Spirit of Service Scholarship was presented to Jaylah King.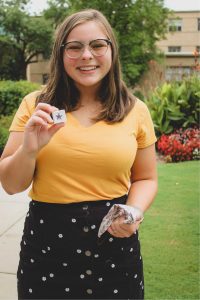 'I try to look at the positive'
Kirkpatrick's extraordinary level of involvement at Augusta University is evident in the wide variety of medical units and departments in which she served our patients and staff, including: General Pediatrics, Adult Oncology, Orthopedic Trauma, Labor and Delivery and Ambulatory Surgery.
She has also been a committed community leader through her service on the Volunteer Services and Community Engagement VolunTeen Board, a group of high school-aged student volunteers dedicated to serving and bettering the CSRA community.
After joining the VolunTeen Board as a high school sophomore, Kirkpatrick's remarkable commitment and dedication led her to taking on the role of vice president of the board during her junior and senior years.
"Makayla has done an admirable job of serving as a peer-leader through her efforts in facilitating programs and team-building exercises while coordinating service events throughout the CSRA, all while managing the workload of a high school student," said Vanessa White, associate vice president for Volunteer Services and Community Engagement.
She is also an outstanding student and scholar, showing her level of commitment reaches beyond her service to AU patients and families. Kirkpatrick has served as Student Council and Beta Club president at her high school while completing several honors and AP classes. Her passion for involvement and service continues to resonate, as she received an award for the most service hours from her school.
Kirkpatrick has aspirations of becoming a neonatal surgeon. After graduation, she plans to attend Augusta University, where she will begin a double major in cellular and molecular biology and Spanish. Her motivation to choose these fields of study is to help those in need.
"I know I can help people and I want to do that by being there for people when they are having some of their worst moments," Kirkpatrick said. "I try to look at the positive in a negative situation; I believe I can help others do the same."
White is excited to see Kirkpatrick become an AU student in the future.
"The Office of Volunteer Services and Community Engagement team would like to congratulate Makayla on this commendable achievement and we look forward to seeing great things from her as she joins our student body as an official Augusta University Jaguar!" she said.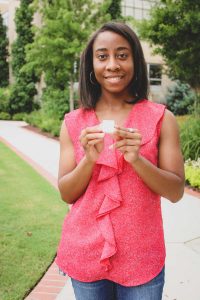 Serving as a role model
King has loyally served at Augusta University Medical Center, assisting staff in providing professional care to patients and family members on the Cardiac Care and Shock Trauma units.
King currently serves as volunteer coordinator for Augusta University's College of Nursing Pre-Nursing Society. In this role, she provides her fellow nursing students with information on volunteer opportunities within the community and on campus.
"On top of her service, it's important to note that Jaylah is serious about her studies and we are proud to note she has made the Dean's List regularly as well," said White.
King aspires to become a family nurse practitioner. She wishes to provide lifelong care to patients while improving the care provided to minority patients.
King is a first-generation college student, which has made her an enthusiastic learner. She speaks of her experiences in college with great regard to making her family proud.
"I am a role model for several people in my family and this is what motivates me to continue to finish college," King said.
King's level of compassion and willingness to assist others is what drives her to serve with such great commitment and care.
"We congratulate Jaylah on this honor and look forward to seeing great things ahead for her in the future," said White.
If you find these volunteer stories inspiring and would like to know how you can give back to Augusta University through service, please visit the office of Volunteer Services and Community Engagement site for more information.