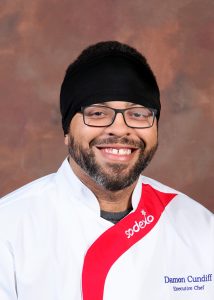 Augusta University is stepping up its food game.
When the new housing was built in 2015, the university knew that a dining hall would be necessary to support the students living there. But, even with close to 400 students living in Oak Hall, there wasn't enough to support the construction of a brand new dining facility.
Instead, they decided on transitional space – something that could hold out until the plan for additional housing could be realized.
"We figured, for significantly less money, we could convert the Health Sciences Student Center Food Court [what became Atrium Dining] into a temporary dining hall, and so that's what we did," said Karl Munschy, chief auxillary services officer at Augusta University.
It was this kind of out-of-the-box thinking that helped Munschy understand the unique needs that Augusta University had.
Now, the university has brought on board an executive chef to add an extra level of attention to the food service provided.
Damon Cundiff was chosen for the newly created position. With over 15 years as a culinary professional, Cundiff won the position by his ability to impress during his interview. Similar to the Food Network's Chopped, the candidates were given a basket with items and asked to prepare a meal.
"Damon came in and blew us away with what he did," said Munschy. "We think he's going to do really great things for us."
Cundiff will not only direct the dining program at Atrium Dining Hall, but he will also assist with the catering program and the various retail and branding dining outlets across both the Summerville and Health Science campuses.
"We do some presidential level catering and when that happens, because of his culinary background, we'll shift him up to the Summerville production kitchen to do that catering job, so he'll be wearing a lot of hats," said Munschy. "A lot of chefs hats."
New to both Sodexo, Augusta University's food service provider, and the university itself, Cundiff is excited about the new opportunity working for the university offers him. Having worked as a menu consultant and executive chef for several restaurant groups, including Buckhead Life and the 27th Group in Atlanta, Cundiff is used to difficult schedules.
"It actually brings a different aspect to my career, and it is a big step in a better direction for the well-being of my family," said Cundiff, whose young family relocated to Augusta with him. "I am excited about bringing my passion for the culinary world and my experience to the university, and to introduce some new flare to the students and staff."
While his creativity is somewhat limited by the 5-week menu cycle used by Sodexo, Cundiff will have the opportunity to be more creative with monthly gourmet meals for the students.
That's an idea that excites Munschy.
"We might do something special for Halloween or holiday meals, and tie them into other events," said Munschy. "And that will give him a chance to really shine and get off the menu cycle for that night to do something different, which will be good for him, too."
And while food isn't necessarily the first thing that comes to a prospective student's mind, Munschy believes it to be one of those soft things that is really important for a student's success.
"It goes all the way back to the old saying, 'breaking bread around the table,'" said Munschy. "I believe it has a lot to do with forming community outside of the classroom, and I think food and dining areas, like the dining hall, go a long way."