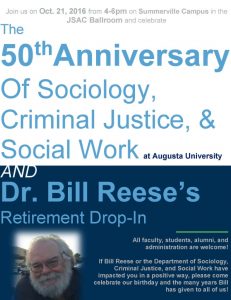 Augusta University's Department of Sociology, Criminal Justice, and Social Work is celebrating 50 years of being a department on the Summerville Campus with a party from 4-6 p.m. on Friday, Oct. 21, in the JSAC Ballroom.
According to Dr. Kim Davies, the department chair who is celebrating her own 20-year anniversary on campus this year, it's going to be a big deal.
"Since I've been here, I don't remember another department having a celebration like this for being here so long," she said. "We've decided to make it a time where we can reach out to our alumni and have them come back and say hello."
Besides a concerted Facebook campaign, the department has been doing other things to actively recruit former students to the celebration, including seeking out alumni while manning the Pamplin College booth at the Arts in the Heart festival last month.
While those efforts proved successful, Davies said it's almost impossible to be anywhere off campus without connecting with a student.
"Our students are scattered throughout the community," she said. "And it seems like everywhere our students are interning, we have alumni there, too."
Adding to the fun will be the retirement drop-in for longtime professor Dr. Bill Reese, who retired last May.
"We figured this way, alumni can come celebrate with Bill, too," she said.
As for how things have changed over the 50 years, Davies said that's a mixed bag. While they've added programs and faculty, changed the name and graduated generations of students, some things remain very much the same.
"They were talking about race and policing back in 1966," she said. "And guess what we're talking about now?"