As a young girl, Grace Fox was enamored with paleontology. So much so that she convinced her parents to take her on fossil digs as a child.
As Fox grew older, her love of science evolved. First, into a love for chemistry, and later, a strong appreciation for physics. While her interests fluctuated, one thing remained constant. She was determined to pursue a career in science.
While attending college in North Carolina, Fox decided she wanted to be a research scientist. Doing so would mean continuing her education and working towards a PhD. To help her prepare for the rigors of obtaining an advanced degree as a researcher, her undergraduate honors thesis mentor suggested applying to the Summer Student Training and Research (STAR) program at Augusta University.
The Summer STAR program is designed to help undergraduate students with a desire to pursue a graduate education in biomedical sciences get firsthand experience with biomedical research.
In 2012, Fox came to Augusta for the Summer STAR program. She worked with Dr. David Kozlowski, associate professor in the Department of Neuroscience and Regenerative Medicine at the Medical College of Georgia. Together, the two studied zebrafish and the regeneration of cells.
"It gave me a sense of what the campus and The Graduate School were like," Fox said. "I honestly loved Dr. [Patricia] Cameron. She was a great reason to come back, and I really liked the neuroscience program here."
After completing the STAR program, Fox came to a crossroads at her alma mater. It was time to decide which area of science she would focus her research on and begin applying to graduate schools.
"One day I was thinking, and I was like, 'What's the most complicated thing to study?'" she said. "The brain is the most complicated three pounds of matter in the whole universe. When I thought about what I wanted to dedicate my whole life to, it was understanding what I think is the most complicated thing to understand in the whole world. I think all those years of playing, thinking and learning other areas of science allowed me to hone in on something that will really resonate with a lot of people."
Fox decided to return to Augusta, where she applied to the graduate program in neuroscience at the Medical College of Georgia.
She began working in the Brain and Behavior Discovery Institute lab with Dr. Joe Tsien, professor of Neurology and co-director of the Brain and Behavior Discovery Institute in the Medical College of Georgia.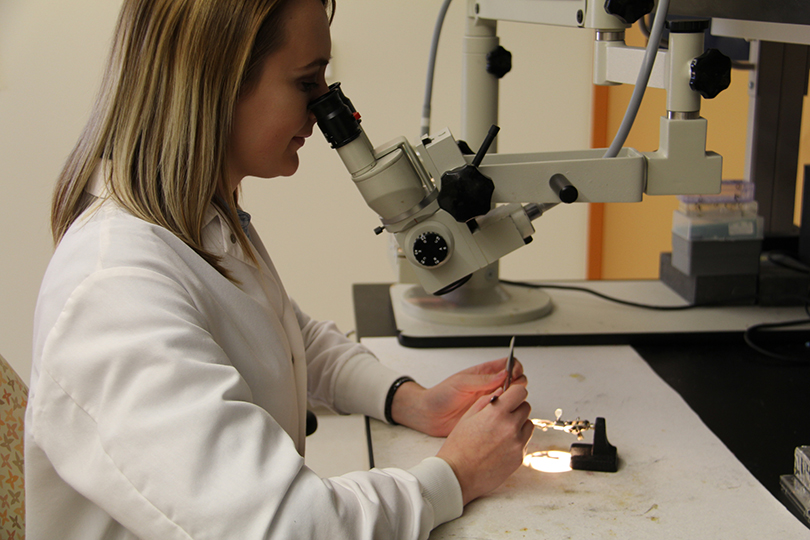 "I like this technique that this lab is using," Fox said. "You can record the activity of brain cells in real time. That's a newer technology and not a lot of people are using it. That was really what brought me to this particular lab."
Fox also jumped into student life at Augusta, participating in the Three Minute Thesis (3MT) competition.
Eligible to current master's and doctoral students at Augusta University, 3MT is a competition that celebrates exciting research conducted by PhD students across the world. Created by the University of Queensland (UQ), 3MT pushes students' ability to effectively explain their chosen research in three minutes or less.
Fox's research focuses on fear memory. She is interested in learning how the brain stores fear and characterizes responses to fearful events with a specific emphasis on how this applies to anxiety disorders and PTSD. The 3MT competition challenged Fox to explain her research to individuals unfamiliar with the science behind her research.
"The 3MT was completely different than anything I had ever done in graduate school," she said. "Normally, we're talking to experts in our field, but the 3MT competition is breaking down what seems to be a complex process into something that is palatable for all people. So, I think the whole experience of explaining what my research is about and what type of patient populations I'm trying to target was super helpful."
While Fox won first place in the 2017 3MT competition, she also found the competition served her during the job interview process, as she was able to tell interviewers that she could successfully explain her science to a general audience. She also believes the lessons she learned during the 3MT competition will continue to serve her throughout the duration of her career.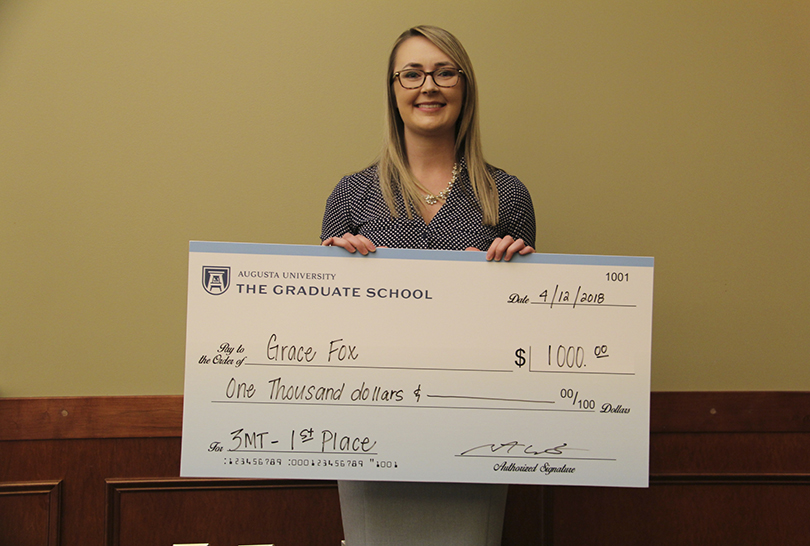 "I think being able to talk science and break it down into something that is manageable is definitely something that is desirable in many fields," Fox said. "There are a lot of intelligent people that understand their science, but when you ask them to explain it, there's a gap there. If science is not understandable, it's not applicable. The 3MT taught me to explain my science to broad audiences."
Fox also participated in Graduate Research Day where she won five awards — one for each year she was in graduate school.
"That was such a great experience," she said. "We're all here, all doing research, but we don't get many opportunities to present to each other and learn what we're all working on, especially across different disciplines. Graduate Research Day also allows us to meet an eminent scholar. They recruit great folks to give presentations. It's a great way for students to connect with people."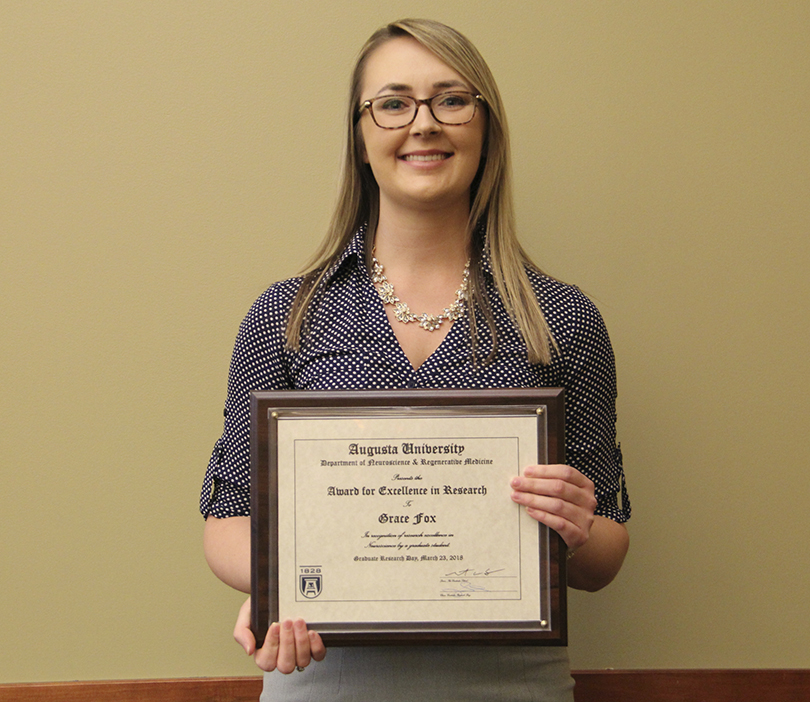 Fox defended her dissertation in July before moving to Chicago to begin a new job.
"I accepted a position at a company that is using research to drive cost-effectiveness for health care and improve patient outcomes," she said. "My lines of service would be neurology, radiology, anesthesiology and pain management. Although they're not specifically what I worked on in my dissertation, I think I have a broad science knowledge from the classes I've taken and from research collaborations. The job is about making decisions for health care systems based on research. So, I'm excited to move forward."
Fox will return to Augusta University for graduation in December. She said she is looking forward to returning to campus and to the Augusta community.
"I think at Augusta University there is such a great sense of collaboration and community," she said. "It has really allowed me to appreciate how science is a team player sport. We're all working to add pieces to the puzzle. I may not complete the puzzle, but I'm adding to something I believe is truly meaningful. That sense of community is truly fostered at Augusta, and it's something I think I will continue to have in my scientific career. I believe Augusta University is a great place to come for graduate school, and I'm so glad I choose Augusta."