Augusta University School of Computer and Cyber Sciences senior Noah Whitacre was ranked as the top cadet this summer during an internship at Fort Gordon with Army Cyber Command.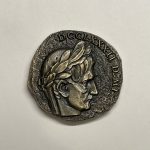 Whitacre is a cybersecurity student, Jaguar Battalion cadet and track athlete at AU. In addition to being ranked as the top cadet, Whitacre was coined by Battalion Commander Lt. Col. Thomas Nelson of the 782nd Military Intelligence Battalion. Receiving a commander's coin, or "being coined," is a recognition of outstanding service in the military.
"Being in a work environment, especially one in the military, the classroom can only prepare you for so much," Whitacre said. "While there were definitely areas I was more confident in (concepts of cybersecurity, ethics, basics of networking and protocols), there were many other things that went completely over my head. I had to treat the internship like a class, recognize when I didn't know something and be open and willing to learn."
He said the biggest lesson he learned during the internship was to be flexible and adapt to different scenarios. Whitacre said while cybersecurity is an interesting and fun career, he's had to learn how to overcome roadblocks in innovative ways.
Lt. Col. Jeffrey Keenan, chair of the Department of Military Science at Augusta University, said he couldn't be prouder of Whitacre's success in representing Augusta University and the Jaguar Battalion at ARCYBER.
"We are truly proud of how Noah represented Augusta University this summer," Keenan said. "He does a great job balancing demands while performing at a high level. His success is a great story for Augusta University."
Whitacre said he first realized this "calling like no other" during his senior year of high school, when he first heard of AU's cybersecurity program.
"Ever since I heard about Augusta University establishing the School of Computer and Cyber Sciences and offering cyber-focused majors, I have become very passionate and excited about the field of cyber," he said. "I look forward to its continued growth at AU and only hope that I am establishing a new trend of new cyber officers from the ranks of the Jaguar Battalion at Augusta University."
This special recognition Whitacre received from ARCYBER is a first-of-its-kind achievement for an Augusta University Army ROTC cadet.
"We are proud to have such outstanding students as Noah at Augusta University," said Alex Schwarzmann, dean of the School of Computer and Cyber Sciences. "We look forward to seeing Cadet Whitacre's success beyond the classroom and in the field, protecting and serving our nation."