School of Computer and Cyber Sciences professor Dr. Gagan Agrawal has been awarded a $500,000 grant from the National Science Foundation.
This NSF award was granted by the Directorate for Computer and Information Science and Engineering (CISE) Advanced Cyberinfrastructure program. Dr. Agrawal's project is titled, "ICURE — In-situ Analytics with Compressed or Summary Representations for Extreme-Scale Architectures."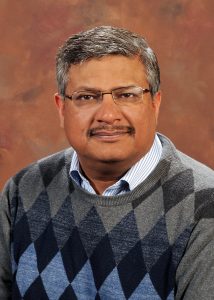 "Systems for High Performance Computing (HPC) have been providing rapidly increasing computing power. However, this growth has also led to systems where the memory and data movement bandwidth is relatively lower, which is where my research will come into effect," said Agrawal.
Overall, according to Agrawal, this project will be making analysis of data from simulations more effective on the upcoming systems for HPC. This project will seek to broaden interest in computing through direct participation in project development teams by undergraduate and graduate students from under-represented groups.
"This grant is the first significant research award in our new school from NSF, and I am certain there are more research grants to come," said Dr. Alex Schwarzmann, dean of the School of Computer and Cyber Sciences. "We are proud to have scientists such as Dr. Agrawal on our faculty."