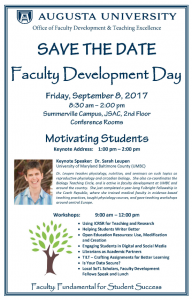 The Office of Faculty Development and Teaching Excellence has prepared a day of workshops and events designed to support faculty members as educators, scholars and people.
On Friday, Sept. 8, from 8:30 a.m.—2 p.m. in the second floor conference rooms at the Jaguar Student Activities Center on the Summerville Campus, Faculty Development Day will provide information and workshops focused on a wide range of tops.
Workshops run from 9 a.m.—noon, with the keynote address, delivered by Dr. Sarah Leupen of the University of Maryland Baltimore County, beginning at 1 p.m.