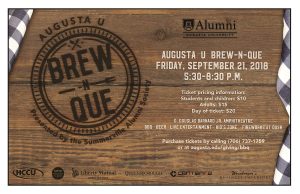 Make sure to clear your calendars! It's time to save the date for the third annual Augusta U Brew-N-Que.
The event will take place on Friday, Sept. 21 at the Doug Barnard Jr. Amphitheatre from 5:30 – 8:30 p.m.
Presented by the Summerville Alumni Society, the Augusta U Brew-N-Que is a chance to get together with the university community and kick off Parent and Family Weekend.
The annual cookout will include delicious food, live entertainment, a kid's zone with inflatables, face painting and fireworks at dusk and a Guitar Pull ticket stop.
And if that's not enough, beer and wine will be sold to those 21 and older.
Tickets are $15 for adults, and $10 for Augusta University students and children 12 and under. Tickets purchased at the event gate are $20 per person.
Thank you to signature sponsor HCCU and other event sponsors for ensuring the success of the Brew-N-Que. Proceeds from the annual Augusta U Brew-N-Que support undergraduate student scholarships at the university.
Visit the Brew-N-Que web page for more information and to purchase tickets.