Riverside Elementary Beta Club recently donated over 320 items to Augusta University's Open Paws Food Pantry for students.
Dr. Heather Holley, an instructor in the College of Education at Augusta University, also teaches gifted students at Riverside Elementary School in Columbia County's Horizons program, which sponsors the Beta Club.
The Beta Club is an extra-curricular club for high achieving fourth- and fifth-graders who were recommended by their teachers for having high grades and good character.
"Our motto in the Beta Club is 'let us lead by serving others,'" said Holley.
Each month, the Beta Club students donate an hour of their time to work on various service projects.
"Our whole focus is finding ways to connect with our community and finding ways to serve," added Holley. "This past summer, the Open Paws Pantry caught my attention. That is a group that I've never even thought about, college students having food insecurity."
Gina Thurman, associate dean of students and director of student advocacy, runs the Open Paws Pantry and helps students who are facing homelessness, food insecurity and those aging out of the foster care system.
"Food insecurity is not having access to adequate food and nutritional food. The goal is providing a variety of foods to help meet students' needs and supplement the food they have," said Thurman.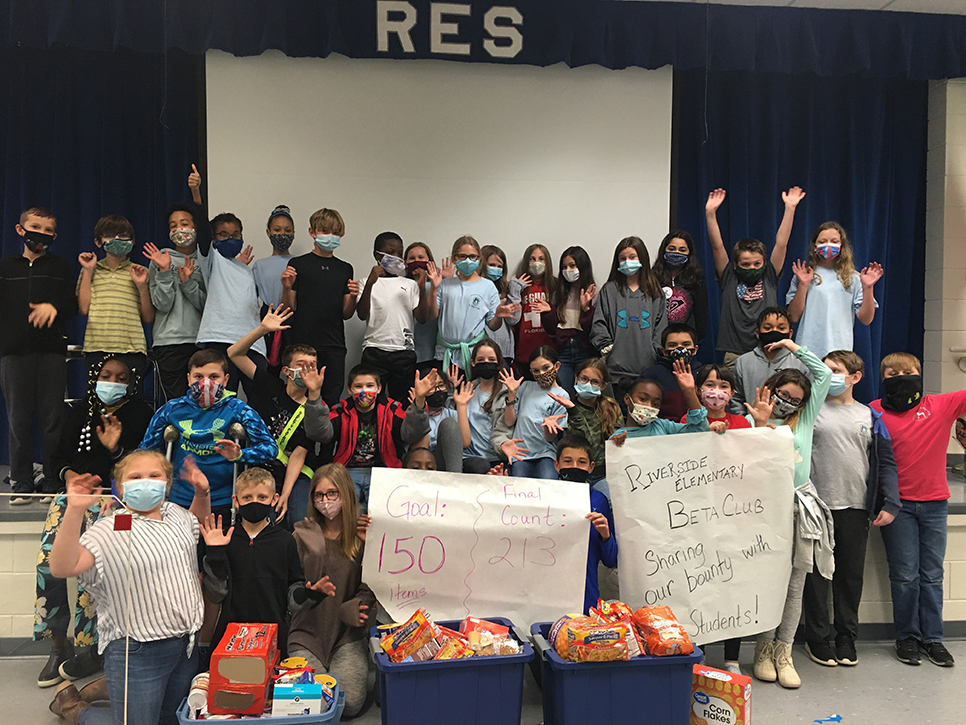 Wanting to give the Beta Club an opportunity to serve the community, Holley created a food drive that the Beta Club led to donate to the Open Paws Pantry.
"When I first received Dr. Holley's email, I was totally surprised because you don't think of elementary students wanting to help college students. It kind of had a double message for me because the school where she teaches is also the school where my children went to elementary school when they were kids," said Thurman.
Holley let the Beta Club take the lead.
"I gave them a list of recommended items, with an end-goal to donate 150 items. The kids just rallied. They did an amazing job," she said.
The Beta Club students had fun helping college students and bringing awareness of food insecurities to their surrounding communities.
"We had over 320 items donated. Getting the items was wonderful, being able to help was wonderful, but also making the kids aware of food insecurities right here in our area with a population that they might have never thought about. That was the end goal for me," said Holley.
To donate food items and other personal care items (such as soap, shampoo and menstrual products) to the Open Paws Pantry, drop them off at Bellevue Hall on the Summerville Campus or the second floor of the Student Activities Center on the Health Sciences Campus. You may also call 706-737-1411 or email Thurman for help with larger donations.