When Staff Sgt. James Bates was 18 years old, he was looking for adventure and financial stability.
"I had quite a few older friends who served in the regular Army, and as good as it looked, I was not quite sure that it was for me. So I decided to try the Army life part-time to see if it was a good fit," he said.
Originally from Eagle River, Alaska, he enlisted in the Army National Guard in 1999 as an Infantryman and attended basic training at Fort Benning, Georgia. He then started with the Alaska Army National Guard and has also served in the Colorado, Texas and Arizona Army National Guards before joining the Georgia Army National Guard in January 2020.
His current role with Augusta University is working as a liaison, facilitating communication between the Georgia Army National Guard, Augusta University and the ROTC program, which he began in September 2020.
The National Guard is a reserve component of the Army, where a traditional soldier serves one weekend a month and two weeks a year.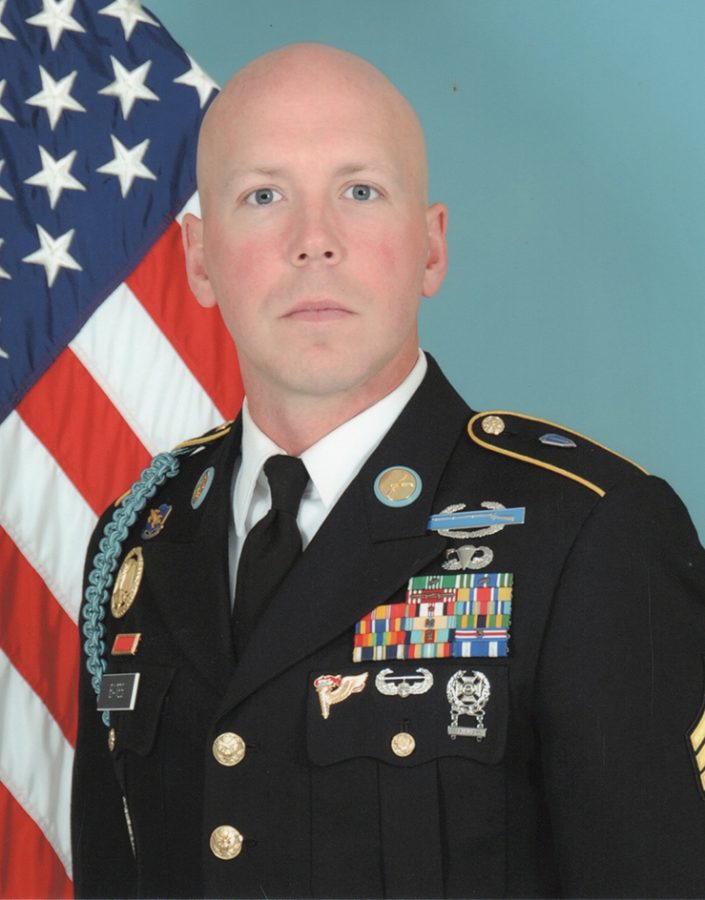 "What makes the Guard unique is that it not only has the capability to be activated to assist the regular Army with its federal mission but it also, and primarily, works for the local government," Bates said. "This gives us the capability of assisting our community during domestic emergencies. Some recent examples of this are hurricane response (Matthew in 2016 and Irma in 2017), and in 2020, the Guard provided infection control teams to assist with disinfecting several facilities across the state, free COVID-19 test sites for citizens and riot control response."
Bates said some of his early experiences that helped mold his career with the National Guard included deployments in support of Operation Iraqi Freedom and Operation Enduring Freedom. He said he also benefited from competing in Best Warrior Competitions and has always found a way to volunteer for "whatever needed to be done."
Working as a liaison, he spends a lot of his time talking with potential recruits. One thing he tries to stress is the career is very much what you make of it, while noting, "It has served me well but not short of personal effort and resilience."
He also works to eliminate one of the biggest misconceptions about the Army National Guard.
"One of the biggest misconceptions about the Army National Guard, despite our performance in Afghanistan and Iraq over the last 18-plus years, is that because of its part-time status, the Guard is not as capable as the regular Army."
While Bates is still fairly new to campus, he said one of Augusta University's biggest selling points is the eager-to-help energy in the staff he has met so far.
"They want every student to enjoy a personalized experience while obtaining their education goals. Being from a small town myself, it feels like home where everyone knew everyone and all are welcome."
Bates also mentioned that the Georgia Army National Guard has an outstanding education benefits package. Upon becoming a qualified member of the Guard, Bates said, a soldier automatically qualifies for a Service Cancelable Loan, which covers 100% of tuition. The soldier also receives a stipend every month and if they simultaneously join AU's ROTC program, they will pocket between $1,200 and $1,300 a month.
They also have access to compete and apply for other scholarships as well.
Lt. Col. Jeffrey Keenan, professor of military science in the College of Science and Mathematics, said it has meant the world to him and the ROTC program at AU to have someone of Bates' caliber working here and helping with recruitment.
"He is an outstanding teammate; a true professional who is passionate about helping others connect with their goals," Keenan said. "His presence as a part of our organization is an essential element to our success this year. He's not only connected students with opportunity, but also helped enhanced our training."
Keenan also noted the biggest thing he's learned from Bates is that the National Guard is "the most malleable partner in higher education."
"They provide a truly robust set of opportunities, resources and benefits, which enable students to truly achieve their goals," Keenan added.
Bates said regardless of whether he is successful in his recruitment of new Guard members, he does try to leave them with one piece of advice.
"This holds true for most things: when considering something that is as life-altering as a military career, make sure you make that decision fully informed," he said. "In the event you are unprepared to make such a big decision, do not allow that to become an excuse to do nothing. You will not regret pursuing a higher education, so let's start there."