Hello from Waco, Texas, and Baylor University! I just finished week 3 of 10 in the summer REU program in chemistry and have learned a lot of new things.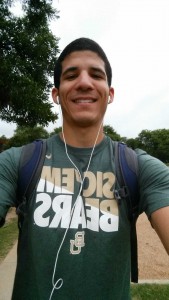 Last week, we finished attending our advanced instrumentation workshops, so this was the first week where almost every day was 100 percent dedicated to research without interruption. We were able to experience more of what it's like to be in graduate school and beyond by working in the lab for hours each day. During that time, research was our only goal.
We did get to take a break on Tuesday when a lunch was provided for us. We listened to one of the faculty, Dr. Caleb Martin, talk about his research on "Anti-Aromatic Boron Heterocycles." I think it's nice that the program decided to leave in these research talks each week because it challenges us to think outside of our field in chemistry and explore the projects and interest of other researchers at the university. This is worth doing because you might learn something from someone else's research that could become useful in your own, or vice-versa.
However, even though we were able to take a break to enjoy Dr. Martin's talk, the focus for the rest of the week was on conducting more research, and that's exactly what I did. If you remember from last week's post, I was struggling with a tough plasmid-insert ligation and transformation. This week my PI, Dr. Trakselis, was out of town on business, so it was up to me to get the ligation to work (hopefully before he returned). I spent the beginning of the week testing out all my reagents to ensure that they were all working. Once I discovered that they were all working well, I went to the literature and began reading the different things people have tried to get tough ligations to work. After taking notes on all that I read, I tweaked a few things in the protocol and, sure enough, I came in Saturday morning to successful transformations. That means this week will be spent screening all the colonies to be sure that at least one of them is truly a success.
When I wasn't doing research, I spent the week exploring the campus. The science building is near one of the campus boundaries and thus I haven't really seen much of the opposite side of campus. I started my exploration by heading to the bookstore where I picked up some Baylor University apparel. I explored further later Friday night when I went for a run around the perimeter to see how the campus looks with all the lights on. Baylor has an extremely gorgeous campus, and I was able to appreciate all the fine things they've done with it.
All in all, this week has been successful both in that my research has taken steps forward and that I have been able to explore some of the campus.
Next week will be similar to this week in that there will be a large focus on the research. However, I'm sure there will be other exciting things, and I look forward to experiencing and sharing them with everyone!
-Preston Jones