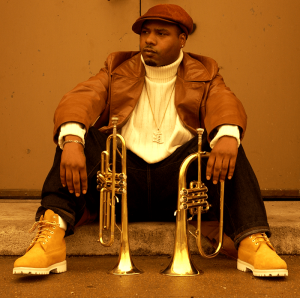 Jazz at the G has a new name – Straight A Jazz – and the first concert is coming up fast.
Two-time Grammy nominee Russell Gunn, a contemporary neo-bop jazz trumpeter/flugelhornist/composer, is set to headline the first concert under the banner. He'll be performing with the Gray Mayfield Trio.
The concert is scheduled for 6 p.m. on Saturday, Sept. 24, at the D. Douglas Barnard Amphitheatre on the Summerville Campus of Augusta University. The South Carolina-based Reggie Sullivan Trio and the Augusta University Jazz Ensemble under the direction of Dr. Rob Foster are also on the bill.
Gunn is a native of East St. Louis, Illinois, but currently operates from a base in Atlanta. Weaned on rap, Gunn turned to jazz in his professional pursuits, although hip-hop remains a primary influence on his work. He first attracted the attention of critics and audiences through his contributions to Wynton Marsalis' Blood on the Fields. Gunn also backed the likes of Jimmy Heath, Roy Hargrove, James Moody, and R&B hit-maker Maxwell. During a career that has spanned more than 20 years, he has released more than a dozen recordings, including Krunk Jazz, Russell Gunn Plays Miles, and Ethnomusicology, vols. 1–4.
Straight A Jazz is a continuation of the groundbreaking Jazz At The G concert series, produced by GPB/Augusta in partnership with the Augusta University Department of Music, Garden City Jazz, and the Greater Augusta Arts Council. The new moniker became necessary when the university's name changed to Augusta University late last year.
Tickets are available now at the Maxwell Theatre Box Office and on-line . Tickets are $10 for the general public; $5 for Augusta University employees and active military; and free for all students.