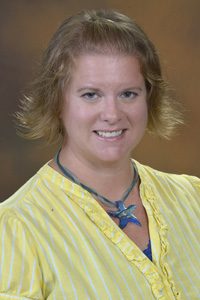 Dr. Jessica Reichmuth, associate professor in the Department of Biological Sciences at Augusta University, has been named assistant director of the university's honors program, effective Aug. 1.
In this role, Reichmuth's duties will include assisting the program's director, Dr. Tim Sadenwasser, in operating and managing the program, recruiting new students, and  engaging students in research and community activities.
A respected member of the university's faculty since 2010, Reichmuth has developed three field-based, upper-level undergraduate ecology courses, launched various estuarine and marine science-based studies, and helped secure nearly $200,000 in grants for undergraduate research.
Additionally, she launched several research initiatives, including her student-run ecological assessment of Georgia's Satilla River, funded twice by Coastal Incentive grants from the Georgia Department of Natural Resources.
Reichmuth earned her bachelor's degree from Coastal Carolina University and her master's and doctoral degrees from Rutgers, The State University of New Jersey.