Patient stories will blanket airwaves on WBBQ 104.3, KISS 96.3 and the Bull 105.7 during hospital's largest CMN Hospitals fundraiser
AUGUSTA, Ga. – Anna Sperry knew she and her baby could be in danger.
"I was over 35 and had had miscarriages in the past," said the Waynesboro mother of three.
On top of that, her uterus nearly ruptured about seven years ago when she was pregnant with her second child Natalie.
"When I got to about 22 or 23 weeks, I was having some pain. The doctor checked, and my uterus was really thin," said Sperry. "Because I lived about 45 minutes from the hospital, he was afraid I'd have a uterine rupture and could bleed out on the way to the hospital."
Dr. Paul Brown, a maternal-fetal medicine specialist for high-risk pregnancies at Augusta University, gave Sperry three choices – check into the medical center to await delivery, stay at the Ronald McDonald House next door, or stay with friends or family that lived nearer the medical center. She decided to be admitted, where the hospital team did everything they could to help get Sperry and her baby as close to 32 weeks as possible.
But at 29 weeks and two days, she began having tenderness, pain and some tearing.
"Dr. Browne said it was time, and they took me to the operating room. Surprisingly," Sperry said her baby boy was born via C-section "pink and screaming."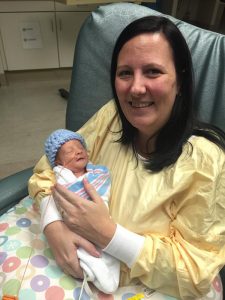 At just 3 pounds, 8 ounces, William Ethan Sperry was taken to the Neonatal Intensive Care Unit at the adjoining Children's Hospital of Georgia, where premature babies are provided the highest level of NICU critical care in the region to help their tiny bodies finish developing.
"We couldn't hold him for more than a week, and that was really, really hard," Sperry said. On top of that, his sisters could only see Ethan in pictures, which made her oldest daughter Madison pretty upset, Sperry said.
Though it was a stressful couple of months, Sperry praised the NICU staff at Children's Hospital of Georgia.
"Those people are awesome, and they take such good care of these babies."
Ethan, now four months old, weighs about 12 pounds.
"He's still small, but he's growing. He's doing much better," Sperry said.
You can hear the rest of Ethan's story during the 16th annual Cares for Kids Radiothon, which will be broadcast live Dec. 1-3 from the lobby of the Children's Hospital of Georgia on Augusta radio stations WBBQ 104.3, KISS 96.3 and The Bull 105.7 FM. Miracle stories featuring patients, families and staff will be aired from 6 a.m. to 7 p.m. Thursday and Friday and from 7 a.m. to noon Saturday during this Children's Miracle Network Hospitals fundraiser for the area's only children's hospital.
Anyone can become a "Miracle Maker" by pledging just $15 a month at 1-866-412-KIDS (5437) or at the caresforkidsradiothon.com website.
More than $205,000 was raised last year during Radiothon to fund specialized pediatric care and equipment at CHOG.
The 154-bed not-for-profit CHOG is the second-largest children's hospital in the state, providing the highest level of pediatric critical care and neonatal intensive care, as well as a wide range of general and complex health care for children. CHOG was recently ranked as the nation's top performing hospital in pediatric quality and safety by Vizient Inc., a consortium of the country's academic medical centers. Visit facebook.com/GAChildrens or follow on Twitter at twitter.com/GAChildrens