Jeri Ann Beckworth, an administrative assistant in Radiology, was frustrated by all of the hate and negative headlines being made across the nation, so she decided to do something about it.
Also a part-time photographer, Beckworth came up with the idea to honor those who recently lost their lives to violence by celebrating life through a spontaneous photoshoot. She posted an invitation to the community to come together at the Lady A Pavilion in Evans if they wanted to participate.
"I thought it would be really nice to use my talent for something God-driven, and purpose-driven," she told a News 12 TV reporter who covered the event.
Beckworth hoped for 15 to 20 people, but she got at least three times that amount as well as positive publicity in the local news.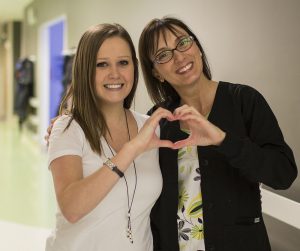 She has also brought the #CSRALoveMovement back to work with her and it has taken off in the hospital.
"I am beyond ecstatic that the radiology department of Augusta University was so excited about this movement that they wanted to participate," Beckworth said. "I hope it will catch on through the hospital. Everyone is always camera shy at first, but after every picture was taken, you heard laughing and saw people hugging. That's exactly the kind of love I hope will travel through our community. I hope this movement will go viral, and we will see much more of it throughout the U.S."
You can check out the Augusta University photos here.
Beckworth encourages anyone who is inspired to go out and do good works to attach them to the hashtag #CSRALoveMovement so the world can watch, "as we transform negativity into something positive." She has also created an email account for anyone that would like to take part or donate their time or talents: CSRALoveMovement@gmail.com.
In addition, she hopes other departments at the university will participate and keep the momentum going.
"I would love to walk around the campus and take more photos of anyone that wants to join in," Beckworth said.
Managers may call Jeri Ann Beckworth at 706-721-6161 or email her at jbeckworth@augusta.edu if they'd like their departments to be involved.