A retinal ophthalmologist who created the first retina service between Baltimore and Miami, bringing new sight-saving procedures to people in eight southeastern states, and a longtime MCG Department of Radiology and Imaging faculty member who is active in the MCG Alumni Association and on the MCG Foundation's Board of Directors, are recipients of the 2018 MCG Distinguished Alumni awards.
Dr. William S. Hagler, a 1955 graduate, is MCG's Distinguished Alumnus for Professional Achievement. After his graduation from MCG, he completed an internship at Parkland Memorial Hospital in Dallas, Texas, and his residency in ophthalmology at the Emory University/Grady Memorial Hospital program in Atlanta in 1959. He was then awarded a Heed Foundation Fellowship to study retinal surgery at the Massachusetts Eye and Ear Infirmary in Boston.
After fellowship, he returned to Atlanta to become the first full-time faculty member in the Department of Ophthalmology at Emory University School of Medicine, where he trained residents and established a fellowship program, eventually training some 37 ophthalmologists in medical and surgical diseases of the retina.
Having arrived at Emory in a time of great racial turmoil, he initiated efforts to integrate Emory Hospital by insisting that his African-American patients be operated on there. Throughout his career, he never turned away a patient because of inability to pay, nor did he receive financial compensation for his teaching and research activities.
In 1971, he, along with Drs. William Jarrett and Alvin North, a 1958 MCG graduate, established the first multispecialty ophthalmology group in Atlanta and served as its president for many years. This group subsequently became Eye Consultants of Atlanta and now employs 29 ophthalmologists practicing in 10 locations in Georgia.
In 1973, he and Jarrett were appointed clinical associate professors in the MCG Department of Ophthalmology. Ophthalmology residents from MCG spent a three-month rotation with them in Atlanta during their three years of residency training. In 2015, Hagler established the William S. Hagler, M.D. Distinguished Chair in Ophthalmology at MCG to support teaching of medical students, residents and research fellows, lectures and pilot programs in vision science.
Hagler has served as president of the Atlanta Ophthalmological Society and was the first president of the Georgia Society of Ophthalmology. He was a charter member of the Retina Society and served on its credentials committee and represented the Retina Society on the Council of the American Academy of Ophthalmology. In 1975 he received the Academy's Award of Merit. In 1980 he was elected to the prestigious American Ophthalmological Society.
He was largely responsible for instituting an interim meeting of the Georgia Society of Ophthalmology in which residents from both Emory and MCG were encouraged to present papers on their research. He co-authored many papers with his residents and fellows over the years. He published over 90 scientific papers and gave over 180 presentations during his 37-year career.
Hagler was also active in various international organizations. He was on the medical advisory board of Project Hope, and served on the Hope Ship in Sri Lanka, Brazil, Jamaica and Tunisia. He and his colleagues were the first to train native ophthalmologists in these developing countries in the modern techniques of retinal surgery. He and his fellow, Dr. Harry Taylor, made a clandestine trip to communist Cuba in 1967, where he operated on an American missionary who had been imprisoned by Fidel Castro.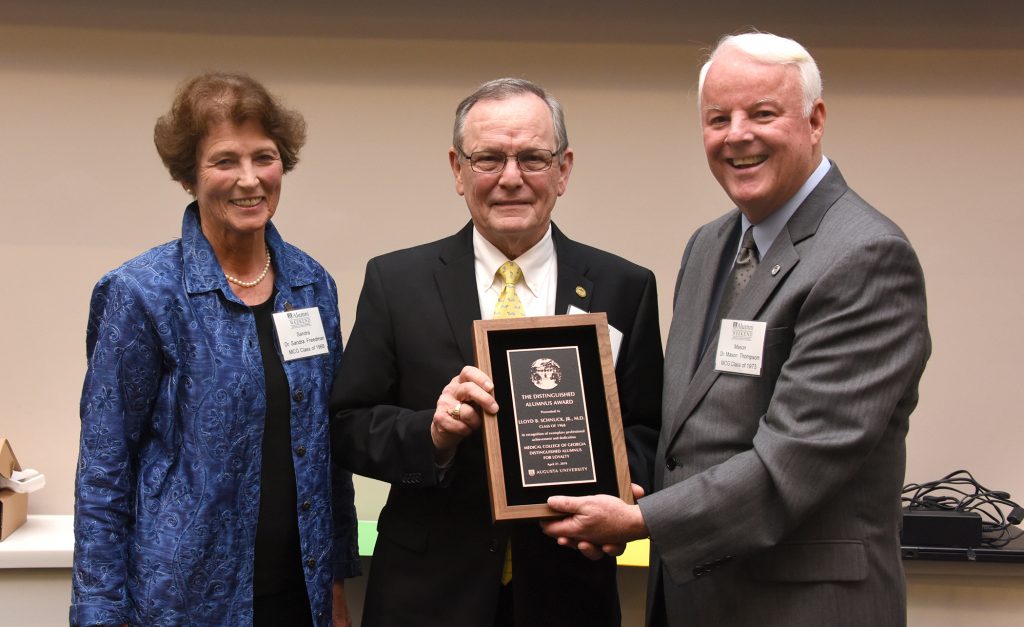 Dr. Lloyd B. Schnuck Jr., a 1968 graduate of the state's public medical school, is the recipient of the Distinguished Alumnus Award for Loyalty.
After graduating from MCG, Schnuck completed his internship at University Hospital before returning to MCG for his radiology residency, serving as chief resident from 1973-74.
Schnuck also served in the United States Army, as a captain battalion surgeon in the Fifth Special Forces Group. He was awarded the Combat Medics Badge, Parachutist Badge, Bronze Star, Air Medal, Vietnam Campaign Medal and National Service Defense Medal.
He has worked at hospitals and schools all over the state of Georgia, but always returned to Augusta. From 1974-75, he served at Doctors Memorial Hospital in Atlanta. From 1975-80 – and again from 1993-95 – he served at Liberty Memorial Hospital in Hinesville, Georgia. He served on the Advisory Committee for Armstrong State University's School of Radiologic Technology from 1982-95 while simultaneously acting in different positions at Candler Hospital, including chair of the Department of Radiology, vice chair and radiation safety officer.
In 1995, Schnuck moved back to Augusta for good. From 1996-2012 he practiced medicine at the Charlie Norwood VA Medical Center and taught at MCG. He has been an assistant professor of radiology at the medical school since 1996. Since his return to Augusta he has served on the MCG Foundation Board of Directors, currently as treasurer.
He has been an active member of the Alpha Omega Alpha Honor Medical Society and has been a recipient of the MCG Distinguished Faculty Award, American Medical Association's Physicians Recognition Award with Commendation, Republic of Vietnam Community Service Award, the Milton Antony Medical History Award from MCG, and the Instructor of the Year Award from Candler Hospital's School of Radiological Technology.
He is a former councilor and a fellow of the American College of Radiology.
He and his late wife Barbara funded the sculpture in front of the Children's Hospital of Georgia in 1997 and the Lloyd B. Schnuck, Jr., MD School of Medicine Scholarship began in 1999. Dr. Schnuck founded the Barbara Schnuck Endowed Chair in 2005.