Vision training has become a reliable predictor of how well a baseball player will perform in the major leagues. In fact, according to a 2012 study, incorporating vision training alongside conditioning may have improved the performance of several college baseball players.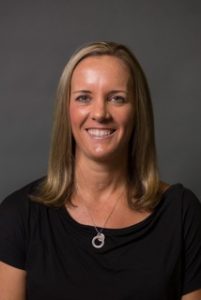 But what happens when vision training is combined with education? That's a question Dr. Megan Buning, assistant professor of research in the College of Education, is hoping to answer.
A former college and professional athlete, Buning worked as a college softball coach while pursuing her post baccalaureate degrees.
As she gained more experience in the classroom, Buning realized that what she did as a coach and the way she approached her athletes would also work in the classroom.
She wondered about the online vision training for baseball players and if it could be beneficial to students in the classroom.
Buning partnered with Dr. Paulette Harris, Cree-Walker Professor of Education in the College of Education, and the pair began a pilot study examining the relationship between online vision training and reading scores on standardized tests.
"We took third-grade students and put them through vision training and then looked at how their vision training scores correlated with their reading scores on a standardized test," Buning explains. "As one score goes up, the other is going up. What we don't know is what else is going on."
Harris and Buning will present their pilot study at the American Educational Research Association annual meeting in April. They hope to receive feedback on their research and then publish a paper on their research.
The pair also hopes to eventually expand the study.
"We want to increase sample sizes and look at the difference in reading performance between students that train visually and those that don't," Buning said.
Buning hopes this research proves beneficial for students.
"The ideal outcome of the research is that there is benefit for students to train on this software and improve their reading or at least their reading scores," she said. "Vision training is something that's easy that students can do. It doesn't take long, up to 20 minutes, and students can do it at home."
Buning and Harris are currently pursuing grant funding to further their research. They hope the expanded project will show that vision training is helping students improve their reading scores.
"Preliminary data shows that there is a moderate-to-strong positive relationship between training and reading scores," Buning said. "Something is occurring between reading scores and training scores. There is a relationship between the two, and it is enough to continue examining."
While Buning's research combines athletics and education, these days Buning is no longer coaching or playing softball competitively. However, her athletic talent has not been forgotten.
She was recently named to the Southeastern Conference 2017 Class of Women's Legends – an honor recognizing former student-athletes, coaches and administrators from 14 SEC member institutions.
"I am truly honored that my undergraduate institution thought enough to recognize me and select me as a representative for such a prestigious honor," Buning said. "I appreciate the honor, and it will be fun to share with my daughter."
Buning will be honored at the 2017 SEC Women's Basketball Tournament, March 1-5, at the Bon Secours Wellness Arena in Greenville, South Carolina.