When Dr. Trinanjan Datta, a professor of physics at Augusta University's College of Science and Mathematics, was asked to co-write a textbook about solid state physics with a colleague from the University of West Georgia, he estimated it would take about a year to complete.
"When my co-writer, Javier Hasbun, contacted me, he was already halfway done with the book," Datta said. "In fact, Javier bumped into me at an American Physical Society meeting and told me what he was working on. He knew some of my students from the Georgia Academy of Science who have presented for years and gotten many awards. So, he asked me, 'Would you be interested in writing a book?' I said, 'Sure, why not.'"
Hasbun wanted Datta to co-author the textbook, Introductory Solid State Physics with MATLAB Applications, because of his expertise in theoretical and computational studies of magnetic systems.
"It was supposed to be a one-year project, but I was being a bit naïve," Datta said, laughing. "It's very hard to write a book, especially when you're still teaching and everything. I wrote five chapters of this 550-page textbook. I did the first chapter over two years, the next chapter over one year, the third chapter took six months and, by the time I got down to December 2018, in one month I finished the last two chapters."
In all, Datta spent six years co-writing this textbook that utilizes MATLAB scripts to teach concepts of solid state physics. MATLAB is a multi-paradigm numerical computing environment and proprietary programming language developed by MathWorks.
"The idea is to synthesize computation with theory, a necessity for modern-day STEM training," Datta explained, adding that STEM is a curriculum based on the idea of educating students in four specific disciplines — science, technology, engineering and mathematics — in an interdisciplinary and applied approach.
"The target audience for this book is senior undergraduates or first-year graduate students in physics, materials science or solid state chemistry."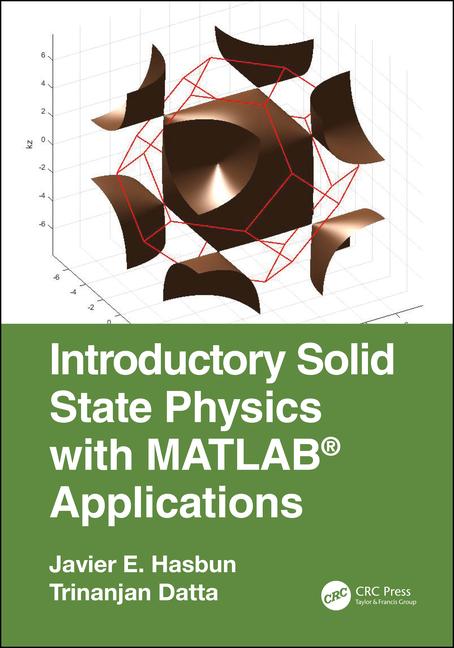 The book, which was published by CRC Press in October, arose as part of an initiative to train undergraduate research students, specifically physics majors, on the basics of solid state physics.
Datta explained that solid state physics is important because the study and prediction of the fundamental physical properties of materials forms the backbone of modern materials science and has many technological applications.
And the MATLAB-based computational approach in this textbook is highly effective in addressing the need for visualization and a direct hands-on approach in learning the theoretical concepts of solid state physics, he said.
"One of the reasons I agreed to co-write this book was because, when I was working with my undergraduate students here at Augusta University, it is hard to teach the students any research material that would prep them for doing research," Datta said, adding that Augusta University doesn't currently have a graduate program in physics. "So, from 2009 until about 2013, I used to offer these short, one-credit special topic courses throughout the semester to prepare students to do research."
Those one-credit courses gave the students the tools they needed to be more confident in conducting research, he said.
"What would happen before those one-credit courses is, I would have four students come in and I would meet them at four separate times and I would have to prep them over and over again with the same directions," Datta said. "So, I decided, 'Let me offer these short courses and get all of them in one place and provide them the directions they needed all at once.'"
Therefore, Datta felt he was already practicing much of what he was going to write in the textbook.
"So, when Javier asked me to co-write the book, I was like, 'I am already doing it in some ways, so why not?'" Datta said, smiling. "But I didn't know what I was getting myself into. Sometimes writing one problem took me two months because you had to research that problem in order to properly explain it in the book. So, I quickly realized this book was going to take a long time."
But the research Datta did with some of his undergraduate students is included in the textbook.
Specifically, one of the chapters on magnetism features an Ising model simulation MATLAB GUI (graphical user interfaces) that arose out of a research initiative on non-equilibrium statistical mechanics at Augusta University. The research was funded by the Cottrell Research Corporation from 2011-13 and a National Science Foundation MRI grant Datta received in 2009.
"There are parts of the book that are a direct outcome of whatever I have done with my students in undergraduate research," Datta said. "In fact, several of my students here at Augusta University are actually mentioned in the book. I also mentor to master's and doctoral students at Sun Yat-Sen University in China and some of them are included as well."
Since it was published in October, the book has already reached several universities and libraries around the world, Datta said.
"Southern Illinois University plans to use the book next semester and I have had people from Norway looking at it, too," Datta said. "And I am going to teach a course out of this book in fall of 2020. So, my students here at Augusta University will get to use this book next year."