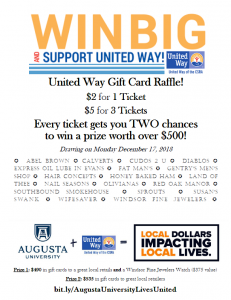 The annual United Way campaign has kicked off. A committee representing Augusta University and AU Health is working hard to help us meet our 2018 campaign goal of $50,000. Your donation will help United Way provide services to thousands of individuals and families in the CSRA. The deadline to participate is Dec. 31.
To participate, text AUCARES to 41444 and complete the pledge form. Have your employee ID number ready and you can use a convenient payroll deduction. Also, pledge a minimum of $12.50 per month or $150 per year, and you will be qualified as a Caring Club member and eligible for discounts at more than 50 local businesses and restaurants.
You may also support United Way by purchasing raffle tickets: $2 for 1 ticket or $5 for 3 tickets. Every ticket gets you TWO chances to win one of two prize packages worth over $500!
For more information, contact Erica Bass at 721-7005 or ebass@augusta.edu or Angel Lovett at 706-721-6917.