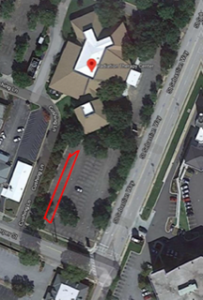 The parking lot at the Georgia Radiation Therapy Center will be temporarily closed for installation of a storm drain  Saturday, June 27, and Sunday, June 28. On Monday, June 29, the parking lot will be blocked off for concrete installation in the morning and paving in the afternoon.
The area outlined in red (image at left) will remain active and provide room for vehicles to back up from the westside spaces.
For more information, please call 706-721-PARK.