Every day, researchers and staff at the Georgia Cancer Center work to reduce the burden of cancer in the state of Georgia and across the globe. The Paceline community also works to fuel innovative research to improve cancer prevention, advance treatments and move more breakthroughs to more patients.
Paceline recently presented grants to nine cancer researchers to further the missions of both organizations.
"The work our scientists do in their labs relies on the passion, determination and generosity of each team and individual who took part in PaceDay Weekend 2022," said Jorge C. Cortes, MD, director of the Georgia Cancer Center at the Medical College of Georgia at Augusta University. "Today's research projects can serve as a beacon of hope, fueling our determination to unlock the mysteries of this disease. With Paceline, we will make groundbreaking discoveries, which could lead to new treatment options for cancer patients."
Read more: Georgia Cancer Center researcher studies dangers of living in a food swamp
A review committee consisting of doctors, researchers and administrators reviewed 23 project proposals, depending on a rigorous peer-review process to select the awarded proposals. The competition was tight, but the following winners were identified:
"As a cancer researcher at the Georgia Cancer Center, I really feel excited about the huge potential of this Paceline campaign," said He, professor of medicine at the Medical College of Georgia. "This is the reason I support this event year after year. Paceline not only provided the seed money for my research to jump-start the work, but it also is a collective effort to make a team. That is the spirit we should have in research."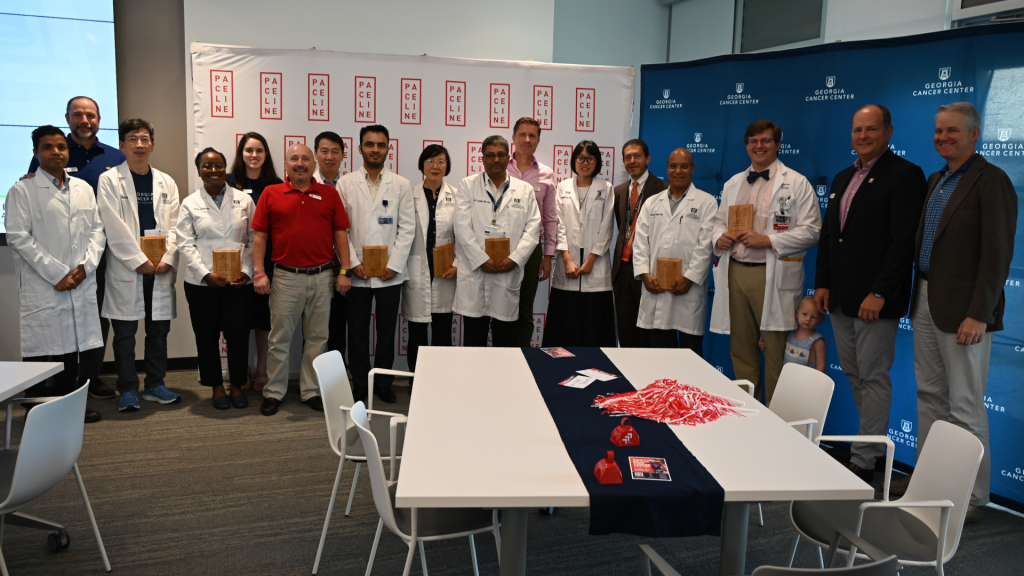 In 2022, Paceline's community of riders, fundraisers, sponsors and supporters raised more than $400,000, allowing GCC to fund nine more innovative cancer research projects.
Read more: Paceline funding fuels liver cancer research at the Georgia Cancer Center
Fundraising is a year-round effort, culminating in a celebration and fun bike ride set for Oct. 15 this year, called PaceDay, with an opening ceremony party the night before on Saturday, Oct. 14.
Both PaceDay and its opening ceremony will start and finish at the historic downtown Augusta Common, with a finish-line party to share with loved ones. PaceDay will again include its highly successful family-friendly closed circuit 1-mile loop in downtown Augusta, as well as the three open road rides that all pass by the Georgia Cancer Center.
"It's been said that nothing happens until something moves. A ball has to start rolling for change to occur. Or, in our case, turning wheels to set the pace for better treatments, prevention and cures for all types of cancer," said Paceline President Martyn Jones. "On behalf of the Paceline community, board and staff, we are very proud that our combined efforts from the past 12 months are once again formally invested in innovative cancer research.
"Crucially, Paceline maintains its 100% model, whereby every single dollar donated is truly being invested as intended. The ongoing support Paceline receives from the Medical College of Georgia Foundation makes this promise possible. We look forward to updating our community on the progress of these nine new cancer research projects."
Registration for PaceDay 2023 is open now. New and returning participants are encouraged to register as soon as possible to have adequate time to raise funds, prepare for the ride and get involved with the Paceline community.