Dr. Brooks Keel celebrates the upcoming graduation of his son, Preston Keel, from Augusta University
While Augusta University President Dr. Brooks Keel is looking forward to proudly shaking the hands of about 1,300 graduates during the 2019 Spring Commencement Ceremony on Friday, May 10, he realizes that when one particular graduate walks across the stage to receive his diploma, all bets are off.
The entire audience attending commencement at the James Brown Arena might just see Keel shed a few tears.
This week, the president's son, Preston Keel, will receive his bachelor's degree from Augusta University's School of Computer and Cyber Sciences and he will become a graduate of his father's alma mater.
"It's going to be an emotional moment for me. There's no doubt about it," Brooks Keel said, sitting across from his 33-year-old son just days before the commencement ceremony. "I have given this a lot of thought and I don't really know what's going to happen because any time you see your child — and yes, while he's not a child anymore, he is my still child and he will always be my child — walk across the stage, there's an immense amount of pride that a father feels for his son or daughter."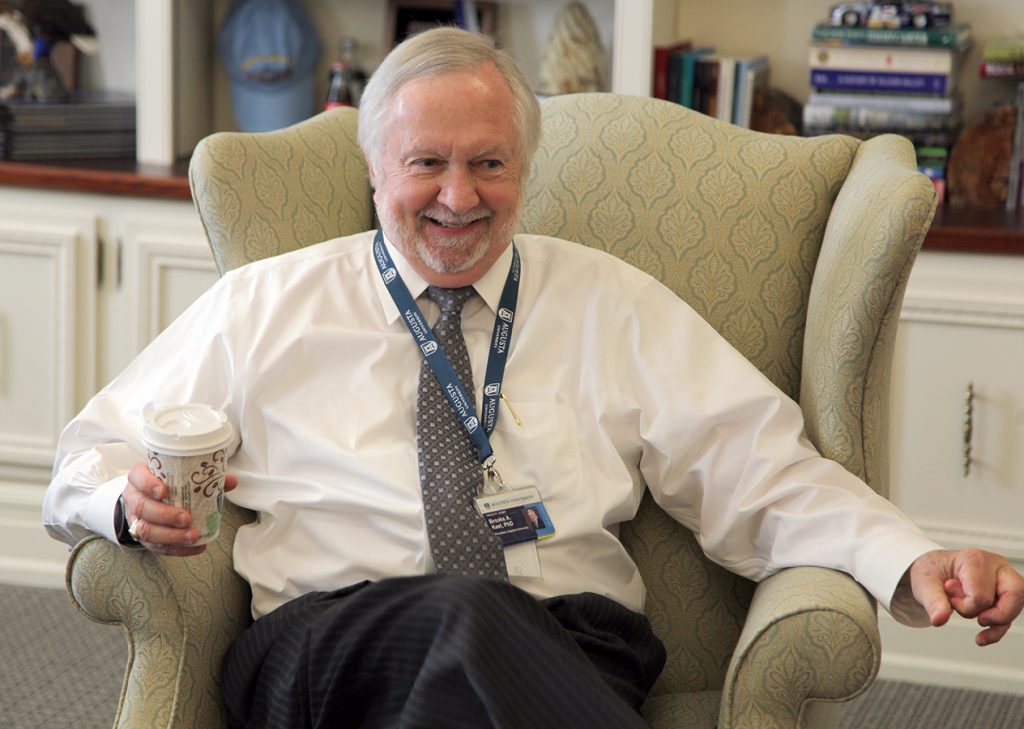 When Brooks Keel and First Lady Tammie Schalue watched their daughter, Sara, graduate from the Savannah College of Art and Design several years ago, it was an extremely touching moment, he said.
"I felt the same sense of pride when Sara walked across the stage, but this time I'll be on the stage," Brooks Keel said, chuckling. "I enjoy shaking every hand that comes across the stage and I am proud of every single one of those individuals. But, this time, I will have both the pride that the president has during graduation and I'll have the pride that a father has for his son. So, I'm really looking forward to commencement, but I don't know what to expect."
For Preston Keel, Augusta University has been a huge part of his life even before his father was appointed president in the summer of 2015.
"Originally, I was studying biochemistry and pre-pharmacy and I worked at the pharmacy in the hospital for eight years as a pharmacy tech," Preston Keel said, adding that he began at the university in 2004. "While working there, I realized that it wasn't quite what I wanted to do. So I started searching for something new and I've always liked computers and math. Then, when all of the new cyber initiatives started coming in, it started making me want to research that field even more. That's when I decided that I wanted to come back and get a computer science degree."
While Preston Keel specializes more in theoretical computer science, he is also astonished by the tremendous growth in the cyber industry in Augusta.
"I'm doing research in program and language theory right now and I absolutely love it," Preston Keel said, adding that he has already accepted a job working for the government after he graduates. "The job market in the computer science field, whether you want to do cyber or software engineering or web development, is very plentiful. It is definitely not hard to find employment after graduation."
'Wired' for cyber and computer science
Brooks Keel clearly remembers the day his son came to him and explained that he wanted to pursue a computer science degree.
"Preston just told me, 'For a lot of reasons, pharmacy seemed like a good career path to choose, but I have been thinking about other possibilities. I'm looking into computer science,'" Brooks Keel said. "And when he started, Preston just hit the ground running and he has not stopped. In fact, he has been a straight-A student."
To watch his son grow and really thrive at Augusta University in this new field has been pure joy, Brooks Keel said.
"You can tell when Preston talks about it that he truly loves it because he just lights up," Brooks Keel said. "Not only is he excited about what he's doing, he's wired for it. I mean, I have come to appreciate that you have to be wired a certain way to understand complex mathematics, especially when it comes to theory and being able to apply that to computers. And Preston has really taken off."
With a fast-growing, highly paid cyber workforce, Augusta has already become an innovation hub for cyber, Brooks Keel said.
"With the growing aspects that we had in cyber security and computer science, I think Preston caught the wave on that pretty well," he said. "As a university, we knew early on that to grow cyber security was going to be important for students like Preston because of what's going on with cyber at Fort Gordon. It was a perfect storm, or a cyber tsunami is what I've been calling it, and it was coming toward Augusta."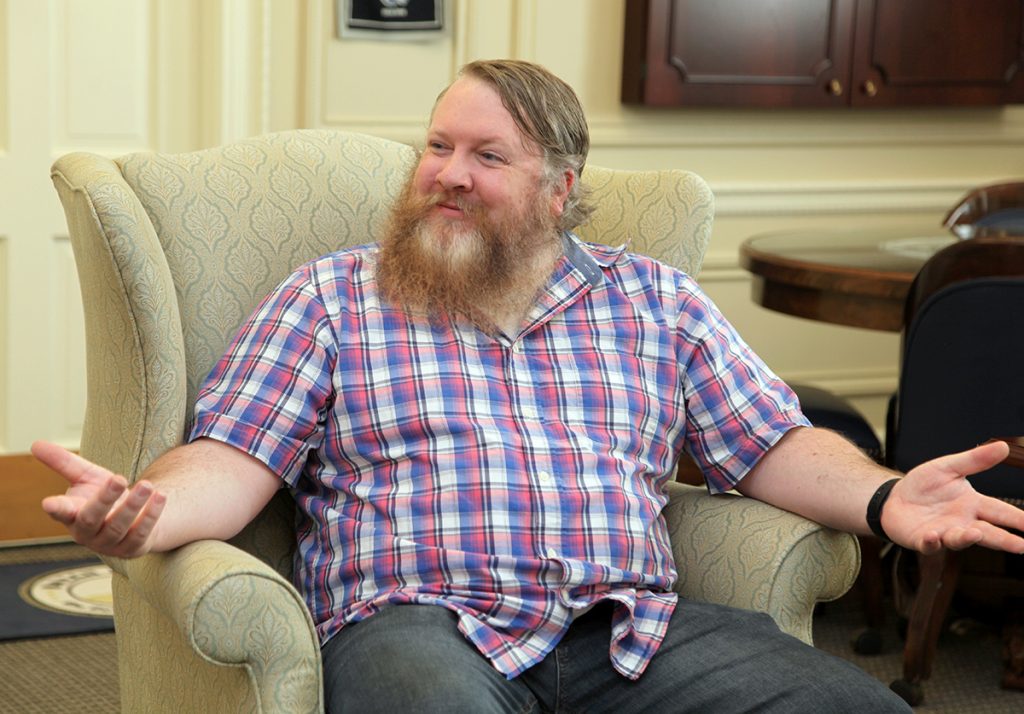 Former Georgia Gov. Nathan Deal quickly realized that investing in the growth of cyber in Augusta would be a major turning point for the entire state.
"Gov. Deal picked up on that very quickly, which is why you see the state's $100 million investment in cyber, not only in this university, but also in this community because of Fort Gordon," Brooks Keel said. "And to be honest, I have a feeling if all of the cyber growth could have happened three years ago, Preston would have participated more in the cyber end of our program."
Preston Keel admitted that he's intrigued by some of the new cyber classes offered at Augusta University, but he's perfectly happy with his computer science degree.
"I am kind of missing out on a little bit of the growth, especially with our program," he said, referring to the School of Computer and Cyber Sciences. "We've got a bunch of new professors coming in and new classes starting along with new degree tracks, but I'm still extremely happy with what I've got."
After talking to his son about his future career opportunities, Brooks Keel soon learned there is an endless supply of the computer science and cyber jobs.
"As my son has taught me, computer science and cyber security is a much broader field than even what I was thinking," he said. "Cyber is really deeply rooted in computer science, which is actually deeply rooted in mathematics. So, not only do I think getting a degree in computer science was a good move for Preston because that's what he personally wanted to do, but there's also a lot of incredible opportunities in terms of job placement."
Earning that diploma
When asked if he's prepared for graduation, Preston Keel just laughed and vigorously nodded his head.
"I am definitely ready," Preston Keel said, chuckling. "I have been counting down the days for a while now."
But Preston Keel said he's thrilled to be graduating from the same college as his father and continuing his family's legacy at Augusta University.
Brooks Keel earned a bachelor's degree in biology and chemistry from Augusta College in 1978, and a doctorate in reproductive endocrinology from the Medical College of Georgia in 1982.
"This has been a long time coming for me," Preston Keel said, adding that he's also proud to be a nontraditional student at Augusta University. "A lot of my classmates are nontraditional age. As a matter of fact, there are a lot of students that are 25 and up in computer science. And I think all of us have a different attitude towards work and career than some of the other younger students."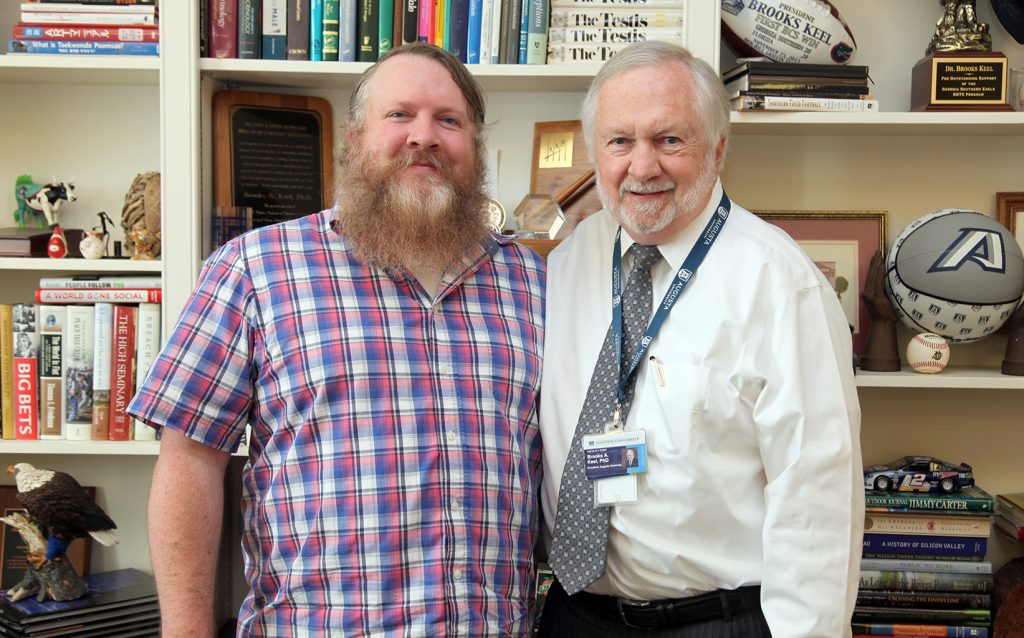 The older, nontraditional students who have gone back to get a computer science degree understand the significance of being offered several jobs after graduation instead of having to hunt for jobs in their fields.
"Most of my friends already have jobs lined up," Preston Keel said. "It's a great feeling and I think there's a little bit of an advantage being an older student because you know yourself and what you want to do."
When he receives his official diploma from Augusta University, Preston Keel admits there is one aspect of the document that he can't wait to see.
"A lot of the family thinks it is really cool that my dad will be the one who signs my diploma," Preston Keel said, smiling. "I think it will be pretty cool, too."
As graduation quickly approaches, Brooks Keel said he couldn't be prouder of his son and all of the success he has achieved at Augusta University.
"For me, I always have to separate the father from the president, so I have to keep my distance," Brooks Keel said. "So I can honestly say, everything that Preston has achieved here, he has done entirely on his own. It had nothing to do with who was the president of the university and, for that, I'm exceptionally proud."