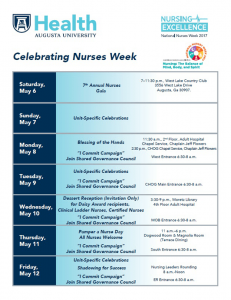 Nurses Week, the annual time set aside for recognizing the important work being done by our nursing staff, kicks off on Saturday, May 6, with the 7th Annual Nurses Gala at West Lake Country Club and continues throughout the week.
Please view the accompanying flyer for a complete list of events and activities.
Check out the Augusta Chronicle's profiles of nurses Crystal Dixon, Paula Chambers and Debbie Conlisk.
Learn more about the College of Nursing Nursing Week events.