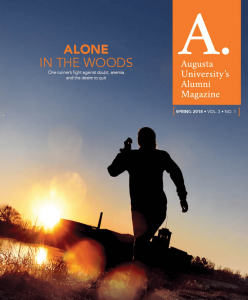 Okay, so if we'd really been on top of things, we'd have had something in the Spring issue of A. talking about Patrick Reed, the new Masters champion who helped the Jags win back-to-back NCAA national golf championships in 2010 and 2011.
However, though we may have hit it in the bunker with that one, we still think we did pretty good. In the latest issue, you can find:
And those are just our feature stories. Flip through (or scroll through) the rest of the magazine and you'll meet interesting alumni and committed faculty members, discover the important role Augusta University plays in our community and even pick up a few historical nuggets along with way.
If you're an alum, check your mailbox — if you haven't received it already, you should be very soon — and if you're not, you should be seeing it in magazine racks across campus shortly. Can't wait? You can see all of that content, plus several web exclusives, right now at our magazine site.