Contributed by Renee Sharrock, curator of historical collections and archives in the Greenblatt Library
In the public area outside the Historical Collections and Archives room is a new exhibit case showcasing William Hunter's Gravid Uterus.  Dr. and Mrs. Leslie Wilkes graciously gave the Gravid Uterus anatomical atlas to the Greenblatt Library in February 2013.
The proper title of this historic book, which was published in 1774, is Anatomia uteri humani gravidi tabulis illustrata [The anatomy of the human gravid uterus exhibited in figures]. The script is in Latin and English, which is a unique feature as most medical books of that time were printed entirely in Latin or in French. It is considered to be one of the best anatomical atlases ever published.
William Hunter was a famous anatomist, surgeon and obstetrician in 18th Century Great Britain and author of numerous articles on anatomy, surgery and midwifery. He served as the physician to Queen Charlotte, consort of King George III. This copy of the Gravid Uterus includes the dedication page to King George III.
"The Gravid Uterus is one of the oldest works in our collection, dating back to 1774, and the new exhibit case allows us to make it available for public display in a secure setting," said Dr. Brenda Seago, director of libraries. "It's my personal favorite because of the nearly life-size images and the detailed work of the artist and engraver. What a beautiful way to study anatomy!"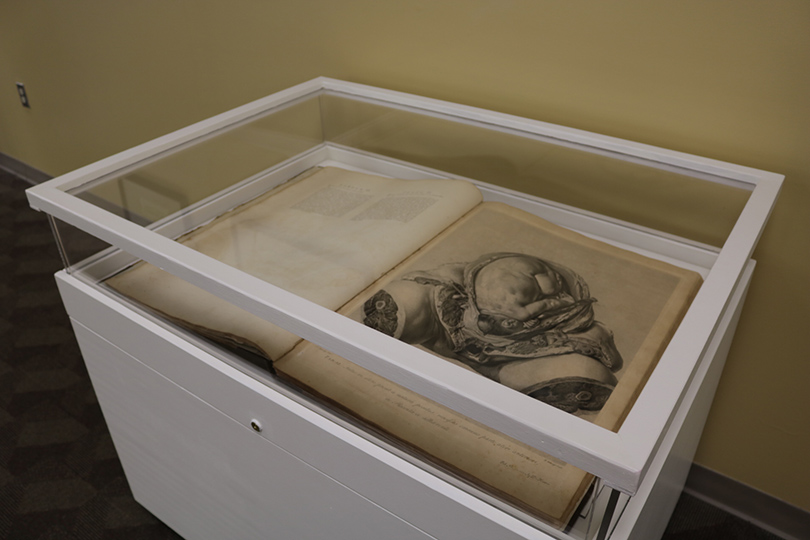 Funding for the exhibit case was made possible by Dr. and Mrs. Wilkes and the MCG Foundation, Inc. The Augusta Museum of History designed and constructed the exhibit case under the direction of Nancy Glaser, executive director of the museum. The locked case can be easily opened by the curator, and the book can be removed for closer examination by patrons and visitors. Each week a different illustrated page will be exhibited, thus allowing people to see more of the illustrations while maintaining the structural integrity of the book. The library is delighted to be able to properly exhibit the Gravid Uterus.
Dr. Wilkes graduated from the Medical College of Georgia in 1965 and practiced orthopedic surgery in Savannah until he retired. Since 2013 the Wilkes have given more books and artifacts to the Greenblatt Library. For more information, see this previous blog post and the Leslie L. Wilkes Collection finding aid.