Lt. Col. Matthew Miller grew up as a self-described Army brat.  
His father had assignments in Germany, where Miller was born, as well as in Hawaii, Kansas, Massachusetts, Texas, Florida and Virginia. By the time it came to decide on life after high school, a career in the military and following in his family's footsteps was likely. 
"I saw what my dad and uncles were doing, and I felt that calling, too," said Miller, who replaces Lt. Col. Jeffrey Keenan as chair and professor of military science at Augusta University. "I went to West Point and began forging my own path." 
Miller graduated with Bachelor of Science in Business Management with a focus in environmental engineering. He earned a Master of Science in Engineering Management from Missouri University of Science and Technology as well as a Certificate in Military Construction Management and a Master of Science of Strategic Intelligence.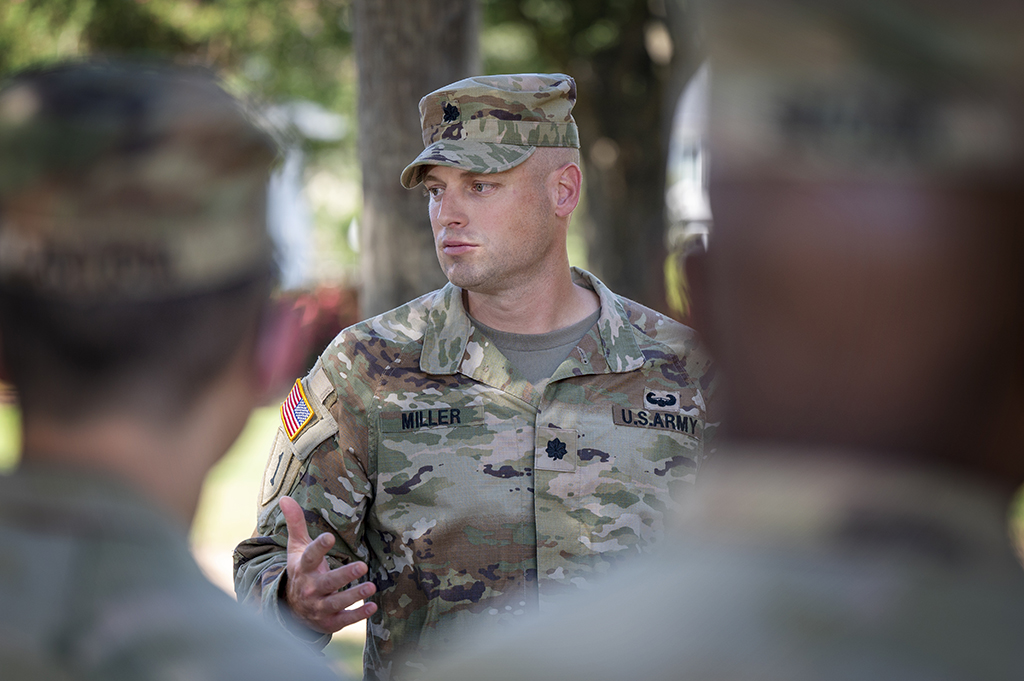 After his commissioning in 2004, he served in the 82nd Engineer Battalion in Bamberg, Germany, and the 9th Engineer Battalion in Schweinfurt, Germany where he deployed to Iraq in support of Operation Iraq Freedom. He later served in the 169th Engineer Battalion, the National Geospatial-Intelligence Agency, the Defense Intelligence Agency, the 513th Military Intelligence Brigade and United States European Command. 
Miller was most recently stationed at Royal Air Force Molesworth in the United Kingdom, where he was working at the Joint Analysis Center as an intel officer. He feels his previous work experience will translate well to AU. 
"The Army is all about people and being a part of a team, being a good leader and being a good follower, so I was really excited for this opportunity to come here and serve," Miller said. "Our mission is to commission Augusta University cadets as officers in the United States Army. We're here to help them develop into those career Army officers to serve our nation and lead America's sons and daughters. 
"No matter where you go, people need development and good, strong positive leadership and that's what I'm hoping to translate here for the cadets as they prepare for those unique challenges they're about to face at this stage in their life." 
Though he did not have the chance to meet or work with Keenan, Miller is impressed at the foundation he left behind and is looking forward to building on it.  
"We're taking that foundation and going to the next level in terms of cadet involvement in the community, retention, and growing the program in terms of the number of cadets we commission," Miller said.  
While Miller has taught adult learners at an intelligence agency college, this is his first opportunity to work in a true college atmosphere. He is hoping to use his skill set to inspire cadets to a lifetime of selfless service as Army officers and to prepare them to lead in potentially challenging circumstances.  
"Leading America's sons and daughters is a sacred responsibility for them as officers. I look at it as my responsibility to prepare them to take on that role," he said. "That's the trust that America puts in them." 
Master Sgt. Steven Haas and Capt. Dave Freeman are also joining the cadre in the ROTC program. Haas will serve as senior military science instructor and Freeman will be an assistant professor of military science. They replace Capt. William Myers, who was selected for promotion to major and is attending the Command General Staff College for a year, and Master Sgt. Kevin File, who is attending Sergeant Majors Academy. 
Miller acknowledges the gravity of his role and is looking forward to spending time with the cadets teaching, coaching and mentoring them while also being part of the culture of Augusta University and its surrounding community. 
Miller has spent time at Fort Gordon and Augusta before and is ready to call the area home with his wife and their five children.  
Knowing he has an opportunity to use his vast experience to enrich the AU cadet experience, he is relying on his time at West Point and the leadership lessons he learned over the past 18 years in the Army to be a role model and mentor.  
"I'm thrilled to be here at AU and can't wait to leverage my experience to inspire, develop and prepare AU cadets to honorably serve as officers in the Army," Miller said.