Kolbe Dolin, a communication major from Augusta University, never imagined he would be sitting in the United Nations General Assembly Hall in New York City debating global concerns with representatives from more than 70 countries.
But last semester, Dolin and his classmates from the National Model United Nations program at Pamplin College of Arts, Humanities, and Social Sciences joined students from all over the world to address issues such as gender equality, climate action and global health.
"Traveling to the UN headquarters was an eye-opening experience," Dolin said, explaining that his classmates represented Vietnam during the spring conference. "We were very graciously given the opportunity to visit the UN Consulate of Vietnam and ask questions about the issues we were facing. The UN headquarters is a massive complex. Even getting through security was a unique experience."
The National Model United Nations program is designed to immerse students in realistic simulations of the United Nations, said Nadia Jilani-Hyler, the NMUN program director and a lecturer in political science at Augusta University.
Since 2011, Augusta University has participated regularly in the National Model United Nations and has received international recognition for efforts regarding global health, regional conflict, weapons proliferation, security, environmental concerns, peacekeeping, human rights and economic development, she said.
"It is a wonderful opportunity to visit the United Nations headquarters and we hold part of our proceedings there in that iconic green room, which is the same room where presidents and dictators and other world leaders have given their famous speeches. The students really enjoy it," Jilani-Hyler said. "There is one conference in Washington, D.C., in the fall and the New York trip is in the spring. We have attended both of those at various times over the past 10 years, but the one that we consistently go to now is the spring trip to New York City."
Prior to each conference, students are assigned a country to represent, Jilani-Hyler said.
"We give the conference a list of 10 countries that we're interested in representing and then from those 10, we are assigned one," she said. "This last year, we were Vietnam. But we've been Lebanon one year. We've also been North Korea, which it's kind of fun to play an antagonist on the world scene. It makes for an interesting dynamic."
The students from Augusta University have represented everyone from the citizens of Iceland to Palestine in previous years, Jilani-Hyler said.
"We tend to try to focus on the Middle East region because that is my area of expertise, so I can always lend a little bit more to learning about the background, history and political structures of those countries," she said. "That's important because the students have to learn about all of those different aspects to adequately represent the country at the United Nations."
At the conference, students are split into different committees such as the United Nations High Commissioner for Refugees, the Human Rights Council, the Security Council and UN Women, she said.
"Not only do the students have to learn about their country, but they also have to learn about what their committee does, what their mandate is and what their responsibilities are," Jilani-Hyler said. "The students must research the world issues that their committee has jurisdiction over."
Students also have to submit a position paper representing their country prior to arriving at the conference, Jilani-Hyler said.
"We actually rewrite the position paper multiple times in class, so students learn about policy writing, because there is a formula for the paper that they have to follow," she said. "And these papers could potentially win an award at the conference, so students work extremely hard on them and make sure they have the right formatting."
Working as a team
Dolin, a junior at Augusta University, said he and his classmates spent months preparing for the UN conference, but all of the hard work made for a tremendous learning experience.
"My favorite aspect of the conference was the fellowship that I experienced with my classmates," Dolin said. "We had been working ragged up until the trip to make sure that we were as prepared as possible, which meant that we were all fully prepared to work well and support each other while in New York. Through our formal meetings during the conference and our informal meetups, we became a tight-knit group."
Enrolling in the NMUN program helped him build even stronger communication and negotiation skills, Dolin said.
"The course appealed to me because it offered an opportunity to learn more about the negotiations that keep our world functioning, to practice negotiation with a diverse group of students from other universities and, of course, to go on an amazing trip to New York City," Dolin said. "Working in international relations is all about the give and take, and this course taught me how to properly and respectfully meet the needs of others while also ensuring that my own needs are met.
"Additionally, I also honed my public speaking skills quite a bit," he added. "Students who take this course will often end up giving more than one speech per class, which offers extremely useful practice for everyday public speaking."
After graduation, Dolin said he will seek a career in public relations and strategic communication. He said the NMUN program at Augusta University helped build his confidence about going into the field.
"Public relations is all about making sure that you're sending the right message and communicating properly," he said. "The majority of Model UN is about communicating your objectives and needs to the other Member States you're working with in order to reach a mutually beneficial solution. The practice provided by that experience will help me greatly in the future. Additionally, honing my public speaking skills through formal speeches gave me valuable experience for my future career."
Building future leaders
Jilani-Hyler, who has been the NMUN program director since 2018, says she is proud of the skills this course provides students at Augusta University.
"It's not like any class that I can think of at Augusta University," she said. "It's very student-centric. The students take the lead. They're doing a lot of the research on their own and sharing what they learned with the rest of the class. And almost every single class period, they're getting up in front of the class and giving a speech. Some of them are pre-written and some of them are on the fly, so they have to come up with a professional way to deliver their thoughts on the subject."
The students support one another and provide professional critiques, so the team becomes stronger as a unit, Jilani-Hyler said.
"It is a very active class. It is a very hands-on class. You're getting up. You're moving around the room. You're shaking hands with each other and going through many simulation games to get ready for the conference," she said. "It is something big that you're working toward and you're working toward as a team. You're not alone. You've got this whole team of people who are behind you, you're bonding with other students and building these lifelong friendships in this class."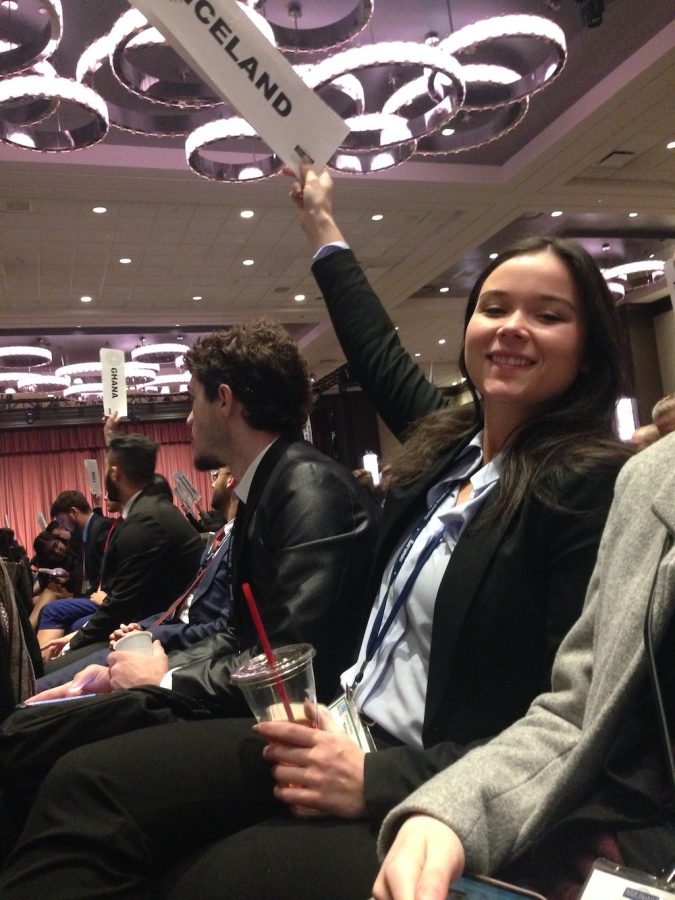 Jilani-Hyler emphasized that this course is not just for political science and communication majors, but it is open to all students at Augusta University who have taken the Intro to American Government class, which is already a requirement.
In addition, she said scholarships are available each semester to help pay for the conference's trip to New York City.
"Anybody can take this class," Jilani-Hyler said. "One of my students this semester, who graduated and applied for graduate school, she was a biology major. And she was so grateful for this class because she realized in taking this class that she doesn't just have to work in a lab for the rest of her life, if that's not what she wants to do."
"The class helped her see that there's a whole world of science policy that is out there and available if she's interested," she said. "Whether it is at the national level or at the international level, or even at the state or local level, that expertise is needed. It opened another door for her."
Jilani-Hyler hopes to continue to grow the NMUN program and to eventually have a class possibly participate in an international UN conference.
"I think it would be incredible if we could go to Japan or to the Czech Republic or another country for an international conference," she said. "I just really wish more students knew that this opportunity was available to them.
"I can't tell you how much fun it is to teach this class and how rewarding it is to see the smiles on our students' faces at the end of the semester. It's an incredible experience."