As part of ongoing efforts to protect digital identities and Augusta University data, the Division of Information Technology, following guidelines and security protocols of the University System of Georgia and Augusta University, will enable multi-factor authentication on all AU-owned devices.
IT will begin pushing the DUO client to AU Windows devices starting Monday, March 14 through Wednesday, March 30. This does not include computer labs or computer classroom Windows machines.
Currently, Augusta University uses DUO as the preferred multi-factor authentication tool when accessing AU programs and systems. Now, multi-factor authentication will also be required when logging onto AU computers. DUO will prompt you the first time you sign on, and each subsequent time, the computer locks.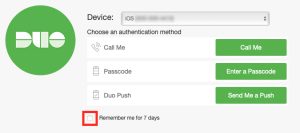 To mitigate the number of times you are prompted for DUO, use the "remember me" feature that allows your computer to remember your DUO prompt for seven days. After the seventh day, you will be prompted by DUO again and have the option to "remember me" again for the next seven days. Learn more about the remember me feature.
At this time, multi-factor authentication is only required for AU-owned devices and does not include AU Health devices; however, if an AU Health employee uses an AU-owned device, multi-factor authentication will be required.
If you have additional questions regarding DUO, visit our FAQ page.
Should you experience any issues once the DUO client is pushed to your computer, contact the 24/7 IT Help Desk by calling 706-721-4000 or 706-721-7500. You can also visit the Online Service Portal.