Thank you to everyone who has played a role in assisting with the filming of The Reason at Augusta University and Children's Hospital of Georgia.
The Reason is a faith-centered film based on the book by the same name by William Sirls, who is also an executive producer of the movie. The book takes us into the life of young leukemia patient Alex Thomas, played by Charlie Ray Reid of Houston, Texas.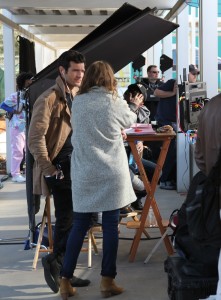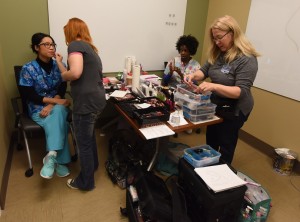 "The production team has been very impressed with our facilities, calling our Children's Hospital a 'great find' for the hospital scenes," said Denise Parrish, a member of the Media Relations team in the Division of Communications and Marketing. "They were similarly intrigued by our state-of-the-art simulation center where our health sciences and medical students train with mannequins in very realistic-looking hospital rooms."
The group has also been pleased with the professionalism and hospitality they've been shown by the employees on our campus, Parrish said. "Some of our staff have really gone out of their way to make the group feel welcome and to accommodate their needs. From facilities services to hospital administration, security and public safety, nursing and simulation experts – even the staff at the Ronald McDonald House – we couldn't have made this happen without all the great collaboration from so many dedicated employees. We are so thankful for all the fantastic assistance."
Reflecting Pool Productions, an affiliate of the Augusta Film Office, is working with Director Randall Stevens on the project.
Cast members in The Reason include Tatyana Ali, Beverly Todd, Kelly Carlson, Burgess Jenkins, Alan Powell, Sara Antonio, and Kristopher Wente. In addition, Oscar award winner Louis Gossett Jr. (An Officer and a Gentleman) and former Green Bay Packer Michael Montgomery have major roles in the movie.
Filming will return to Augusta University's Health Sciences Campus on Tuesday, March 15, in Professional Building 1, and continues on March 16-17 at Children's Hospital of Georgia.
Kimmy Stewart Casting is seeking extras from the local community for some of the remaining scenes. Employees who are interested can apply through this link. Be sure to include your affiliation with Augusta University and the Children's Hospital in your submission.
Continue to check Jagwire for the latest information.