Matthew Kuchinski started bright and early on a Friday morning, painstakingly placing small pieces of track one by one around an island in the middle of a courtyard. Onlookers, many of whom served in our nation's military, gathered around to watch him.
After a couple of hours, the charming display was completed. A seven-car model train from the Pennsylvania Railroad Line — a replica of a diesel locomotive — blew its cheerful whistle and chugged around more than 300 feet of track encircling the island.
Kuchinski, special assistant to the chief information officer for the University System of Georgia puts on a show with his model trains twice a year at the Georgia War Veterans Nursing Home at Augusta University. He began the tradition 15 years ago, when his father was a resident of the home.
Not only do Georgia War residents get enjoyment out of his model trains, the display also spurs memories, which is one of the things that gratifies Kuchinski the most.
"Some of the veterans who are here worked on a train in their younger years — shoveling coal, operating all the various job types that come with operating a train," he said. "It blew me away, because there were still a number of World War II veterans here when we started doing this."
One World War II veteran's story sticks out in his mind: "One of the gentlemen said he rode the train as he was getting ready to be shipped to Germany. They were hauling troops to put them on a ship to go to Europe. The train stalled — all he could remember was the train he was on had stalled on a bridge above a river. The train was so loaded with troops that they had to basically wait for another engine to come, to continue that train going."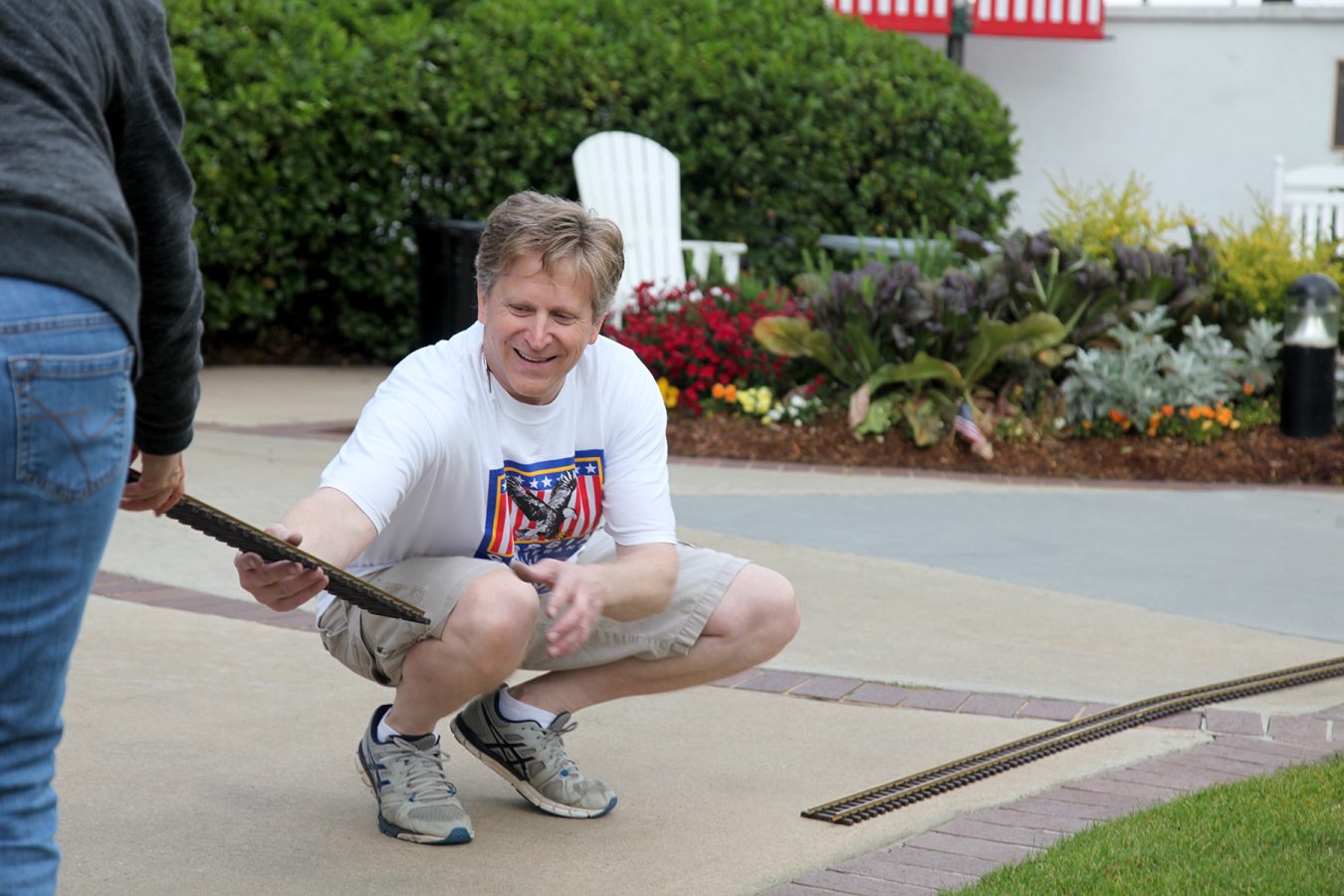 A lifetime love of trains
His father, John Kuchinski, was an army veteran originally from Pennsylvania. He and his wife moved to Augusta before Matthew Kuchinski and his siblings were born.
The younger Kuchinski's interest in trains began when he received a model train at age 7 on Christmas morning. He was fascinated by them, and soon began a collection that grew larger and larger.
"It expanded around the Christmas tree, then around the room, then took up a whole floor of the house, at which time I had to curb it back a little bit," he said.
He rediscovered the hobby as an adult. "I went out shopping during the holidays and saw one of the larger model trains," he said. "The collecting bug bit, and it bit hard!"
Kuchinski realized early on during his father's time at the nursing home that the smooth, level concrete in the courtyard was perfect to run a train around, so the idea of bringing the trains to the home grew into a tradition that has extended to children's hospitals and Boys & Girls Clubs.
His current collection contains G-scale trains, which are ideal for outdoor use, as this scale model can withstand some wear and tear. They can be set up with as many as two loops of track going around the courtyard island, with as many as six or seven trains running at the same time. Since Kuchinski is originally from Pennsylvania, he tends to use trains from the Pennsylvania Railroad Line. The trains run on a computer network, which can be programmed to do certain actions — like blowing a whistle — at certain times.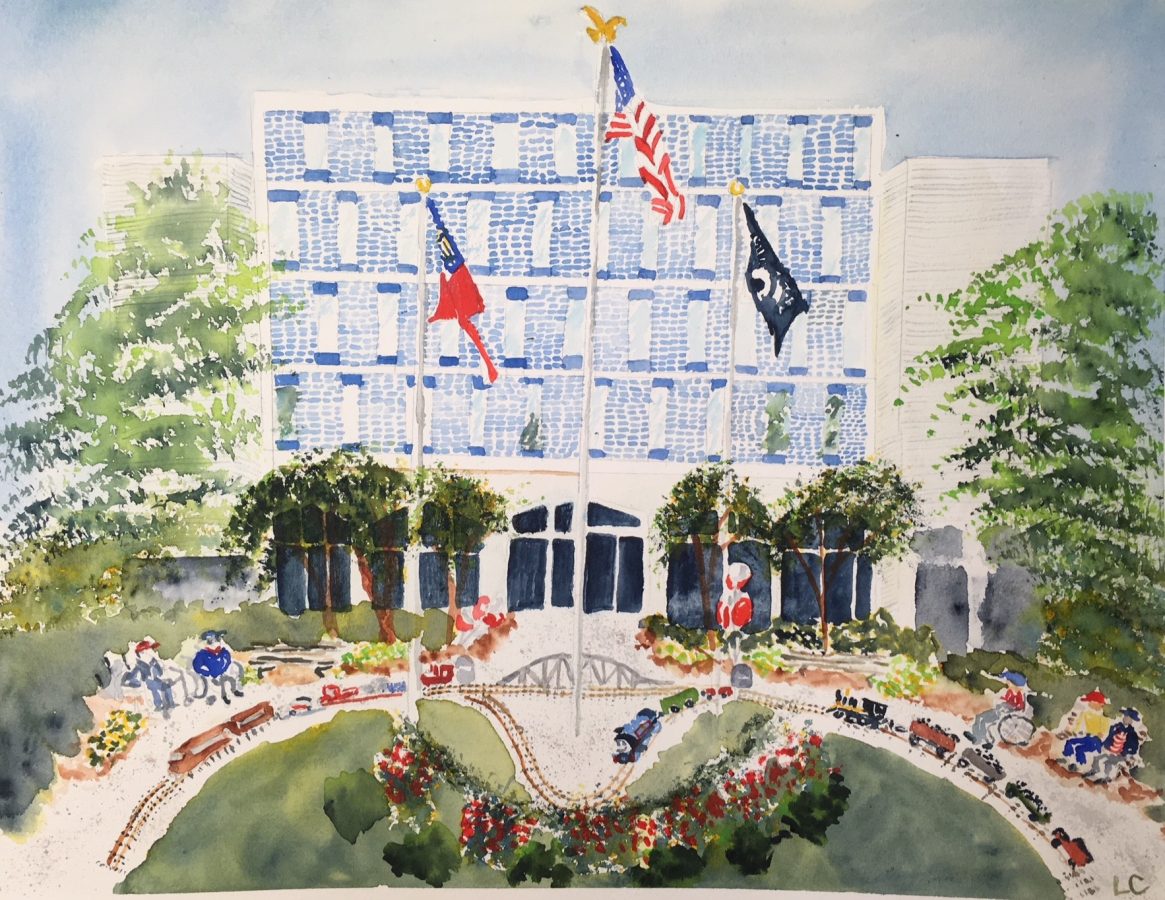 An enduring tradition
After his father died in 2011, staff asked him if he would continue.
"It puzzled me," Kuchinski said. "Why would I not come back? This brings a bright spot to the residents' day. There was no question about continuing to do this."
So the tradition continues.
"We typically bring out the trains twice a year, once in the spring, once in the fall," Kuchinski explained. "We also try some kind of activity or craft along with the trains that they can participate in." On this particular day, veterans and staff at the home were enjoying a lively, competitive game of cornhole, tossing beanbags on the island.
Spending time with these veterans is the most important part of the tradition, according to Kuchinski.
"The sheer fact that they have somebody who listens and engages with them, when you think about what their day to day is like, hopefully makes a difference," he said. "So much of what they're looking for now is just interaction with other people."
Kuchinski believes that brightening the veterans' day is just one small way of thanking them for their service.
"It takes just a moment to realize what they have given us all," he said. "Their sacrifices provide us with a gift that we enjoy every day: freedom. Giving back to these residents is such a small and simple thank you for what they have given to us. Just a few minutes to engage in conversation with the residents can make such a difference in their day. I have learned so much from them."