Blizzard sales go toward purchase of new mobile incubator for Children's Hospital of Georgia
More than 175 newborns were transferred to the Children's Hospital of Georgia for emergent and critical care in the past 12 months. As part of the 24-county regional perinatal center at Augusta University Medical Center, CHOG provides the highest level of neonatal intensive care giving these tiniest patients a fighting chance at life.
When the call comes in that a newborn is in trouble, CHOG's highly skilled neonatal transport team is dispatched by helicopter or ambulance to quickly pick up these sick little ones. The most important piece of equipment the team takes on every trip is a transport isolette, a mobile incubator that provides a controlled environment with just the right amount of heat, humidity and oxygen to protect babies during these pivotal times.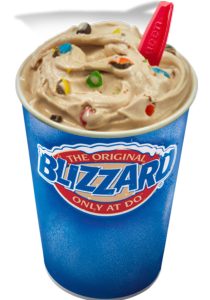 Because a transport isolette gets such frequent use, it must be replaced after a certain number of years to ensure quality and safety for NICU patients and families. Just one isolette can cost the not-for-profit Children's Hospital of Georgia about $83,000.
But you can help CHOG, the local Children's Miracle Network Hospital, raise money for these essential mobile beds by participating in Miracle Treat Day on Thursday, July 27, at area Dairy Queen stores. The stores will donate $1 or more to CHOG from every Blizzard sold that day.
"Obviously every dollar counts when you're trying to raise the money to fund such a valuable piece of equipment," said Catherine Stewart, assistant director of development for CHOG. "We really want to encourage local businesses and organizations to take advantage of the opportunity to place advance group orders with DQ this year. We think increasing bulk orders combined with all the individuals and families who stop in for a Blizzard on Miracle Treat Day will really help us raise some of the funds we need toward the purchase of an isolette."
Businesses interested in group pre-orders can contact Stewart via email at castewart@augusta.edu or phone at 706-721-4004, or download a Miracle Treat Day Preorder Form.
For those who can't get away to DQ, you can buy here while supplies last:
11 a.m. to 1 p.m. in Terrace Dining cafeteria
2-4 p.m. Children's Hospital of Georgia lobby
Augusta locations
2837 Central Avenue
3149 Washington Road
3450 Wrightsboro Road (Augusta Mall)
4099 Jimmie Dyess Parkway
3102 Peach Orchard Road
Additional CSRA locations
205 US Highway 1 BYP, Louisville
1234 US Hwy 25 N, Millen
391 S. Main Street, Swainsboro
1850 Washington Road, Thompson
221 S. Liberty Street, Waynesboro
5143 Bluegrass Trail, Grovetown
1051 Edgefield Road, North Augusta
Area DQ stores raised more than $25,000 for CHOG through Blizzard sales in 2016. The 154-bed CHOG is the second-largest children's hospital in the state, providing the highest level of pediatric critical care and neonatal intensive care, as well as 24/7 pediatric emergency room care and a wide range of general and complex health care for children.