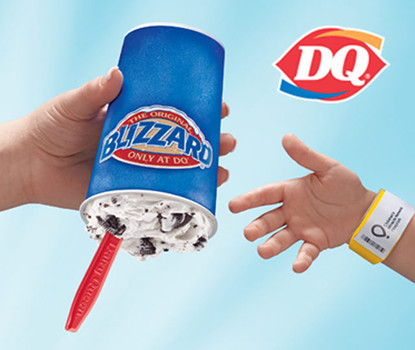 AUGUSTA, Ga. – It's summer again in the CSRA, and that means everyone is suffering the Georgia heat and could benefit from something cool and refreshing. Lucky for us, local DQ stores will be serving their famous Blizzards on Miracle Treat Day, Thursday, July 30, with $1 or more from every Blizzard sold being donated to Children's Hospital of Georgia, the local Children's Miracle Network Hospital.
Participating Dairy Queens include:
In Augusta:
– 2837 Central Ave.
– 3149 Washington Road
– 3450 Wrightsboro Road, Augusta Mall
– 4099 Jimmie Dyess Parkway
– 3102 Peach Orchard Road
In Millen: 1234 U.S. Highway 25 North
In Swainsboro: 391 South Main St.
In Thomson: 1850 Washington Road
In Waynesboro: 221 S. Liberty St.
In Louisville: 205 U.S. Highway 1 Bypass
Miracle Treat Day is a CMN Hospitals fundraiser. CHOG, a not-for-profit hospital, has been a beneficiary of the CMN Hospitals program since 1986. Last year, local DQ stores raised more than $18,000 on Miracle Treat Day.
The event lasts all day and group pre-orders are available. For more information, call Catherine Stewart, CMN Development Officer, at 706-832-1804 or castewart@gru.edu.
With 154 beds, CHOG is the second largest children's hospital in the state, providing the highest level of pediatric critical care and neonatal intensive care, as well as a wide range of general and complex health care for children. Visit facebook.com/GAChildrens or follow on Twitter at twitter.com/GAChildrens